As virtual parties become the new normal and families opt to celebrate the holidays at a safe distance, why not gift a matching meal to your loved ones and indulge together on Zoom? Or, surprise them with sweet treats and share the experience together over a virtual game of Scrabble or Code Names. 
Here is my list of some fabulous Korean culinary gifts, along with some of my other favorites… Because what better way to spread holiday cheer than to send an edible treat right to your favorite foodie's doorstep! Every gift listed is available for nationwide shipping.
*PRO TIP- When ordering a gift through Amazon, consider the gift wrap option. The bright and colorful mesh gift bags are reusable and make a festive presentation for even the simplest of presents!
Follow Esther @estheronstyle
---
Los Angeles hotspot Seoul Sausage is now shipping their crowd favorites nationwide! After winning the "The Great Food Truck Race" back in 2010, Yong and Ted Kim opened up their first eatery and have had a cult following ever since. I just received my kit last night and… wow! It was super easy to prepare, ultra crunchy and delicious! The sweet and tangy sauce and the aioli-like creamy sauce are both awesome… the banchan is on point. I think I'll have some for breakfast… with waffles!
---
These gluten-free treats are little bombs of deliciousness! A delightful balance of chewy sweet rice dough filled with gourmet ice cream arrive securely packaged in dry ice. The Signature Collection contains 12 of their best-selling flavors, including perennial favorites black sesame, salted caramel and matcha.
---
Hana Makgeolli is the only Korean "sool" (alcohol) brewery in the U.S. today. Founder, Alice Jun, learned her craft from her father and launched her business in Brooklyn, NY this past fall. Using organic rice and traditional fermentation methods, Hana Makgeolli is typically fermented to dryness with floral melon-like notes and a light effervescence. Makgeolli pairs very well with any Korean dish and even across many different cuisines. Take a tour at Hana Makgeolli Brewery and have a drink in their tap room when doors reopen (hopefully soon) in Brooklyn!
---
If you miss dining in David Chang's Momofuku restaurants, you can bring his umami-rich flavors to your kitchen with these savory salts! Elevate the flavor in Korean and non-Korean dishes with this set.
---
It's probably clear by now that all of us here at BOK are big fans of Cote Steakhouse in NYC. I dined there recently- the food was just as fabulous as I had remembered. Service was exceptional. However, if it's not possible to visit Cote, you can recreate the experience at home. Read Don Liu's excellent review of his experience with Cote home delivery.
Replicate your Korean BBQ experience at home with this highly rated grill. The non-stick surface is super easy to clean and the sloped design allows the oils and fat to drain away.
---
---
Leave it to Koreans to up the garlic bread game! Handmade sourdough bread is filled with creamy, buttery and garlicky decadence- creating a new twist on the carb we all love. Yummmmm!
---
If you're a foodie from L.A., you know who Roy Choi is. His wildly popular Korean taco truck Kogi singlehandedly created a food truck revolution and movement in L.A., which soon spread across the country. This flavor packed sauce is savory sweet with a bit of smoky heat. It's versatile and will make almost any dish more interesting and memorable.
---
Your friends and family will thank you for giving them a break from cooking with this elegant seafood feast. "Simply thaw, heat and eat!" This dinner for two arrives pre-steamed in lemon butter sauce. Add some kick to this meal with Roy Choi's, Garlic Everything Sauce or David Chang's, Chili Crunch Oil!
---
I have yet to meet a person who does not love these melt-in-your mouth cookies! Delicate and light with the perfect amount of "not too sweet" sweetness, Yoku Moku cookies make a wonderful present for any occasion. They are beautifully packaged and have been my go-to-gift for years.
---
Another creation to come out of Momofuku's Culinary Lab is this flavor-explosive chili oil. Added to your favorite dish or drizzled over rice, this versatile condiment will give a burst of umami to your meal.
---
A unique gift for someone who loves kimchee but is intimidated by the thought of making it from scratch. Finally, anyone can make "perfect" homemade kimchee with this easy-to-use-kit!
---
This set makes a great gift for the beginner Korean chef or for anyone who doesn't have easy access to a Korean market. Savory and intense in flavor, these traditional condiments and starters are essential for soups, stews, dipping sauces and more!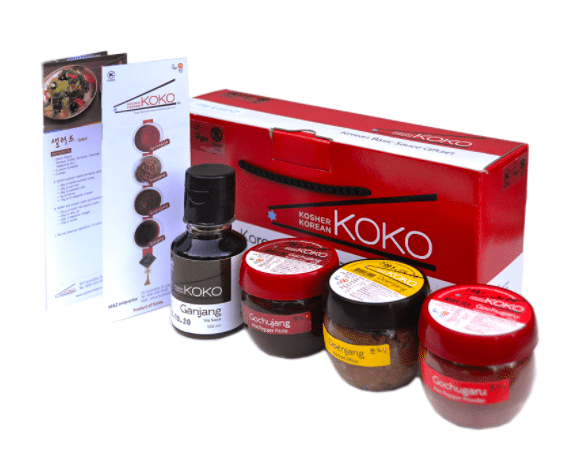 ---
South Korea has been obsessed with these slim packs of instant joe ever since Maxim Coffee debuted over 30 years ago. These "three-in-one" coffee packs contain coffee, sugar and creamer. Try all four flavors with this cute set!
---
I think we can all benefit from a little laughter these days… Why not enjoy your morning Maxim Coffee in this playful mug? A great gift or stocking stuffer for your foodie with a sense of humor!
---
Wow your friends and relatives and leave a lasting impression with this mind-blowing creation. It's a pumpkin pie, pecan pie, apple pie and spice cake- all in one epic dessert! The moment I took my first bite, I gasped and thought, "Where have you been all my life?" Every dessert loving foodie must try this!
---
Your young foodie will love this fun gift box crammed with tasty Korean snacks and goodies. Host a virtual KPop themed party and send a box to all the friends!
---
We hope you like our product recommendations! All products featured on Best of Korea are independently selected by our writers. If you would like to purchase a product, please use our links and we may receive an affiliate commission for your purchase.