Here are some recent headlines featuring Koreans that are worth a read. If an article listed below is behind a paywall, try signing up with your local library for free access to many of the major news publications.
[Salon] Trader Joe's popular Kimbap sold out fast. Here's how to make it from the comfort of your own home
By Joy Saha, October 23, 2023
All you'll need are a few tasty – and simple – ingredients to make this Korean dish on your own.
When Trader Joe's introduced its own rendition of kimbap only a few months ago, people on the internet went berserk. Those who grew up eating kimbap – a traditional Korean dish often made from cooked rice, vegetables, fish, and meat rolled in dried sheets of seaweed (also known as gim) found comfort in TJ's vegan offering. On the flip side, those who were just trying it for the very first time found their new favorite, simple weeknight meal. [Read full story on Salon]
[Korea Herald] New study sheds light on S. Korea's high stomach cancer rate
By Moon Ki Hoon, October 21, 2023
Stomach cancer is especially common among Koreans, with data from the National Cancer Center of Korea identifying it as the most common type of cancer in the country from 1999 to 2018.
Although Korea reports a lower overall cancer incidence rate compared to the US and UK, its rate of stomach cancer is nearly 10 times higher.
Looking to find potential reasons why, a new study led by Dr. Choi Kui-son of the National Cancer Center of Korea has found a lack of exercise to be the most common risk factor for stomach cancer here.
[Read full story on Korea Herald]
[Soompi] "My Dearest," Ahn Eun Jin, And Namgoong Min Sweep Most Buzzworthy Drama And Actor Rankings
By E. Cha, October 22, 2023
MBC's "My Dearest" dominated this week's rankings of the most buzzworthy dramas and actors!
Immediately upon its return with Part 2, the hit historical romance drama shot back up to No. 1 on Good Data Corporation's weekly list of the TV dramas that generated the most buzz. The company determines each week's rankings by collecting data from news articles, blog posts, online communities, videos, and social media about dramas that are either currently airing or set to air soon. [Read full story on Soompi]
[CNN] Tom Kim becomes youngest golfer to win three PGA Tour titles since Tiger Woods
By Jack Bantock, October 16, 2023
CNN — After a dramatic title defense in Las Vegas, Tom Kim celebrated by heading straight back to his hotel room and treating himself to some chocolate.
One of the game's brightest rising stars, the 21-year-old South Korean phenom came out on top in a nail-biting final round duel with Adam Hadwin to retain the Shriners Children's Open at TPC Summerlin on Sunday, edging the Canadian by a single stroke.
Having shot a blistering nine-under 62 on Saturday, a final round 66 was just enough to clinch Kim the $1.512 million winner's prize.
[Read full story on CNN]
[The Korean Herald] Unwind with Korea food, lifestyle docs on Netflix
By Lee Si-jin, October 16, 2023
For those looking for a change of pace from Netflix's action-packed Korean originals, the streaming platform offers a range of Korean food, travel and lifestyle documentaries that are perfect for relaxing and learning something new.
"Rhapsody" (2020-2021) and "A Nation" (2022-2023) by ELTV are two such documentary series that are available for viewing on Netflix.
"Korean Pork Belly Rhapsody," the first project to open the six-part "Rhapsody" series, presents the history of Korean grilled pork belly and explores different recipes and approaches to the dish.
Starring popular TV personality and chef Paik Jong-won as the host, the project showcases the unique stories of diverse individuals across Korea — ranging from butchers, writers and a professor of agriculture and economics, to chefs, restaurant owners and village locals — who share their experiences and thoughts on Korean pork belly. [Read full story on The Korean Herald]
[ESPN] Jessica Pegula wins Korea Open for fourth career WTA title
By Associated Press, October 15, 2023
SEOUL — Jessica Pegula beat Yuan Yue 6-2, 6-3 in the final of the Korea Open on Sunday for the fourth title of her career.
The top-seeded Pegula dropped only one set through the tournament and becomes the first American since Venus Williams in 2007 to win the title in Seoul.
"My mom is Korean and she was adopted from here, so it's really special to be able to win here," Pegula said. "In the last few years, as my ranking has gone up, I've definitely felt so much more support from the fans, a lot more than I expected coming back here from five years ago. So it's really special." [Read full story on ESPN]
[Bloomberg] The K-Pop Mogul Behind BTS Is Building the Next BTS in LA
By Lucas Shaw, October 12, 2023
The popularity of BTS has helped push Hybe to become the largest music company in South Korea. With the world's biggest boy band on hiatus, Hybe founder and chairman Bang Si-Hyuk wants to replicate the formula that changed music-but with even more global appeal. In an exclusive interview with Bloomberg News' Lucas Shaw and Sohee Kim at Hybe America's headquarters in California, Bang shares his ideas on various topics including the partnership with Hybe America CEO Scooter Braun, the Latin American music market, the US market, the use of AI in music production, and the company's five-year road map. [Watch full interview on Bloomberg]
[NY Times] Read Your Way Through Seoul
By Han Kang and translated by Jasmine Jeemin Lee, September 6, 2023
Han Kang grew up in Seoul, a city that embraces "thousands of years of turbulence." She recommends reading that draws from the various eras that have made up her hometown.
~~~~~~
Seoul is a megacity, with a population of nearly 10 million and a name pronounced like "soul." There were times when I couldn't stand its scale and pace of change, but I have managed to find a tranquil corner and continue to live in this city.
Although modern at first glance, Seoul has a long history. People first began to gather here 6,000 years ago. Over the centuries, the city was the center of dynasties that ruled the region, and it remains the capital of South Korea. [Read full story on The New York Times]
Han Kang grew up in Seoul, a city that embraces "thousands of years of turbulence." She recommends reading that draws from the various eras that have made up her hometown.
~~~~~~
Seoul is a megacity, with a population of nearly 10 million and a name pronounced like "soul." There were times when I couldn't stand its scale and pace of change, but I have managed to find a tranquil corner and continue to live in this city.
Although modern at first glance, Seoul has a long history. People first began to gather here 6,000 years ago. Over the centuries, the city was the center of dynasties that ruled the region, and it remains the capital of South Korea. [Read full story on The New York Times]
[The Art Newspaper] 'Seoul is still a boomtown': solid sales at Frieze and Kiaf defy market dip
By Kabir Jhala and Lisa Movius, September 6, 2023
An economic downturn and an overlap with the Armory fair in New York appear not to have put off collectors at the concurrent fairs in the South Korean capital.
Reports of a dip in the South Korean art market cast a shadow on the run up to Seoul Art Week, which sees the second edition of Frieze Seoul and the 22nd edition of the Korea International Art Fair (Kiaf) take place concurrently on different floors of the Coex convention centre in Gangnam (6-9 September).
Nonetheless, crowds thronged and their impulse to spend money on art appeared mostly undeterred. Multiple gallerists at both fairs report better VIP day sales this year than last. [Read full story on The Art Newspaper]
[NY Times] How Korean Restaurants Remade Fine Dining in New York
By Pete Wells, August 29, 2023
A cohort of forward-thinking Korean contenders now dominate the city's high-end restaurant scene the way French cuisine used to.
~~~~~~~~~
A few months ago, a number of serious food journalists asked out loud whether fine dining was dying, or possibly already dead. This seemed odd to me. I keep close tabs on the restaurant scene, especially in New York City, and if expensive restaurants were undergoing a mass die-off, I'd like to think I would notice. The truth, in fact, seemed to be the opposite. Fancy restaurants are opening here so quickly that there aren't enough nights in the week for me to check them all out.
One thing I did see, though, is that the flavor of fine dining has changed a lot lately. Korean owners and chefs now run about a dozen of the city's most prominent high-end restaurants. Their rise, which has been remarkably swift, brings to an end the unquestioned supremacy of French cuisine that lasted for decades. [Read full story on The New York Times]
[Variety] Spy Thriller 'Moving' Becomes Most Viewed Korean Original Series Across Disney+, Hulu (EXCLUSIVE)
By Naman Ramachandran, Patrick Frater, August 24, 2023
Disney+ has scored the next breakout hit from Asia after "Squid Game."
Star-studded international espionage series "Moving" has become the most watched Korean original on Disney+ globally and Hulu in the U.S., based on hours streamed after seven days.
In its first week since launch on Aug. 9, the series also became the most watched series on Disney+ across Asia Pacific, including in Korea, Japan, Southeast Asia, Hong Kong and Taiwan – based on hours watched – and the biggest premiere on Disney+ in Korea to date, based on hours streamed in the first week since launch. "Moving" launched globally on Disney+ in 65 markets and countries and Hulu in the U.S. [Read full story on Variety]
[Yonhap News] Tous les Jours opens 100th store in U.S., plans to expand to 1,000 stores by 2030
By Kim Na-young, August 23, 2023
South Korean bakery brand Tous les Jours has opened its 100th store in the United States, its operator said Wednesday, adding it aims to open up to 1,000 stores in the U.S. by 2030.
Tous les Jours has opened its 100th shop in Bronxville, New York, according to CJ Foodville Co.
CJ Foodville said its U.S. business has been growing fast in recent years, noting its U.S. sales shot up 250 percent in the first half from a year earlier.
CJ Foodville aims to open up to 1,000 Tous les Jours stores across the U.S. by 2030, including 20 new stores this year, a company official said.
The company plans to start constructing a factory in the U.S. later this year, the official added.
Tous les Jours currently operates a total of 380 stores across the world, including in the U.S., Indonesia and Vietnam. [Read full story on Yonhap News]
[The Korea Bizwire] BTS' "Beyond the Story" Becomes 1st Korean Book to Top New York Times Bestseller List
July 20, 2023
K-Pop giant BTS' first official book, "Beyond the Story: 10-year Record of BTS," has topped New York Times bestseller lists.
According to the lists released by the U.S. newspaper Wednesday (U.S. time), the English version of the book shot to the top of this week's bestseller lists for "hardcover nonfiction" books and "combined print & e-book nonfiction" books.
The book was published on July 9 in 23 different languages, including Korean, English and Japanese, to commemorate the group's 10th anniversary.
It marks the first time that a book by a Korean author has topped the lists, according to the band's agency, BigHit Music. [Read full story on The Korea Bizwire]
---
[Korea Herald] 44 dead, 6 missing amid continued downpours as of Wednesday morning
By Lee Jung-youn, July 18, 2023
In the wake of record-breaking nationwide downpours, authorities discovered three bodies on Tuesday in Yecheon-gun, North Gyeongsang Province, bringing the death toll associated with the heavy rain in the province to 22. This brings the total number of deaths from downpour to 44 nationwide as of 6 a.m. [Read full story on The Korea Herald]
---
[Lifestyle Asia] Beef, starring Ali Wong and Steven Yuen, has received 13 nominations at the 75th Primetime Emmy Awards
By Manas Sen Gupta, July 14, 2023
The nominees for the awards were announced on 12 July. Overall, four shows — Succession (27), The Last of Us (24), The White Lotus (23) and Ted Lasso (21) — received over 20 nominations.
But Beef is on a roll of its own. Created by the indie studio A24, which is behind Everything Everywhere All At Once (2022), the show has received nine nominations in major categories, including Outstanding Limited or Anthology Series. This makes Beef the contender with the third-highest major nods after Succession (14) and The White Lotus (12).
In all, its 13 nods make Beef one of the 11 that have received double-digit nominations. [Read full story on Lifestyle Asia]
---
[New York Times] How Netflix Plans Total Global Domination, One Korean Drama at a Time
By Daisuke Wakabayashi and Jin Yu Young, July 14, 2023
Popular content produced in Asia and around the world has taken on greater significance with most of Hollywood now on strike.
This year, Netflix developed "The Glory," a binge-worthy revenge saga about a woman striking back against childhood bullies, which cracked the top five most-watched non-English-language TV shows ever on the service. Before that, at one point "Extraordinary Attorney Woo," a feel-good show about a lawyer with autism, was in the weekly Top 10 chart in 54 countries. Last year, 60 percent of Netflix subscribers watched a Korean-language show or movie. [Read full story on The New York Times]
---
[New York Times] Translating Traditional Korean Movement to 'a Language for Our Time'
By Brian Seibert, July 12, 2023
Like many court ceremonies, the Confucian ritual that has been performed for centuries at the royal Jongmyo shrine in Korea, is meticulous and measured, stately and restrained. In the shrine's stone courtyard, a large group of women stand in place, arranged in rows, holding symbolic objects like bamboo flutes and wooden swords and periodically shifting the position of their arms in perfect, unhurried unison. This part is called il mu, which can be translated as "line dance" or "one dance."
"Some people find it very slow, very boring," said the Korean director Kuho Jung. "I love it, but I also want to modernize it. I want to translate it into the language of our time."
That is what he has done in "One Dance," a theatrical production that Seoul Metropolitan Dance Theater, making its United States debut, is bringing to Lincoln Center, July 20-22, as part of the center's Korean Arts Week. [Read full article on The New York Times]
---
[Hollywood Reporter] 'Top Chef' Names Kristen Kish as New Host
By Rick Porter, July 11, 2023
Kristen Kish, who won the 10th season of Bravo's culinary competition and has served as a guest judge several times since, will take over for Padma Lakshmi in season 21. Top Chef will set up its kitchen in Wisconsin for the coming season, focusing on Milwaukee and Madison. Tom Colicchio and Gail Simmons will once again sit at the judges' table. [Read full story on The Hollywood Reporter]
---
[Secret NYC] A Weeklong Festival Celebrating Korean Culture & Heritage Is Heading To Rockefeller Center
By Brianna Perry, July 6, 2023
A week-long festival of programming is making its way to Rockefeller Center to celebrate and honor the vibrant culture and heritage of Korea.
If you've ever wanted to immerse yourself more in Korean culture, boy is it your lucky day! Celebrate Korea is bringing a weeklong festival of programming featuring Korean chefs, fashion, skincare, education, and artists to Rockefeller Center this July to honor Korea's culture and heritage.
The programming, which is in partnership with the Korea Tourism Organization (KTO), will feature two on-site public art exhibitions at the Rink Level at Rockefeller Center–one of which is already open.
Origin, Emergence, Return celebrates modern and contemporary Korean art through the works of Park Seo-Bo, Lee Bae, and Jin Meyerson, featuring over 70 works and exploring three generations of Korean art from the 20th century to the present. It's open now through July 23 (Tuesday – Saturday, 11 am. – 6 p.m.)
Part of this exhibit is Lee Bae's 21-foot tower of stacked charcoal standing tall in front of Rockefeller Center's Channel Gardens–the first time a Korean artist has occupied the sculpture space! [Read full story on Secret NYC]
---
[BBC] South Koreans become younger under new age-counting law
By Kelly Ng & Yuna Ku, June 28, 2023
South Koreans have become a year or two younger as a new law aligns the nation's two traditional age-counting methods with international standards.
The law scraps one traditional system that deemed South Koreans one year old at birth, counting time in the womb.
Another counted everyone as aging by a year every first day of January instead of on their birthdays.
The switch to age-counting based on birth date took effect on Wednesday.
President Yoon Suk Yeol pushed strongly for the change when he ran for office last year. The traditional age-counting methods created "unnecessary social and economic costs", he said. [Read full story on BBC]
---
[Insider] Meet the typical South Korean millennial and the 'kangaroo tribe' that can't afford to leave their parents' homes
By Matthew Loh and Reena Koh, June 11, 2023
Almost 70% of South Korea's millennials have college degrees.
But they're overqualified for the labor market, resulting in a high unemployment rate.
Known as the "kangaroo tribe," many still live with their parents because of high housing costs.
Kwon graduated in 2022 from Yonsei University, a top college where he swam on the varsity team and earned a double degree in physical education and public administration. He lives in Gangnam — Seoul's glitzy city center — in a four-room apartment that his family has owned for generations.
He works as a data analyst at a multinational tech firm in a country where stable, white-collar jobs are glorified as the key to a good life. On weekends, he competes in swimming competitions and is set to represent Seoul in under-30 tournaments. [Read full story in Insider]
---
[Variety] Korea Box Office: 'The Roundup: No Way Out' Hits $60 Million on Second Weekend, Thumps 'Transformers'
By Patrick Frater, June 11, 2023
Korean-produced crime action film "The Roundup: No Way Out" dominated proceedings at the South Korean cinema box office for the second successive weekend. Its massive haul now totals $60 million. "Transformers: Rise of the Beasts" opened with a puny second place.
The Friday to Sunday period saw the film bring in $10.4 million from 1.32 million ticket sales and account for a 72% market share, according to data from Kobis, the data tracking service operated by the Korean Film Council (Kofic). Including pre-release previews and strong midweek sales, the film has now rushed on to an aggregate of $59.6 million that has been earned from 7.78 million spectators. [Read full story in Variety]
---
[Gothamist] James Beard Award Foundation announces best chef in New York
By Kerry Shaw, June 6, 2023
Chef Junghyun Park of Atomix in Murray Hill took home the honor for best chef in the state, but the city's culinary talent was iced out of national prizes at this year's James Beard Awards, held Monday night in Chicago.
The awards, sometimes called the "Foodie Oscars," are overseen by the James Beard Foundation and honor American food culture. [Read full story in Gothamist]
---
[The Korean Herald] 22-year-old Korean baritone Kim Tae-han wins Queen Elisabeth Competition
By Kim Da-sol. June 4, 2023
Baritone Kim Tae-han sings during the final round of the Queen Elisabeth Competition held in Brussels on Sunday. (Queen Elisabeth Competition)
South Korean baritone Kim Tae-han won the Queen Elisabeth Competition on Sunday, becoming the first Asian to win since the competition's singing category was established in 1988.
He will receive the award from Queen Mathilde of Belgium, along with prize money of 25,000 euros ($26,811). [Read full story in The Korean Herald]
---
[CNBC] Netflix's $2.5 billion investment in Korean content appeals to audiences worldwide
By Audrey Wan, May 12, 2023
Netflix is spending $2.5 billion on Korean content and sees opportunities beyond the Asian region, said Don Kang, Netflix's vice president of Korean content.
Over the next four years, Netflix will invest $2.5 billion in various types of Korean content spanning TV series, films and nonfiction shows, Kang told CNBC's "Squawk Box Asia." He said it will double the number of nonfiction shows it is producing, from about four in 2022 to at least eight this year, reflecting the Korean audience's demand for variety shows. [Read full story in CNBC]
---
[BBC] Why Korea's moon jar is so iconic
By Clare Dowdy, May 10, 2023
Centuries-old and steeped in cultural significance, the South Korean moon jar (dal-hang-ari in Korean) is still giving the country's potters and artists pause for thought. In pottery terms, it's a deceptively simple item: two big clay rice bowl shapes are put together rim to rim in the kiln, explains Lloyd Choi, curator of a new exhibition in London on moon jars, and "gravity does the rest". Typically, the pale clay is glazed but left unadorned, looking rather like a full moon.
As well as being aesthetically pleasing, the moon jar sheds light on Korean identity. They were first made during the Joseon Dynasty (1392-1910). At that time, Korea followed the neo-Confucian belief system. Propagated by Chinese philosopher Confucius in the 6th to 5th Century BCE, the meditative Confucian ideals of simplicity, humbleness, modesty, purity and austerity had spread beyond China to Korea, Japan and Vietnam. [Read full story in BBC]
---
[CNN Travel] Seoul: The city at the front line of modern culture
By Richard Quest and Joe Minihane, Mon May 8, 2023
It's a city at the forefront of modern culture. At the center of the boom in all things K-Pop and K-Drama, which has seen the group BTS become the biggest-selling band in the world and movie "Parasite" pick up the Academy Award for best picture.
Through a heady mix of cutting-edge technology and a deep respect for traditions, Seoul has become one of the 21st century's most tantalizing and important cities. [Read full story in CNN Travel]
---
[The New York Times] The South Korean chefs redefining the art of pastry
By Elyse Inamine, Published May 1, 2023, Updated May 2, 2023
At the Park Hyatt (https://www.hyatt.com/en-US/hotel/france/park-hyatt-paris-vendome/parph/dining) hotel in Paris, Narae Kim combines the Nashi pear she grew up eating in Dangjin, South Korea, and the Williams pear often used in eau de vie into an eye-catching dessert: a fan of Williams wedges, some marinated in jasmine tea and others cooked in bergamot oil, alongside quenelles of pear-and-cassava sorbet, all topped with tiny orbs of Nashi pear liqueur.
Ms. Kim had wanted to study pastry in France since she was young, taking pastry and baking classes in middle school and participating in grueling pastry competitions in college in South Korea. [Read full story in The New York Times]
---
[NPR] 'Biting the Hand': Korean American author calls for weaponizing invisibility
By Reena Advani, April 19, 2023
Julia Lee once had a mentor who told her, "You must bite the hand that feeds you." That phrase informed how she saw the world, as she told NPR's Michel Martin in an interview about her memoir, Biting the Hand: Growing Up Asian in Black and White America.
The lesson Lee learned from that piece of advice was, "All the structures of power make those of us in marginalized positions feel like we can't speak out, we can't resist," she said. "And one of our obligations is to bite back, to bite the hand that feeds us in order to speak up for justice — for social justice." [Read full story in NPR]
---
[USA Today] Blackpink makes Coachella history as first K-Pop band to headline the event
By Brian Blueskye, April 16, 2023
INDIO, Calif. – Blackpink made history Saturday night at the Coachella Valley Music and Arts Festival as the first K-pop band to headline the event.
Comprised of members Jennie, Jisoo, Lisa and Rosé, the girl group debuted – after perfecting their craft for several years in a traditional K-pop trainee program – in 2016 with the songs "Whistle" and "Boombayah." [Read full story in USA Today]
---
[People] 'The White Lotus' Star Will Sharpe to Direct 'Crying in H Mart' Film Adaptation
By Tommy McArdle, March 20, 2023
PEOPLE exclusively revealed that Sharpe, 36, is set to direct the upcoming film adaptation of Japanese Breakfast singer, songwriter and guitarist Michelle Zauner's 2021 memoir Crying in H Mart for MGM's Orion Pictures.
The memoir, which spent over 60 weeks on The New York Times' best-sellers list, is based on an original essay of the same title by Zauner, 33, first published in The New Yorker back in 2018. [Read full story in People]
---
[NBC News] East Asians more likely to develop stomach cancer because of lower alcohol tolerance, new study says
By Angela Yang, March 17, 2023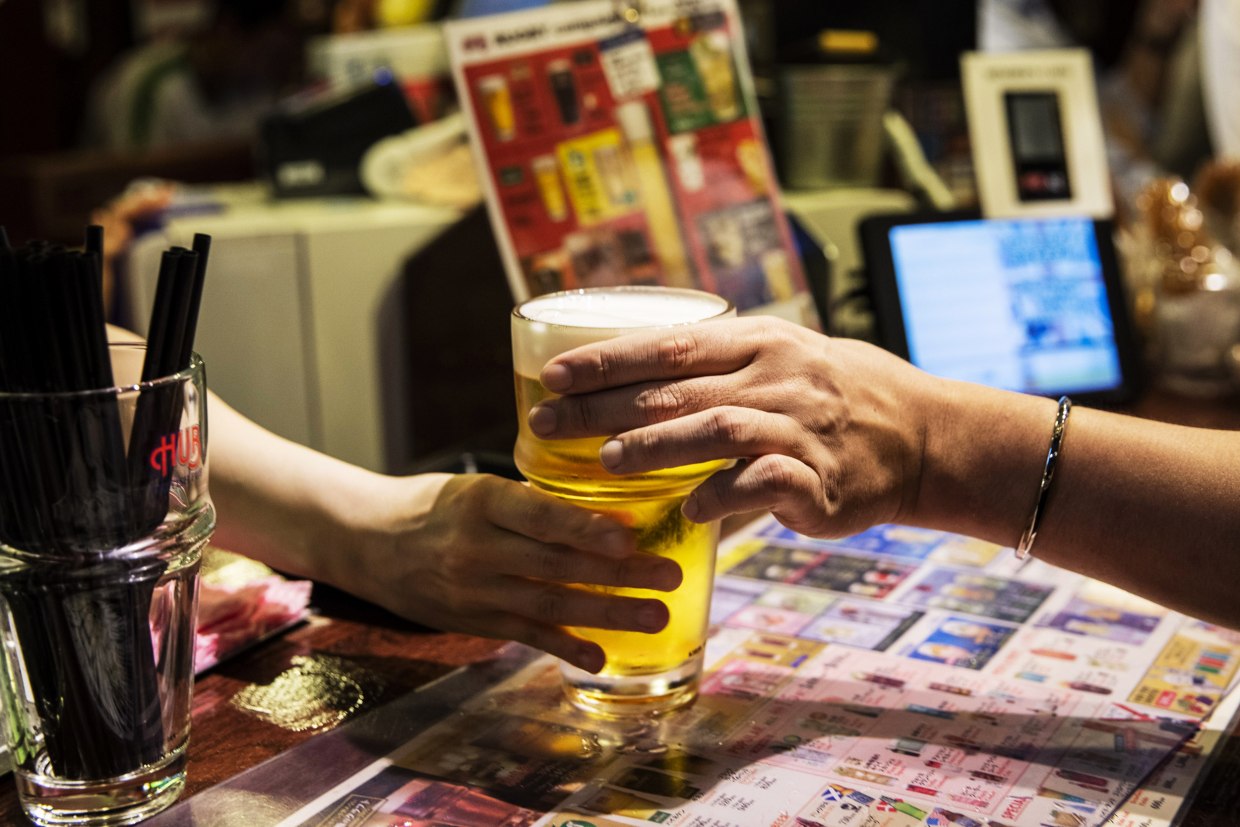 East Asian people are more likely to develop a more aggressive type of stomach cancer because of their higher likelihood of alcohol intolerance, according to a new study led by researchers in Japan.
The researchers' findings, published this week in the scientific journal Nature Genetics, associate lower alcohol tolerance with higher risk of diffuse stomach cancer, a rarer type of gastric cancer that affects more than one area of the stomach. [Read full story on NBC News]
---
[NY Times] Seaweed Is Having Its Moment in the Sun
By Somini Sengupta, March 15, 2023
For centuries, it's been treasured in kitchens in Asia and neglected almost everywhere else: Those glistening ribbons of seaweed that bend and bloom in cold ocean waves.
Today, seaweed is suddenly a hot global commodity. It's attracting new money and new purpose in all kinds of new places because of its potential to help tame some of the hazards of the modern age, not least climate change.
And in South Korea, one of the most established seaweed growing countries in the world, farmers are struggling to keep up with growing export demand. [Read full story at NY Times]
---
[NBC News] Tteokbokki takeover: America's next food obsession is the ultimate Korean comfort food
By Youyoung Lee, March 3, 2023
Demand for the Korean street-food staple has spiked in the U.S., with online sales increasing and new restaurants now offering varieties of the spicy dish.
Ask any Korean what their favorite street food is and, very likely, at the top of the list will be tteokbokki — the pillowy soft rice cakes doused in a sticky red pepper sauce. Now the dish is gaining traction in the U.S. thanks to a confluence of Korean popular culture and accessibility.
Pre-packaged versions of the food have started popping up at national wholesalers like Costco. [Read more on NBC News]
---
[Time Out] Move over Italian, the world has a new favourite cuisine
By Ed Cunningham, February 22, 2023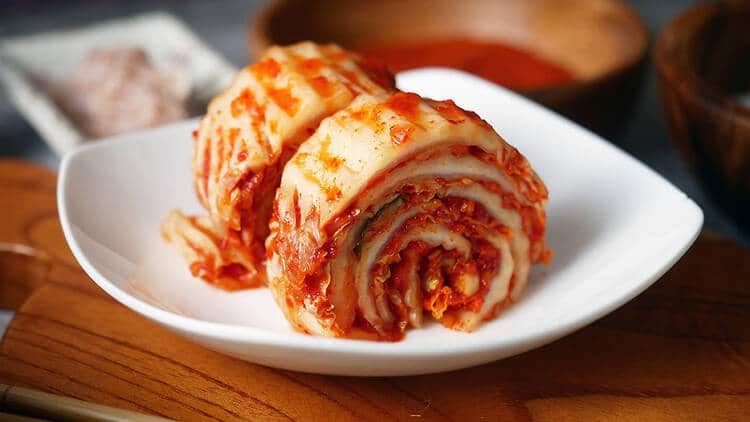 When it comes to the world's most-loved cuisines, there are a few obvious favourites. There's Italian, with its unbeatable pizza-pasta combo. Indian, with its dazzling and colourful sprawl. Mexican, with its spices and innovative presentations. French, with all its richness and refinement. And at the top of the pile comes, drum roll please… Korean! That's right, not Italian. And from the fermented delights of kimchi to the sweet spiciness of gochujang, it's difficult to argue with the fact that Korean cuisine is responsible for a wildly diverse – and wildly tasty – selection of dishes.
Korean
Italian
Mexican
Indian
Turkish
[Read full story on Time Out]