This list is for the toughest crowd to shop for: men! They usually say they don't want or need anything… but you can only get them so many pairs of socks or collared shirts. If you're stumped and need some inspiration, I've carefully curated a list of gifts he'll actually want to use. From budget friendly practical items to high-tech splurges, any of these gifts is sure to be a hit.
---
Keep your favorite guy's phone sanitized with this germ-zapping device. Using UV-C light, it only takes minutes to kill 99% of bacteria and germs- all while giving his phone extra juice. Plus, he can disinfect his glasses, keys or anything that fits- as long as the lid closes!
---
Encourage a new hobby with this Do-It-Yourself Makgeolli Kit. Great for the craft-beverage enthusiast- follow the simple directions and this traditional Korean rice alcohol will come out tasty and slightly tangy. Makgeolli contains probiotics, so you can feel good about giving a gift that's good for his health!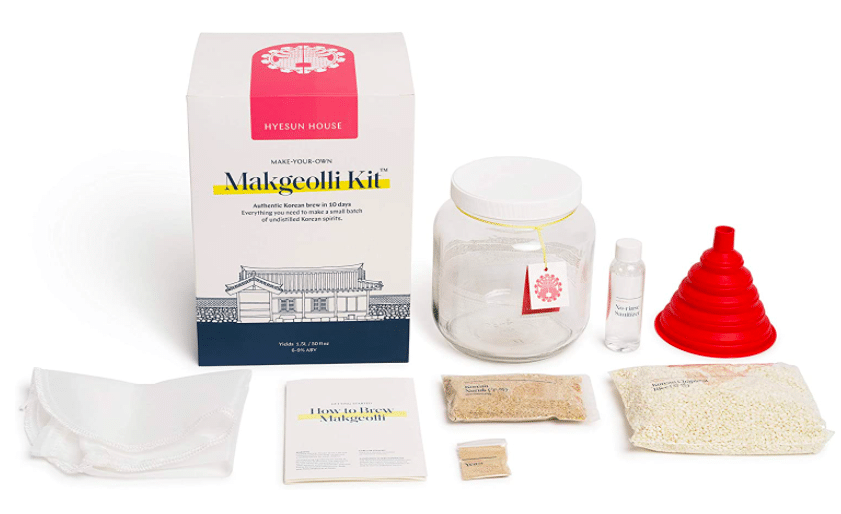 ---
The personal massage gun is a hot item this year and makes a great gift for the fitness enthusiast. Perfect for loosening tight muscles during warm-up and relieving sore muscles post-workout, the Hypervolt comes with interchangeable attachments to work different parts of the body.
---
With a pair sold every 7 seconds during the busiest shopping weeks in December, these LL Bean Wicked Good Slippers are considered the ultimate in comfortable stay-at-home footwear. Made with soft shearling and premium sheepskin, this is the perfect present for the guy with a deep appreciation for warm and happy feet!
---
Say good-bye to wasted wine with this genius device. That special guy on your gift list will be able to drink and save wine without ever opening the bottle! A needle is inserted into the cork allowing wine to flow out. Then, argon gas enters the bottle, preventing oxidation from occurring and keeping wine fresh for weeks or even up to years! This gift is sure to impress.
---
The hoodie is a universally adored staple in every modern man's closet… and a no-fail gift for any guy. Muji, known for their soft cotton, makes this zip-up version comfortable to wear at home and ideal to wear while walking the dog or when rain is in the forecast.
---
This is not your average weight scale. This super "smart" scale will give your guy an in-depth analysis into his body profile like body fat, water percentage, bone density and more stats than he'll ever need to know. If he's gained some weight like the rest of us in 2020, this is a gift that will give him the incentive to get back in shape… not a bad gift for under $25.00!
This is a great gift for any guy! Men have thicker skin, larger pores and require more moisture than women, so it makes sense that men use skincare tailored to suit their needs. Popular K-beauty brand, O Hui makes a great hydrating toner and moisturizer to refresh and nourish skin.
---
Ok, so this is a gift that is actually for everyone on your holiday list! Eat a Peach: A Memoir, is a critically acclaimed book from the chef behind Momofuku and star of Netflix's Ugly Delicious. In case you haven't figured it out by now, I'm a big fan of David Chang and I just ordered this for myself!
"An honest and vulnerable autobiography that will have you laughing and crying at the same time… an absolute must-read." —CNN
---
Stuck indoors this winter? Your golf loving buddy will enjoy perfecting his golf game with this easy-to-assemble indoor putting green. It's portable and compact making it easy to store or to move from room to room. He's sure to emerge in the spring ready to conquer Augusta!
---
No longer considered the "go-to" store just for women's athleisure wear, Lululemon delivers joggers that deserve a spot in every guy's wardrobe. Made of wrinkle-resistant Warpstreme Fabric for breathability and comfort, these ABC Joggers are stylish and so comfy he'll want to lounge around in them at home.
---
Sometimes the best gifts are old school and practical. A perfect example is the shoe horn, a staple in every Korean gentleman's shoe closet. This sleek version has an updated look that will look great placed by the door.
---
Korean men love their slides! This slick pair by Adidas features a well-cushioned footbed that makes it comfortable to wear after a workout or when he's out running errands. Perfect to wear with or without socks!
---
Men take their sneakers and footwear seriously and keeping them clean is a must! L.A. based sneakerhead, Jason Markk Angsuvarn, developed a shoe cleaner that many consider to be the "best sneaker cleaner hands down." With a cult following, many loyal fans rely on the foaming cleanser to remove dirt and stains from their favorite kicks.
---
Has your guy resisted purchasing a pair of blue light blocking glasses? With our current state of working at home and spending an excessive amount of time in front of screens, now is the perfect time to gift him with a pair. He'll thank you when he realizes he's getting less eye fatigue and better sleep!
---
If the guy on your gift list wants to expand his culinary horizons, this is the perfect gift for him. Hooni Kim's critically acclaimed cookbook is a treasure trove of delicious Korean recipes, beautiful photographs and personal memoirs. Chef Kim's first restaurant, Danji, received a Michelin star in 2012- the first ever for a Korean restaurant! Who better to learn how to cook Korean food from than a chef with a Michelin star?