Yes, it's true! Korean women can be a bit picky. But it's only because they have excellent taste and discerning sensibilities. Kidding aside, finding the perfect present for anyone can be a challenge, but especially so for the special women in your life. If you're at a loss over what to get for your beloved wife, mother, grandmother, sister or friend, here's a list of thoughtful gifts that are sure to make her feel special. Don't be surprised if you end up wanting a few of these for yourself!
Pro Tip: If you need help navigating the constantly changing return policies of popular retailers, check out this Holiday Return Policy Guide by Wirecutter.
---
Express your love and gratitude for someone special with this custom made dual-sided cutting board. Perfect for your mom or BFF who loves to cook. Plus, with a personalized note carved on one side, she'll always know how much you care for her. Write your message in English and this Etsy seller will translate it for you!
---
This South Korean brand exploded in recent years, known for their avant garde stores and collabs with Kpop stars and celebrities… perfect for the fashion icon in your life. Actress Son Ye Jin wears the Her T1 shades in Crash Landing on You (specifically, episode 12)!
---
Add a bit of fun and style to the wash-up ritual with this soft and stretchy elastic headband. A widely used accessory in Korea during skincare routines, head bands are ideal for holding hair back while masking, cleansing, or applying makeup. This adorable gift is the perfect touch for a spa day at home.
---
Meet this season's newest statement piece: the mask chain. This stylish and clever pick makes life so much easier- a converter is included so you can hang your sunglasses or glasses when you're not using it for your mask. Perfect especially for the busy woman who needs everything within reach!
---
Korea is a land rich in natural beauty so it's no wonder that Koreans love to bring a touch of nature indoors. Brighten up her home with these elegant glass vases, or better yet, present them to her filled with beautiful freshly cut flowers.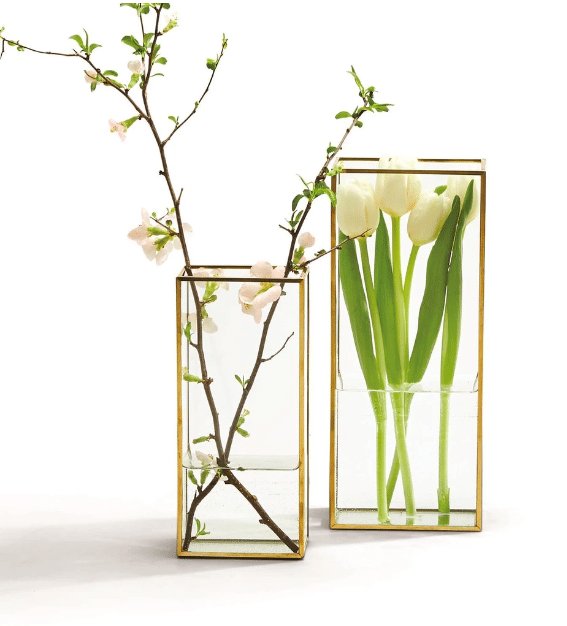 ---
Asian Beauty Secrets is a perfect gift for the friend who's always researching the latest and greatest on skincare. Author, Marie Jhin, M.D. is a Korean American board certified dermatologist in San Francisco and is routinely interviewed by beauty magazines including Oprah, Allure, Marie Claire and Elle! Her book traces the history of beauty and skin care in Asia- plus offers relevant and timely tips and treatments for today's health and beauty regimens.
---
Cook without the odor or splatter with this double-sided fry pan made by Korean brand, HappyCall. I love cooking fish in this non-stick grill, but it's great for cooking steak, omelettes, and much more. When closed, the magnetic seal locks in heat and moisture resulting in juicy and tender food without the need for too much oil.
---
Handcrafted in a Los Angeles based studio, these cool tea strainers are truly one-of-a-kind- no two are alike! Perfect for any loose tea like Korean favorites bori-cha or omija-cha. Co-founder of The Lazy Potters, Jennifer Cheh draws inspiration from her Korean American background and as an architect creating organic ceramic pieces that combine form and function.
---
Give the gift of silkier hair and smoother skin with the pillowcase that has taken the internet by storm. Made of 100% silk, the soft fibers provide a natural resistance to allergens and have anti-aging properties that help prevent wrinkles and keep hair frizz-free. Fans of the Blissy Pillow swear they sleep better, too- something we all need to boost our immune system and keep us healthy. This luxe set comes with super soft eye shades and silk scrunchies.
---
This top pick is the ultimate in at-home skin care. Used in well-known spas, the NuFace device uses FDA approved low level micro current technology to help tighten skin, stimulate muscles and brighten skin tone. According to thousands of NuFace fans, this device lives up to the hype! NuFace is the kind of splurge item women hesitate to purchase for themselves but love to receive as gifts! If I'm on your gift list, you can take this as a hint. 🙂
---
Two words: waterproof apron. Why didn't we think of this ages ago? As we all know, the apron is an essential in every Korean kitchen. This pretty and practical apron is long lasting and a must have for your home chef.
---
"The best kind of day is a good hair day." Women of all ages will appreciate this all-in-one blowout tool to keep hair bouncy and fresh, without having to step foot in the salon. A game changer in the world of at-home hair care, the unique oval shaped brush is easy to rotate without getting hair tangled.
---
Available in 9 tea choices, your Nespresso machine lover can finally brew Korean tea in their coffee makers with these Nespresso compatible capsules. Available from my new favorite Korean shopping site, Gochujar. Check out their website for a beautifully curated selection of Korean home, food and beauty items.
---
The Supracore Bath Mitt stimulates, exfoliates and massages your skin as you wash. Unlike loofahs or other exfoliating products, the mold-resistant silicone and honeycomb weaving allows water to drain and builds up a foamy lather. Soft and gentle yet provides a good scrub. A great gift for the friend who misses the Korean spa!
---
With a year like 2020, who DOESN'T need one of these? This small and mighty massager emits soothing heat as it relieves neck and shoulder tension- bringing back a sense of calm to a stressful day. It's lightweight and portable, so your girlfriend can wear it wherever she goes!
---
We hope you like our reviews and recommendations! All products featured on Best of Korea are independently selected by our writers and editors. If you would like to purchase a product, please use our links and we may receive an affiliate commission for your purchase. Best of Korea LLC is a participant in the Amazon Services LLC Associates Program.