It's been a phenomenal week for BTS. They started off by winning all 4 of the awards they were nominated for at MTV's 2020 VMA ceremony, went on to break the YouTube record for most viewed debut video, then wrapped it all up by smashing into the No. 1 slot of the Billboard Hot 100 with their English-language single "Dynamite". Here is your ultimate guide to BTS!
---
Why you need to know about them
BTS is now the biggest boy band in the world, and some might argue the biggest of all time. This seven member South Korean K-pop group is known for their crazy hair colors, insane live performances, and a fierce fan base that lives up to its name of ARMY.
BTS was the first K-pop group to present an award at the Grammy's. They spoke at the United Nations and became the first K-pop group to perform at the Billboard Music Awards.
BTS truly seems to have conquered the world but how did they do it and what sets them apart? Some might say the seeds of their phenomenal success were sown right from the start with their unconventional mission of compassion and love to self and others.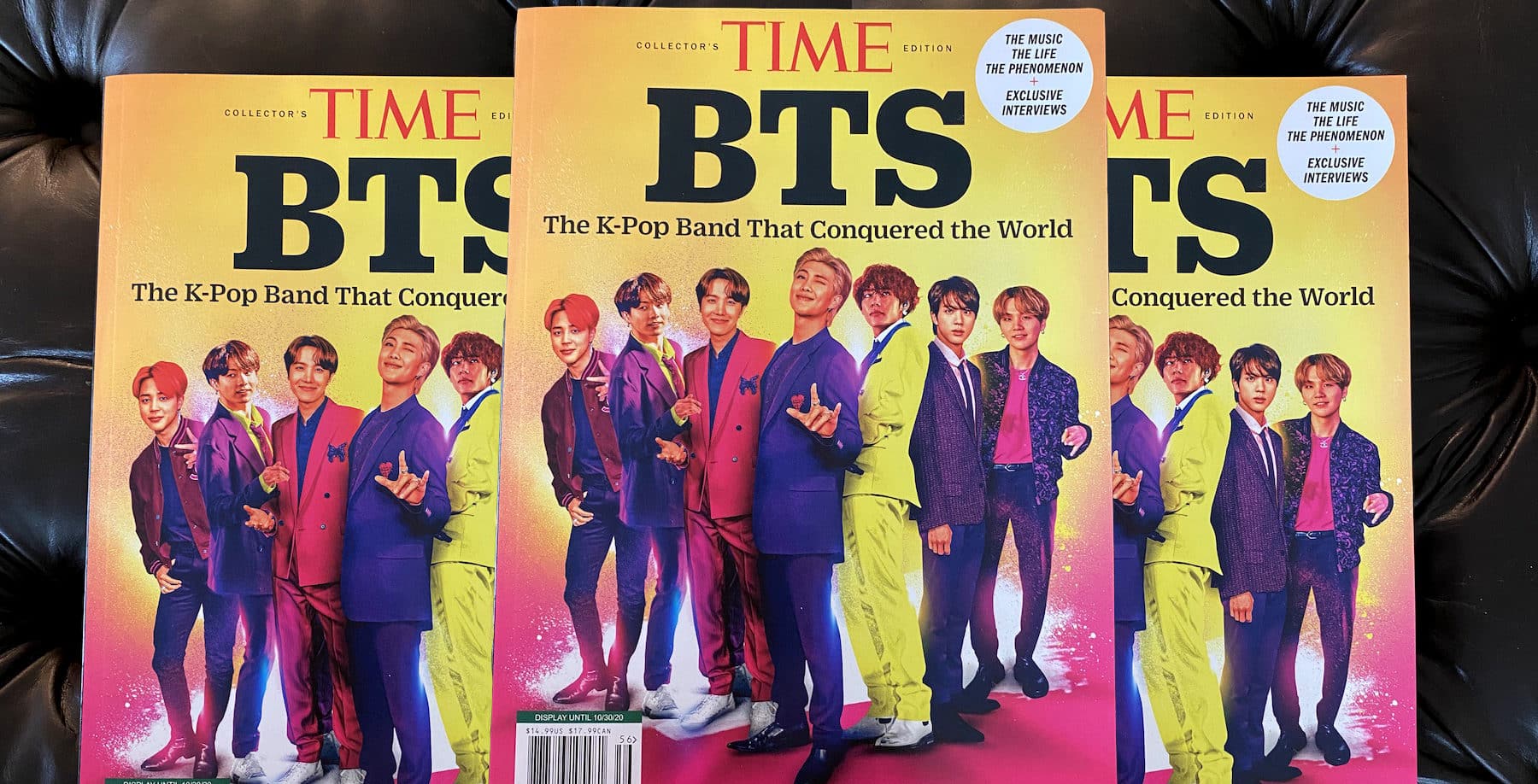 ---
Who they are
BTS, stands for Bantan Sonyeondan (방탄소년단), which can be translated as "Bulletproof Boy Scouts". BTS first debuted in 2013, under one of the lesser-known musical management companies, Big Hit Entertainment. They had fewer resources and connections than other K-pop groups, which may have helped them develop their own creativity and songwriting skills.
Their music ranges across multiple genres and saying BTS' popularity has skyrocketed globally in the last few years would be a massive understatement. Below are just a few of their numerous incredible accomplishments.
First K-pop artists to hit #1 song on Billboard 100
First K-pop group to receive a Grammy Nomination
First K-pop group to perform at Saturday Night Live
First Korean act to earn more than 1 billion streams on Apple Music
First K-pop group to win the Top Social Artist at the Billboard Music Awards in 2017 and won ever year since then
---
Who created BTS?
Bang Si-hyuk worked as an arranger and producer with the studio JYP until 2005, when he left to form his own studio, Big Hit Entertainment. Aware of what a toxic environment the K Pop industry could be, he began to quietly build a different kind of studio and cultivate the band that would become BTS.
In 2010, Bang began to assemble a group of teens for a group he called the Bulletproof Boy Scouts. This would go on to become Bangtan Boys, then BTS, but the ingredients of their success were inherent in the original name.
Bang intended "bulletproof" to function as a celebration of the kids' toughness and ability to withstand the pressures of the world. But he also wanted the band to be able to be sincere and genuine — not immaculate idols groomed amid studio culture, but real boys who shared their authentic personalities and talents with the world.
These values resonated with fans and as a band, BTS has always been deeply involved with interacting with their fans, citing them as their number one influence and inspiration.
---
Who are the fans?
No Guide to BTS would be complete without a shoutout to the fan base known appropriately as ARMY. Their online influence is astounding and ARMY tweets help propel any news of the band to trend worldwide. They are able to stream videos and songs at record breaking numbers, and have recently used their powerful influence to propel the Black Lives Matter movement forward, including matching donations to BLM causes.
Read more here: BTS Army Matched the Band's $1 Million Donation to Black Lives Matter
---
Their Global Presence
BTS has established their global presence through various media outlets. On top of touring throughout the United States four times, over the years BTS has collaborated with Western artists including Nicki Minaj (on 'IDOL'), Halsey (on 'Boy With Luv') and three times with DJ Steve Aoki (on, 'Mic Drop', 'Waste It On Me' and 'The Truth Untold'). And for solo songs, RM has collaborated with Wale and Jungkook with Charlie Puth!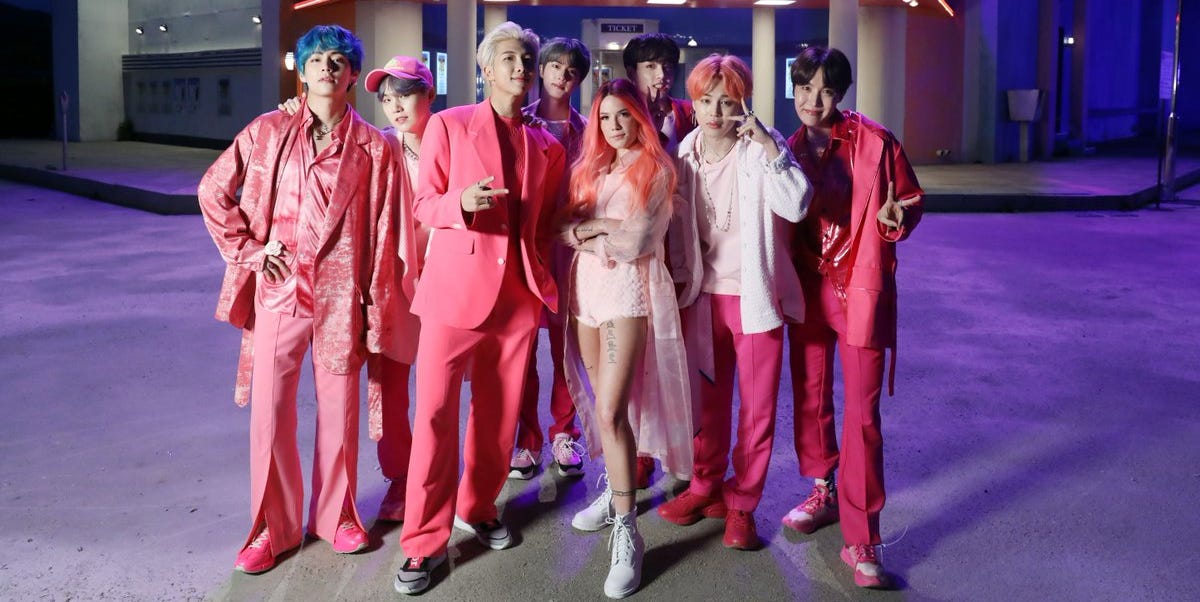 The group has also appeared on many talk-shows recently, including Late Night with James Cordon, Jimmy Kimmel Live!, The Ellen DeGeneres Show, The Tonight Show Starring Jimmy Fallon, and Good Morning America where they play games, perform their songs, and talk about upcoming projects!
---
Music Videos
They have set countless YouTube records and their music videos get anywhere from a few million to a billion views. Check out their most popular music video below!
---
Your Guide to BTS Members
---
V
Full Name: Kim Taehyung
Position: Vocalist, Dancer
Birthday: December 30, 1995
Age: 24
Height: 178 cm (5'10.1″)
Personality Type: ENFP
Named the most handsome man of 2020 by YouTube channel 'Top 10 World"
---
Jin
Full Name: Kim Seokjin
Position: Vocals
Birthday: December 4, 1992
Age: 27
Height: 179 cm (5'10.5")
Personality Type: INTP
Oldest of the group
Was scouted for his good looks
---
Jung Kook
Full Name: Jeon Jeongguk
Position: Vocalist, Dancer, Center
Birthday: September 1, 1997
Age: 23
Height: 178 cm (5'10.1")
Personality Type: INFP
Youngest member ("Maknae")
---
RM (Rap Monster)
Full Name: Kim Namjoon
Position: Rapper, Leader
Birthday: September 12, 1994
Age: 25
Height: 181 cm (5'11.3")
Personality Type: ENFP
First member of the group
Speaks fluent English
Worked in Korea's underground rap scene before joining BTS
---
Jimin
Full Name: Park Jimin
Position: Vocalist, Dancer
Birthday: October 13, 1995
Age: 24
Height: 173cm (5'8.1″)
Personality Type: ENFJ
Originally from Busan
Also enjoys success on his solo music
---
Suga / Agust-D
Full Name: Min Yoongi
Position: Rapper
Birthday: March 9, 1993
Age: 27
Height: 174 cm (5'8.5″)
Personality Type: INFP
Began writing songs aged 13,
Worked part-time in a recording studio during his late teens
---
J-Hope
Full Name: Jung Hoseok
Position: Rapper, Star Dancer
Birthday: February 18, 1994
Age: 26
Height: 177 cm (5'9.7")
Personality Type: ESFJ