Our least expensive meal in Paris also turned out to be the best. Bulgogi jeongol is now one of our favorite things to make at home.
---
Korean bulgogi jeongol might be the last thing you might expect to enjoy during your European vacation but hear me out. A Paris itinerary loaded with Michelin-starred restaurants may sound like a dream come true, but the reality can be more than a little disappointing. Too rich, too saucy, and way overpriced are some of the reasons we avoid many of these ivory tower establishments. For our springtime trip to Paris, my husband and I decided to book as many under the radar, yet highly rated spots as possible.
But even with a well rounded variety of lighter, healthier and truly delicious meals, by day 5 of our trip, we were dying for some Korean food. We would have settled for some ramen to cook up in our Airbnb but we were delighted to find that there were quite a few 'Coreen' restaurants available right in the heart of Paris' right bank.
The most promising options didn't take reservations, so we took our chances on a restaurant called Jantchi, which had a long line of both locals and tourists waiting for a hearty Korean meal.
---
The bulgogi jeongol for two appeared to be a house special and at 39 euros, it turned out to be the cheapest and hands down the best meal of the trip. And now it is one of our favorite things to make at home, especially when we want a special yet simple one dish meal.
Bulgogi translates to 'fire meat', and it is usually grilled over high heat or charcoal. Jungeol is Korean hot pot in which the meat is cooked in a broth with vegetables and noodles.
At Jantchi, the broth was brought out in a wide shallow pot with the vegetables and noodles beautifully arranged. The pot was placed on a gas grill right on our table and the marinated meat was then added to the boiling broth.
Minutes later we were devouring serving after serving of the tasty mixture which we ate together with bowls of steaming white rice and kimchi. The entire meal was a perfect balance of vegetables, meat, and noodles, and we spooned up every last drop of broth.
We attempted the below recipe as soon as we returned home and found it to be surprisingly easy yet just as festive and delicious as our meal in Paris.
Many different kinds of veggies and cuts of beef can be substituted in this bulgogi jeongol recipe. If you don't have Korean pear for the bulgogi, an apple or onion will substitute just fine but otherwise try to keep as close as possible to the marinade. And don't skip the noodles! The piece de resistance in this delicious all-in-one dish.
Bon appetit and mashitgae dueseyo!
---
Bulgogi Jeongol
Recipe by Hyosun Ro of Korean Bapsang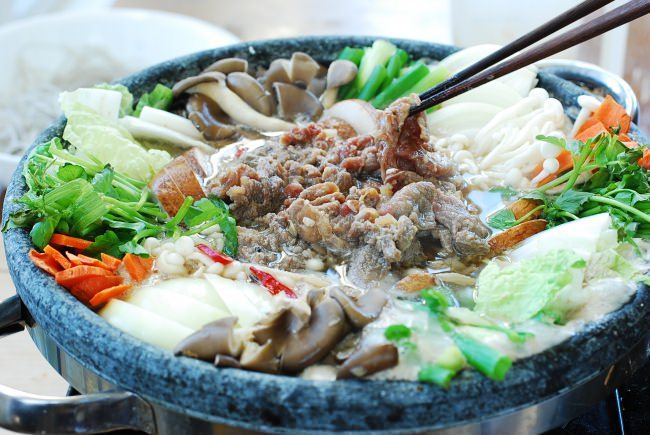 Ingredients:
1 pound thinly sliced beef rib eye or top sirloin – see note below
For the Marinade
3 tablespoons soy sauce
1 tablespoon sugar
1 tablespoon honey or use more sugar
1 tablespoon

rice wine or mirin

1 tablespoon garlic
1 tablespoon sesame oil
3 tablespoons grated Asian pear
1/8 teaspoon pepper
For the Broth (see note)
3 x 3 inches dried kelp

dashima

3 ounces Korean radish cut into big chunks
1/4 onion
1 tablespoon

soup soy sauce

Salt and pepper to taste
For the vegetables
1 small carrot
2 large napa cabbage leaves or green cabbage or bok choy
1/2 medium onion
4 ounces assorted mushrooms button, shiitake, oyster, crimini, enoki, etc.
2 to 3 scallions
2 to 3 ounces minari water dropwort or watercress
1 red chili pepper – optional
For the noodles
Instructions
Mix all the marinade ingredients in a large bowl. If using packaged pre-sliced meat, run a knife through it to cut into smaller pieces. Add the meat to the marinade. Toss gently, with hands, to mix everything well. Marinate while preparing the other ingredients.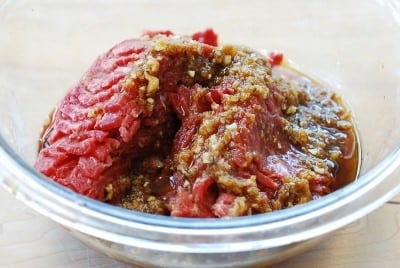 ---
2. Put 5 cups of water and the broth vegetables in a medium size pot. Bring it to a boil over high heat. Reduce the heat to medium and continue to boil for about 15 minutes. Discard the vegetables. Season with the soup soy sauce, salt and pepper to taste.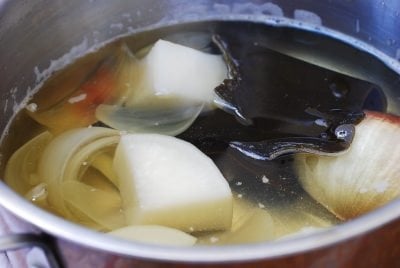 ---
3. Cut the cabbage and carrot into thin, bite size pieces. Thinly slice the onion and mushrooms. Cut the scallions and minari in similar lengths.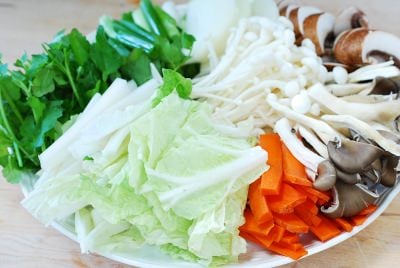 ---
4. Using a wide, shallow pot, neatly arrange the bulgogi and vegetables in clusters. Add the noodles. Pour in 2 to 3 cups of broth and cook over high heat, separating the bulgogi pieces. Depending on the pot size, you can cook the bulgogi jeongol in two batches or add more broth and any remaining ingredients while eating if you're cooking at the table.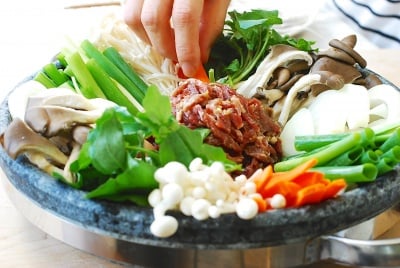 ---
*Notes
If you buy pre-sliced bulgogi meat, pay a little more to get good quality meat. If cutting the beef at home, partially freeze for about an hour to firm it up for easier slicing. Cut across the grain into very thin slices.
You can use any type of broth (beef broth, anchovy broth, etc.) or simply use water.