Every time we make a big batch of homemade mandu and then neatly stack the full bags of dumplings into the freezer, I feel rich. It's the kind of feeling that assures me that we will eat well even in the face of an apocalypse, never mind a pandemic.
Mandu is the beloved Korean dumpling that can be eaten steamed, fried, or boiled in soup. Making homemade dumplings used to be more of an annual New Year's activity in our home to prepare for Seollal but when my friend Linda got us hooked on her delicious and super easy recipe, we now find ourselves making mandu all year round. With the perfect balance of tofu, meat, vegetables, and light seasoning, Linda's recipe is the clean and healthy mandu recipe that I absolutely love.
I like to make mandu in the shape of a little purse, while my husband and kids make all sorts of shapes including sometimes inappropriate ones! But that's all part of the fun and the creative possibilities are endless.
Channel the Young family of Crazy Rich Asians, and gather the family on a quiet afternoon for some quality bonding time while making delicious dumplings for dinner.
Everyone will have fun making their own shapes and best of all you will undoubtedly feel crazy rich as you stuff your freezer full of beautiful homemade mandu. You might even feel philanthropic and donate some to a needy family who sadly only eats store bought dumplings!
---
Here's a 1 minute video overview of the mandu recipe:
---
Linda's Quick + Easy Mandu Recipe
Servings: 100 Dumplings (Recipe can be halved)
Ingredients
2 Packages of Dumpling Wrappers (50 each)
Filling:
1 package Firm Tofu (14oz)
1/2 pound Ground Beef (I like 85% Lean)
1/2 pound Ground Pork
10oz Mung Bean Sprouts (Sukju Namul)
6 Cloves Garlic, Minced
6 Scallions, Chopped
4 Tablespoons Low Sodium Soy Sauce
4 Tablespoons Sesame Oil
2 Teaspoons Black Pepper (Optional)
Instructions
Boil the mung bean sprouts for 2 minutes and rinse with cold water. Squeeze out excess water by hand or place mung beans in the center of cheesecloth and squeeze.
Place the tofu block in the cheesecloth and squeeze out excess water.
Add all filling ingredients in a bowl and mix thoroughly with your hand until the everything is combined evenly and the mixture holds together nicely.
Place a spoonful of mix in the middle of a dumpling wrapper and wet half the edge with some water. Fold the dumpling in half and squeeze it shut to make a half moon shape. Pinch the edges if desired.
Place each finished mandu onto a well floured large platter. When platter is full, place it in the freezer. After an hour, remove the mandu and fill ziploc bags with the frozen mandu and stack in freezer.
To eat the mandu right away, you can steam, boil, pan fry, or put into soup or ramen.
Make a yummy dipping sauce by combining the below:
1 tablespoon soy sauce
1 tablespoon vinegar
1/2 teaspoon sugar
optional: pinch of black pepper, gochugaru, and sesame seeds
---
Add Mandu to Linda's Super Easy Tteokguk (Korean Rice Cake Soup) Recipe
---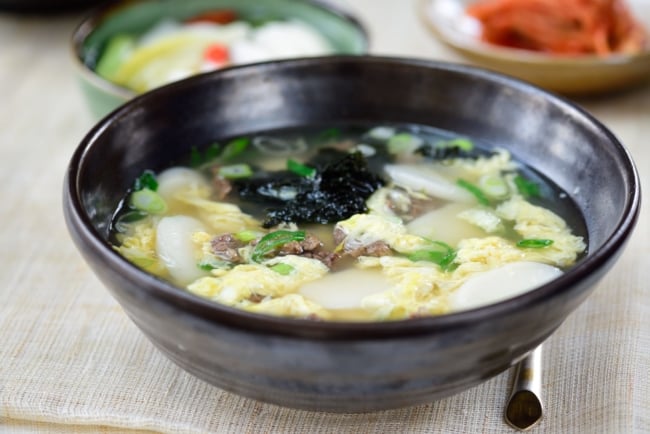 Servings: 4 
Ingredients
Beef Broth
1/2 pound 230 grams beef brisket (양지머리) or flank steak Beef chuck roast is good too.
1/2 medium onion
5 – 6 cloves of garlic
3 scallions – white parts
1 – 2 tablespoons soup soy sauce
Salt and pepper to taste
Garnish
Beef removed from the broth
1/2 teaspoon minced garlic
1/2 teaspoon sesame oil
salt and pepper
1 egg
1 scallion
1/2 sheet gim nori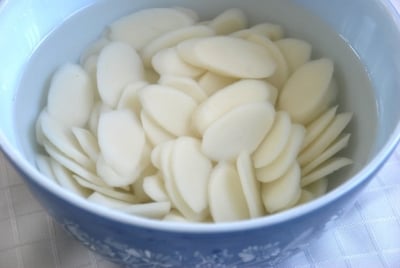 Rice cakes (garae tteok)
4 cups sliced garae tteok rice cake
Soak in cold water for 10 to 20 minutes if hardened.
Instructions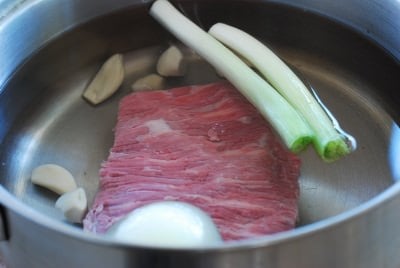 In a large pot, bring the meat, onion, scallions and garlic to a boil in 14 cups of water. Reduce the heat to medium low, and skim off the scum. Simmer, covered, until the meat is tender enough for shredding, 1 to 1-1/2 hours. Remove the meat and cool. Discard the vegetables. Stir in soup soy sauce, salt and pepper to taste.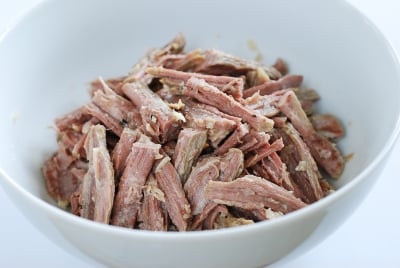 Cut the cooled beef into 1 – 1 1/2-inch wide strips, shred, and combine well with garlic, sesame oil, and salt and pepper to taste.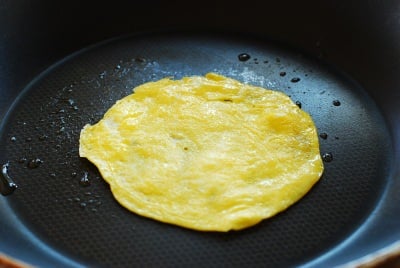 To make egg garnish (jidan), separate the egg white and yolk. Lightly beat the white by gently cutting it with a spoon. Stir the yolk with a spoon until smooth. Heat a lightly oiled nonstick skillet over medium low heat. Pour each egg part into a thin layer, tilting the skillet and/or spreading with a spoon. Cook each side briefly. (Do not brown the egg.)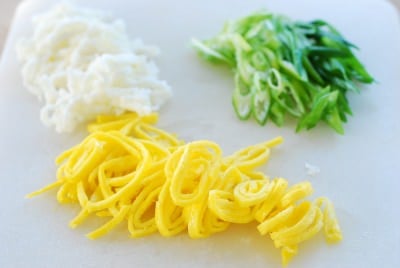 Roll each egg crepe, and slice into short thin strips. Slice the scallion diagonally into thin strips. Roast the gim on a hot skillet. Cut into thin 1 1/2-inch strips with kitchen shears, or simply crush them with hands.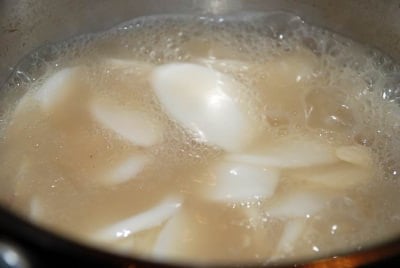 Return the broth to a boil. Add the rice cake slices and boil until soft, usually about 5 – 8 minutes. Ladle the steaming soup into individual bowls and garnish with the shredded beef, egg, scallion and gim strips.
---
Notes
Although egg jidan is a classic garnish for tteokguk, a common alternative is to drizzle a lightly beaten egg over the boiling soup right before turning the heat off. Or you can omit the egg part entirely if you like.
If you want to add some mandu (dumplings), you can drop them in along with the rice cake slices, stirring gently so they don't stick to the bottom of the pot. Boil until all of them float, and continue to cook for another minute or two. You can also steam mandu or cook in boiling water separately, and add to the soup when the rice cake is softened. This method will keep the soup from becoming too thick from all the starch released from the rice cake slices and mandu.