8 Delightful Soju Cocktails That Will Light Up Your Party
We love to throw parties, especially during this time of year, and soju cocktails have become our favorite way to set the mood. Soju cocktails have been rising in popularity in recent years, especially among people who don't want to serve the same old drinks. Soju is a traditional Korean distilled spirit that has a lower alcohol content than vodka resulting in soju cocktails that are delicious, refreshing and light, perfect for any occasion.
As K-drama lovers, we all know what soju is since it is practically in every K-drama. And given how beloved the drink is in Korea it's no wonder that soju is somehow featured in so many Korean TV shows and movies. Koreans will drink it on every occasion such as graduations, birthdays, going away parties, funerals, you get the picture. In fact soju is not just alcohol, it really is a part of Korean daily life.
What might surprise you is that soju is also the # 1 selling liquor in the world. Since it is a clear, colorless distilled alcohol, it is often described as Korean vodka. However, it has half the alcohol content (about 20%) of vodka (40%).
With less alcohol content, soju cocktails make an excellent choice for those who want to enjoy the party without getting buzzed too early.
Here are 8 soju cocktail recipes to wow your friends, plus a bonus must-try soju mixer. Cheers! 🥂
---
1. Soju Cosmo
Ingredients for 1 Soju Cocktail
1.5 ounces Soju
1 ounce Triple Sec (or Cointreau)
1.5 ounces cranberry juice
2 teaspoons fresh lime juice
Orange zest twist, sugar rim, mini candy cane, and fresh mint leaves, garnish (optional)
Directions
Chill a martini glass in the freezer.
Remove the glass from the freezer, rub the edge of the glass with a lime slice and dip it in sugar that you've spread on a plate.
Fill a cocktail shaker halfway with ice.
Add the soju, triple sec, and cranberry and lime juices.
Cover and shake vigorously to combine and chill.
Strain the cosmopolitan into the chilled martini glass.
Twist the orange zest over the drink, put mini candy cane and fresh mint leaves on the rim, and serve.
---
2. Melona Soju Cocktail Recipe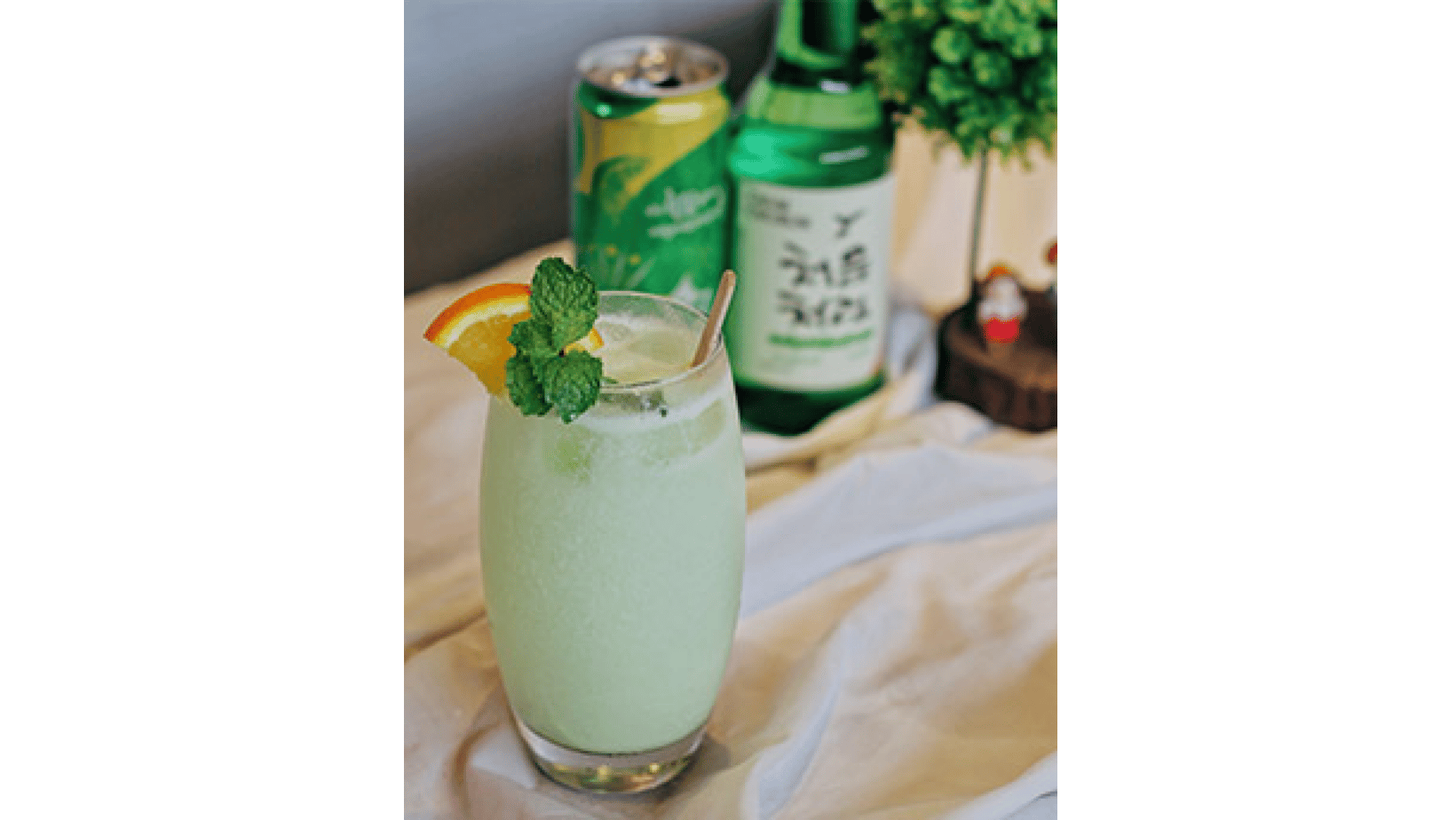 Ingredients for 4 Soju Cocktails
1 bottle Soju
1 can Sprite
2 Melona Popsicles
Some ice
Fresh mint leaves and orange slice, garnish (optional)
Directions
Blend this all together until it reaches a slushie consistency.

Pour the soju cocktails into the chilled glass.
Put orange slices and fresh mint leaves on the rim, and serve.
---
3. Soju Mojito
Ingredients for 1 Soju Cocktail
10 fresh mint leaves
½ lime, cut into 4 wedges
3 fluid ounces Soju
2 tablespoons white sugar, or to taste
1 cup ice cubes
½ cup Sparkling water
Directions
Place mint leaves and 1 lime wedge into a sturdy glass.
Use a muddler to crush the mint and lime to release the mint oils and lime juice.
Add 2 more lime wedges and the sugar, and muddle again to release the lime juice.
Do not strain the mixture.
Fill the glass almost to the top with ice.
Pour the soju over the ice, and fill the glass with carbonated water.
Stir, taste, and add more sugar if desired. Garnish with the remaining lime wedge.
---
4. Yogurt Soju
Ingredients for 1 Soju Cocktail
3 fluid ounces Soju
3 ounces Asian yogurt drink, plain or flavored, thawed if frozen
3 ounces lemon-lime soda, such as Sprite or 7UP
Directions
Pour ice, the soju and yogurt drink Into a stainless steel cocktail shaker.
Shake until ingredients are thoroughly chilled.
Add the soda and stir.
Strain into a glass and enjoy!
---
5. Soju Sunrise
Ingredients for 1 Soju Cocktail
3 fluid ounces soju
3/4 cup orange juice 
3/4 ounce grenadine syrup 
Orange slice, for garnish 
High-quality maraschino cherry, such as

Luxardo

, for garnish 
Directions
In a highball glass filled with ice, pour in the soju and orange juice.
Slowly pour the grenadine into the glass over the back of a spoon or by drizzling it down the side of the glass, allowing it to settle at the bottom.
Garnish with an orange slice and maraschino cherry.
6. Soju Lemonade
Soju lemonade is a refreshing and easy-to-make cocktail that is perfect for warmer weather days.
Ingredients for 1 Soju Cocktail
2 oz of soju
4 oz of lemonade
Ice
Lemon slice (for garnish)
Directions
Fill a glass with ice.
Add the soju and lemonade, and stir.
Garnish with a slice of lemon and enjoy!
7. Soju Martini
The soju martini is a delicious and sophisticated cocktail that is perfect for any occasion.
Ingredients for 1 Soju Cocktail
2 oz of soju
1 oz of dry vermouth
Ice
Lemon twist (for garnish)
Directions
Fill a shaker with ice, add the soju and dry vermouth, and shake well.
Strain the mixture into a chilled martini glass and garnish with a lemon twist.
8. Soju Sangria
Fill a punch bowl with soju sangria for a fruity and refreshing cocktail that is perfect for a summer party.
Ingredients for a Large Bowl of Soju Sangria
2 cups of soju
1 bottle of red wine
1 cup of orange juice
1 cup of pineapple juice
1 cup of mixed fruit (such as apples, oranges, and berries)
Ice
Mint leaves (for garnish)
Directions
Combine the soju, red wine, orange juice, pineapple juice, and mixed fruit in a large pitcher.
Stir well and refrigerate for at least an hour.
Serve the sangria over ice and garnish with mint leaves.
Bonus: Somaek
Somaek is a popular alcoholic beverage in Korea that is made by mixing soju with beer. The name somaek is a combination of the Korean words for soju (soju) and beer (maekju).
Somaek is often served in bars and restaurants in Korea, and it is particularly popular among young people. It is also commonly consumed at outdoor festivals and gatherings. The combination of the two drinks creates a unique flavor that is both sweet and bitter.
---
Check out this video on how to make somaek:
---
---
We hope you like our reviews and recommendations! All products featured on Best of Korea are independently selected by our writers and editors. If you would like to purchase a product, please use our links and we may receive an affiliate commission for your purchase. Best of Korea LLC is a participant in the Amazon Services LLC Associates Program.