What is Korean ramen? Also known as ramyeon or ramyun, it is an instant noodle that Koreans have loved since 1963 when Samyang Ramyun first came on the market. Ramyun has gained international recognition for its unique flavors and wide range of options.
Ramyun is commonly enjoyed as a quick and convenient meal in Korea. It is often eaten as a late-night snack, a comfort food during cold weather, or a quick meal option for busy individuals. Many rags to riches stories recall how people ate only ramyun until they started to make money. But regardless of their station in life, people at all socio-economic levels enjoy slurping the noodles and savoring the rich broth, creating a satisfying and comforting eating experience.
Korean ramen has also inspired various creative and fusion recipes. Some people add cheese, butter, or other ingredients to enhance the flavor or create a unique twist. Ramen is sometimes used as an ingredient in other dishes, such as stir-fried ramen or ramen-based stews like Budae Jjigae.
The Noodles:
Korean ramen typically features instant noodles made from wheat flour. These noodles are pre-cooked and dried, allowing for quick preparation by simply boiling them in water. The noodles come in various thicknesses, from thin to thick, and their texture can range from soft to chewy, depending on the brand and variety.
The Broth:
The broth is a crucial component of Korean ramen, known for its rich and savory flavors. There are various broth flavors available, including spicy, soy-based, beef, chicken, seafood, and vegetable. Spicy ramen varieties are especially popular in Korea, offering a delightful combination of heat and flavor.
The Flavoring Packets:
Instant ramen packages typically come with flavoring packets. These packets contain a combination of powdered seasonings, such as soy sauce, garlic, onion, chili powder, and various spices, which are added to the boiling water to create the broth's distinctive taste. Some packages may also include oil or dehydrated vegetables to enhance the flavor and texture.
The Toppings:
Korean ramen can be customized with a variety of toppings to enhance the overall taste and texture. Common toppings include sliced green onions, bean sprouts, seaweed, boiled eggs, kimchi, sliced meat (such as pork or beef), fish cakes, and other vegetables. These toppings add depth, color, and additional flavors to the dish.
Varieties:
Korean ramen comes in a wide range of flavors and variations, catering to different preferences. With K-Drama's ever-increasing popularity, which frequently showcases the best Korean ramen, many of the top brands have become bestsellers in the Western world. Some popular varieties include Shin Ramyun, Samyang Hot Chicken Flavor Ramen, Jjapaghetti, Neoguri, Budae Jjigae Ramyun (Army Stew Ramen), and Kimchi Ramen. Each variety offers a unique combination of spices, seasonings, and ingredients.
Korean ramen has gained a significant following both domestically and internationally due to its convenience, bold flavors, and versatility. It has become an integral part of Korean cuisine and a favorite among people of all ages. Whether you prefer a spicy kick or a milder taste, Korean ramen offers a wide range of options to satisfy your cravings.
Here is my list of the 12 best Korean ramen ranked. Nongshim Shin Black is my favorite Korean ramen and one of my favorite Korean snacks. It was also chosen as the world's best Korean ramen by Wirecutter. Nongshim ramen is sold in over 100 countries globally and plays a lead role in K-ramen obsession. The rest are a smörgåsbord of tastes and textures, many of which can be combined for just the right level of spiciness and flavor.
Please note, ramen comes in many forms and flavors. I combined the best Korean ramen that come in a bag and a cup on this list.
---
1. Nongshim Shin Black Noodle Soup
Shin Black Ramen is the premium version of Shin Ramen. This ramen has an extra beef bone soup base power packet which makes the broth thicker and meatier. It's also loaded with Shin Ramen's famous spiciness. Shin Black Ramen comes in three different versions; Shin Black Meal Noodle, Shin Black Cup Noodle, and Shin Black Ramen Bowl.
---
2. Nongshim Shin Noodle Soup
Since its creation in 1986, Shin Ramen has been the undisputed bestseller in Korea and one of the most popular instant noodles in the world. It was also named by the "Thrillist" in December 2021 as one of the best instant noodles.
Its spiciness may you shock you at first but you'll finish your bowl very satisfied. The chewiness of the noodles and the richness of the spicy broth – packed with beef, mushrooms, carrots, and peppers – will make you crave another bowl instantly. Shin Ramen has 3 different versions; Shin Meal Noodle, Shin Cup Noodle, and Shin Ramen Bowl.
---
3. Samyang Original Ramen
Samyang Original Ramen is the first Korean ramen ever produced, way back in 1963. This is definitely the ramen that nostalgic Korean baby boomers love the most. Loaded with ham and vegetable flakes, the soup has a pleasing multi-layer flavor that everyone can enjoy, regardless of age.
---
4. Ottogi Jin Ramen Mild
Jin Ramen Mild is very popular with those who don't appreciate the spiciness of Shin Ramen, making it the number one ramen for Korean children. Since its debut in 1988, it has become one of the most popular ramen and a fierce competitor of Shin Ramen in Korea. It has plenty of vegetable flakes inside, such as green onion, mushrooms and carrots, The mild but rich broth provides an authentic traditional Korean flavor with every bite. It comes in 2 versions: Jin Ramen Mild, and Jin Ramen Mild Cup Noodle. There are also spicier versions of Jin Ramen; Jin Ramen Spicy, and Jin Ramen Spicy Cup Noodle.
---
5. Nongshim Bowl Noodle Soup, Kimchi
This is one of the first Korean ramen bowls and has been a steady seller since its debut in the 1980s. Ramen bowls are so simple and quick to make. Just follow these steps – 1. Put water into the bowl; 2. Put the bowl into a microwave for 3~4 min; 3. Eat and enjoy. That's why ramen bowls and cup noodles are so popular with people in a hurry who need to eat fast.
These noodles contain kimchi, a globally popular fermented dish that's nutritious and makes a great addition to many foods. With this added kimchi taste, and a mild spiciness, this ramen bowl is well-balanced and flavorful – perfect for those who are newbies to kimchi.
---
6. Nongshim Chapagetti
Chapagetti is the instant noodle version of the Chajangmyun (Jajangmyun) Noodles, an extremely popular noodle dish and one of the first delivery foods in Korea. Jajangmyun is a Chinese black sauce fried noodle dish that was invented by a Chinese Korean back in 1905 in Incheon, Korea. It has become one of Korea's favorite foods since then. More recently, Chapagetti gained international popularity, along with Neoguri, because of the Oscar winning movie, "Parasite".
Chapagetti is from the words Chajang (Jajang) and Spaghetti. You can tell from the name that it is a blend of Chinese (fried black sauce) and Italian flavors. The vegetable flakes have chunks of dried potato, onion, and carrots to go with its delicious jajang sauce powder and olive oil.
Chapagetti comes in 2 versions; Chapagetti, and Chapagetti Big Bowl.
---
7. Nongshim Neoguri
Neoguri was launched in 1982 by Nongshim and was differentiated from their other ramen by its thicker noodles, which are more like udon noodles with a rich spicy seafood flavor soup. This was an instant hit in Korea and became Korea's favorite instant seafood noodle soup. As mentioned above, it gained international popularity along with Chapagetti because of Parasite's infamous noodle dish, ChapaGuri.
This has 2 versions; Neoguri, and Neoguri Cup Noodle.
---
8. Nongshim ChapaGuri
This Korean ramen came right after the success of "Parasite". Chapaguri Bowl is a well-executed combination of Chapagetti's delicate jajang taste and Neoguri's spicy seafood flavor, just like in the movie, this instant bowl will be yours to eat and enjoy within 5~6 min. Simply pop it into a microwave, avoiding the inconvenience of cooking on a stovetop like in Parasite.
---
9. Samyang Buldak Ramen
Buldak ramen (Hot Spicy Chicken Stir-Fried Ramen) is the Korean ramen that started the phenomenonal 'fire noodle challenge', which resulted in more than a million videos on YouTube of people trying this challenge worldwide. This stir-fried ramen is extremely spicy, even by Korean ramen standards, but also has a delicious and addictive flavor with chewy and firm noodles. The sauce is flavorful, creating the perfect balance between spiciness and a strong chicken flavor.
Buldak ramen has 11 flavors: Hot Chicken, Original, Carbo, Kimchi, Light, Spaghetti, Jjajang, Stew, Curry, 2X(HEAK), Cheese, and Corn. It also comes in 3 cup noodle flavors, Orignal, Carbo, and Cheese.
---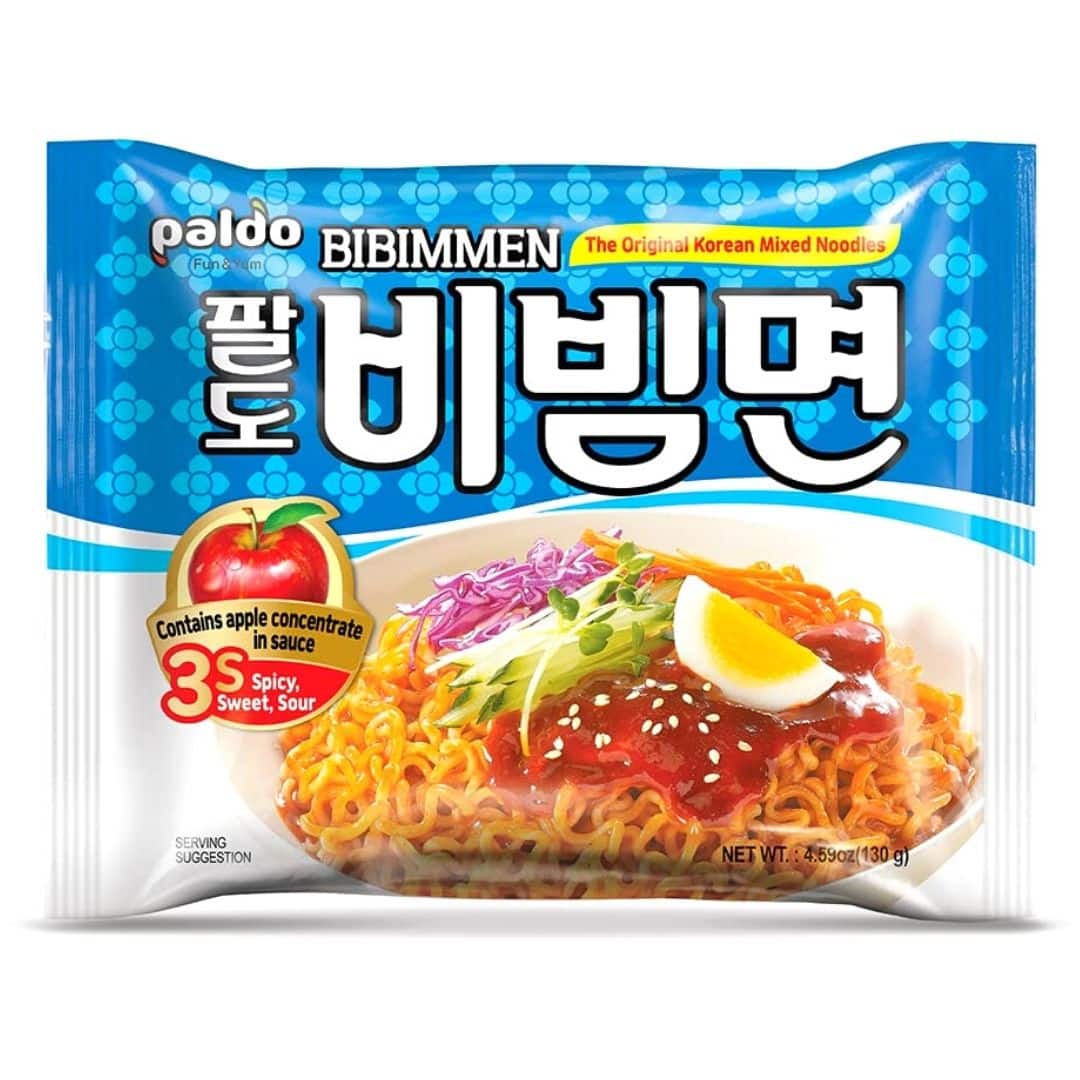 10. Paldo Bibimmen
Paldo Bibimmen is the first Korean cold spicy ramen that was first manufactured in 1984. This Korean ramen was inspired by Korean cold spicy noodles. The perfect balance between spicy, sweet, and sour flavors makes Bibimmen so unique. It has been one of the most popular Korean ramen for more than 37 years.
---
11. Paldo Teumsae Ramen
Paldo Teumsae ramen claims to be the spiciest noodle soup in Korea and, I kid you not, I will have to agree! This is another one that caused a craze of Korean spicy ramen noodle eating challenges and mukbang on social media. The addictive spiciness will make you crave this Korean ramen from time to time, even if you swore you would never eat it again.
---
12. Nongshim Soon Veggie Noodle Soup
Soon Noodle Soup is vegan Korean ramen that has the same delicious noodle soup taste inspired by Shin Ramen, but with a milder flavor created from the savory vegetable ingredients. Soon is the Korean word for mild and that is why the Korean word Soon is used for this ramen. Think of this as a milder, vegan version of Shin Ramen. This ramen is for those who want to eat healthy vegetarian ramen!
Soon Noodles Soup comes in 2 versions; Soon Noodles Soup, and Soon Cup Noodles Soup.
---
How Can You Make Korean Ramen Even Tastier?
Here are a few tips to spice-up your Korean ramen, turning it from a simple snack into a soul-warming meal, such as weekend rabbokki. Pick and choose your favorites from the suggestions below:
Eggs (add a raw egg during cooking or a hard boiled egg at the end)
Kimchi
Spam (add raw during cooking or fry it first)
American cheese slices or shredded mozzarella cheese
Fried hotdog
Fried bacon
Tteok (Korean rice cake)
Sriracha (Make it spicier!)
Dried seaweed
Scallions and sesame seeds for extra flavor
Are there any other ingredients you like to add to Korean ramen? Let me know in the comments at the end of this article and I'll add them to the list. Don't forget, you can also experience the taste of Korean ramen, along with many other delightful Korean treats, through a subscription to the awesome Seoul Box.
---
Korean Cookware To Make The Best Ramen
Korean people swear the best way to eat Korean ramen is by cooking it in a yellow aluminum pot, putting the noodles on the lid of the pot, then slurping them down your throat quickly. You may have seen this in your favorite K-dramas, like in the picture below.
Using these Korean pots is a fun way to cook ramen and they give you an authentic taste of Korean cuisine. If you want to try it at home, here are some of my personal cooking pot suggestions to enhance your Korean ramen experience.
---
---
---
---
9 Ways To Enjoy Korean Ramen: YouTube Recipes Hack
Check out this video from Aaron & Claire's YouTube channel to discover 9 incredible ways to enjoy Korean ramen. Transform a simple bowl of noodles into a filling lunch, late-night snack, or side-dish at a family dinner. You'll be shocked at the many different uses of Korean ramen.
---
Popular Korean Ramen Mukbang on YouTube
In this video from Hamzy, you'll be amazed at the amount of ramen noodles she devours in this spicy dish. If you've never watched a mukbang video before, you might be shocked to see just how much these Korean YouTubers can eat. And then, like me, you'll probably become addicted to them.
---
We hope you like our reviews and recommendations! All products featured on Best of Korea are independently selected by our writers and editors. To purchase a product, please use our links so that we may receive an affiliate commission for your purchase. Best of Korea LLC is a participant in the Amazon Services LLC Associates Program.