1. BTS Announces a "Hiatus"
Up first in Korean entertainment news is an update on BTS. The BTS Army lives up to its name by being one of the largest fan communities to ever exist, featuring over 40.8 million members worldwide. While many fans anticipated new songs or remixes for the band's ninth anniversary this past June, they were instead hit with devastating news­–the group would be taking a break to pursue individual projects and realign their sense of direction. After nine years as one of the most successful bands in musical history, members of BTS revealed their enduring struggles to keep up with the dynamics of the K-Pop idol industry.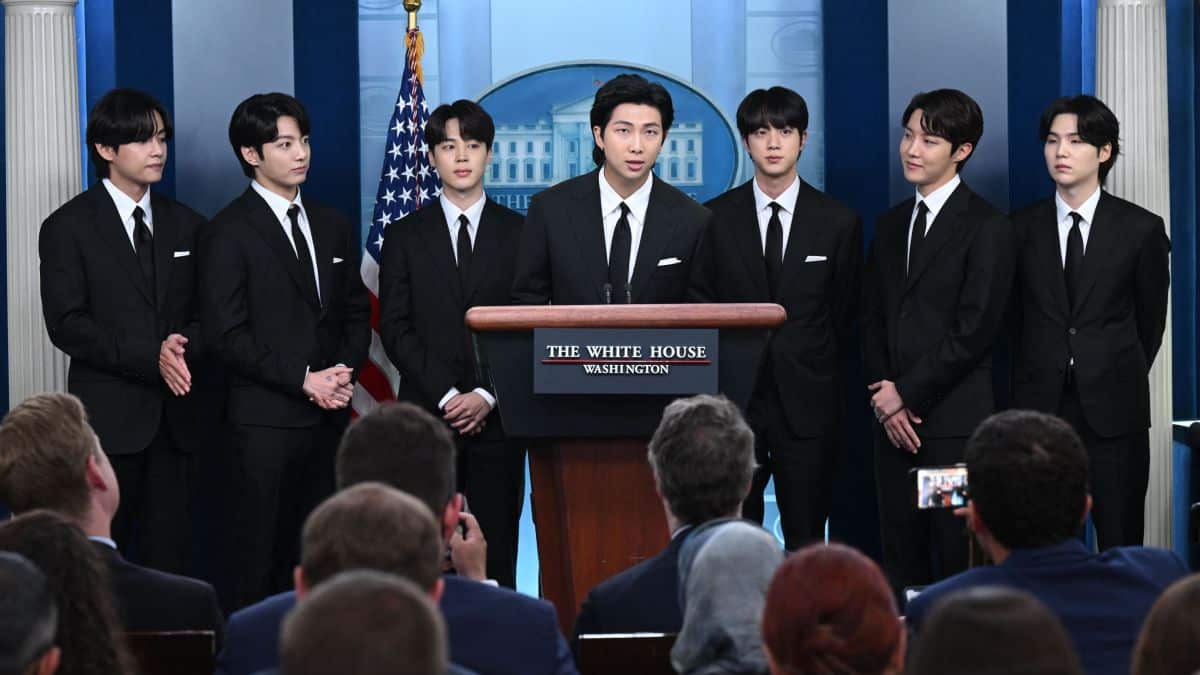 RM disclosed that the pressure to constantly release new music and stay "relevant" had hindered their growth as individual artists. This news struck fans at an unexpected time, given that BTS had been on a high tide of popularity this past year. Not only were they performing at the Grammys and selling out the largest concert venues around the world, they were also invited to represent Asian Americans during the White House conference regarding anti-Asian hate crimes and Asian inclusion. Although many fans were initially struck with disappointment, members are already living up to their promises of exploring individual passions and releasing solo projects.
J-Hope was the first to announce his solo debut and successfully headlined Lollapalooza 2022, one of America's largest music festivals in Chicago. BTS emphasized that they will reunite in the near future but that this break is long needed to help them develop as artists and individuals. 
---
2. Squid Games Continues to Sweep International Awards
Up next in Korean entertainment news–Squid Games continues to sweep global audiences off their feet at awards shows globally, adding accolades to their enviable perch as Netflix's number one watched show of all-time. The TV show's sensation has continued to shine months after its release, with its actors and screenwriters making history at awards ceremonies around the world.
In late February, Squid Games marked their highest achievement at the Screen Actors Guild (SAG) Awards, with cast members Lee Jung-Jae and Jung Ho-Yeon winning Best Actor and Best Actress, on top of Outstanding Performance by a Stunt Assemble In A Television Series. The TV show was the first non-English language drama to get nominated by the guild, let alone walk away with three awards in one night. The following month, Lee Jung Jae was also awarded the Best Actor in a Drama Series in the Critics' Choice Television Awards.
Coming into the second half of the year, Squid Games continues to make history by becoming the first non-English language drama to receive an Emmy nomination. In fact, the series was put up for a total of 14 nominations for the upcoming ceremony in mid-September, raising higher expectations for the Korean series. Amidst all the excitement, Squid Games was officially renewed for a second season in mid-June by Netflix. Although not much has been revealed about the sequel, rumors on the release date, cast, and plot have continued to blow up the internet. But fans will have to wait until late 2023 or early 2024 to find out what the director has in store for the new season. 
---
3. All You Need to Know About Money Heist: Korea-Joint Economic Area
The highly awaited Korean remake of the Spanish drama Money Heist was finally released in late June. Money Heist: Korea-Joint Economic Area is set in 2025 and imagines a Korean peninsula on the brink of reunification. Between the two countries is a Joint Economic Area (JEA) and its mint, where a unified currency is printed–the very setting in which the heist takes place.
The series starts off by capturing the economic struggles of North Korean immigrants who have trouble adjusting to capitalism, unveiling the stark wealth gap between the wealthy and the poor. While the series is entirely fictional and speculative of reunification, it raises important questions regarding the inequality of capitalism, tension between North and South Koreans, and the merging of two contrasting political systems.
Due to the immense success of the original Spanish show, directors and cast revealed that they faced a lot of pressure to add a unique Korean flare to the story. In addition to the historical context of the show, the remake uses traditional Korean face masks as the thieves' main disguise and features traditional artwork in the set. The series quickly became the number one show on Netflix in South Korea, Indonesia, Vietnam, Malaysia, and Thailand, receiving high reviews from multiple pop culture rating platforms. Although a second season has not yet been confirmed, fans have been optimistic that the cast will return to continue the cliffhanger that the series ended off in.
---
4. Broker Receives a 12-Minute Standing Ovation at the Cannes Film Festival
With a plethora of Korean movies receiving international acclaim the past few years, the Korean film industry carries high expectations for its new releases. Although Broker is directed by Japanese filmmaker Kore-eda Hirokazu, the movie follows an entirely Korean cast and is set in rural Korea. It captures the story of an abandoned infant caught between two "baby brokers" who collect baby boxes and sell them to couples who are infertile. Broker shines light on the prevalence of 'baby boxes' in South Korea, which are essentially donation stations for mothers who want to put up their child for adoption without going through the formal process.
Though the two brokers operate in the illegal black market, they are depicted differently from conventional criminals and garner the empathy of the audience. One of the brokers is played by Song Kang-Ho (also the lead actor in Parasite), who won the Best Male Actor at Cannes after receiving a 12-minute standing ovation from the audience at the film festival. With elite cast members such as Gang Dong-Won, Lee Ji-Eun (IU), and Bae Doo-Na, the movie also scored the top prize at the 39th Munich Film Festival in July and topped the South Korean box office on its opening day.
---
5. Updates on Blackpink: Returning to Your Area!
Blackpink has continued to stay busy, both individually and as a group, formally announcing their comeback for a new album this coming August. After nearly two years without new releases, Blackpink also revealed that they would be going on their largest world tour for the upcoming album. In the meantime, the group is also the first to open an in-game virtual concert on PUBG Mobile with multiple performance dates for different countries.
Jennie, one of the members of Blackpink, has also announced her acting debut in HBO Series The Idol. In the trailer, Jennie was spotted with world-class stars like The Weeknd, Troye Sivan, and Lily-Rose Depp, engendering more excitement for the new show expected to be released this year. With no surprise, it is expected that Blackpink will be playing a huge role in Korean entertainment news for the rest of the year.
---
6. Extraordinary Attorney Woo: An Unexpected Hit
Another Korean drama to keep on your watch-list is Extraordinary Attorney Woo, a Netflix series that has been the number one non-English language show for the second consecutive week. The drama features a female lawyer with Asperger's syndrome, which inhibits her ability to socialize with coworkers at her new law firm. That said, her exceptionally high IQ of 164 and photographic memory allows her to resolve cases in her own unique way.
Park Eun-Bin, the lead actress for the role, has received high acclaim for her portrayal of an individual along the autistic spectrum. The director previously mentioned that she was not sure how the topic would resonate with the audience and that she did not anticipate the success that the drama has shown. Despite being the director's first series, Extraordinary Attorney Woo has already received exceptional rankings internationally, particularly for raising awareness on Asperger's and increasing inclusivity.
---
7. Updates on Celebrity Couples
In our previous article on the Top 5 Korean Entertainment News of the First Quarter of 2022, Crash Landing on You stars Son Ye-Jin and Hyun Bin were announcing their marriage plans. Their beautiful wedding was held privately amongst close friends and family on March 31 due to existing COVID-related restrictions during the time. Four months later, the couple revealed that they were expecting their first child. In late June, Son Ye-Jin posted on her Instagram, "A new life has come to us. I'm still stunned, but I'm living day by day feeling the changes in my body amidst worries and excitement," exciting fans that have been keeping up with the newlyweds. Check out her original post: https://www.instagram.com/p/CfTQycjOKkC/.
Additionally, fans cannot keep quiet over figure-skating queen Kim Yuna's wedding announcement. On July 25, the former Olympic gold-medalist released an official statement regarding her plans to tie the knot with singer Ko Woo Rim in October. Many fans were taken by surprise as the couple had kept their relationship away from the public eye. As part of the male quartet group FORESTELLA, Ko Woo Rim was invited to perform live on the ice-skating show All That Skate back in 2018. Both agencies explained that the couple first met while filming for the show and have been dating for 3 years ever since.