The bittersweet every day stories will warm your heart and have you dreaming of Jeju Island
This year's most anticipated K-Drama, "Our Blues" debuted on April 9th, 2022. There will be a total of 20 episodes and each episode will be uploaded every Saturday and Sunday on Netflix until June 12th.
This charming drama about the ups and downs of ordinary people captures the essence of the Korean gohyang (hometown) and what it means to have the lifelong bond that comes from having grown up together in the same town. The screenwriter, No Hee-kyung is one of the most celebrated screenwriters in South Korea for her down-to-earth, candid and in-depth writing style about the lives and relationships of ordinary people. She said in an interview that her purpose in writing "Our Blues" is to encourage those who are weary or without hope and tell them, "don't fall apart, it's not over, stay alive, be happy."
"Our Blues" cast is very impressive with Lee Byung-hun, Shin Min-a, Cha Seung-won, Lee Jung-eun, Han Ji-min, Kim Woo-bin, Kim Hye-ja, Go Doo-shim, Uhm Jeong-hwa, and Bae Hyun-sung starring in major roles.
"Our Blues" tells the stories of 14 people in an omnibus format with the backdrop of warm and lively daily life on Jeju Island, the vibrant Jeju markets, and the cold and rough Jeju sea.
Given the writer's track record, "Our Blues" promises to show fun yet profound stories of relatable people from every generation. These riveting characters, through their troubles, encourage one another to live with hope and learn to rebuild their relationships– even when they are the cause of their pain.
---
Five Fun Facts about Our Blues:
BTS Jimin will release an "Our Blues" Original Sound Track (OST) very soon and it will be his first OST work.
Lee Byung-hun, Shin Min-a and Han Ji-min were cast for No Hee-kyung's canceled TV drama Here in 2019 (due to the pandemic since it was scheduled to be produced overseas). So when they were again asked to be in her new drama, "Our Blues", they didn't hesitate to say yes!
"Our Blues" is the first drama Kim Woo-bin worked on since he was diagnosed with nasopharyngeal cancer in May 2017.
Shin Min-a and Kim Woo-bin have been in a relationship since 2015. Shin helped Kim through his cancer treatment.
No Hee-kyung, the screenwriter also wrote "My Dear Friends", "It's Okay", "This Is Love", and "That Winter the Wind Blows" which are healing stories with unexpected developments and heart-aching storylines.
---
Meet the 14 Captivating Characters of "Our Blues"
Lee Dong-seok (Lee Byung-hun) is a Jeju born and single in his early forties. He sells random merchandise from his truck to the local people of Jeju Island and is beloved by the ajummas who are his regular customers.
Min Sun-ah (Shin Min-a) returns to her hometown Jeju with a child after a divorce. She is Dong-seok's first love and it seems their story has a few more twists and turns ahead.
Choi Han-soo (Cha Seung-won) is a bank branch manager in his late forties who also returns to his hometown of Jeju. He is mentally exhausted and financially broke because he has been supporting his daughter who has been training to be a pro-golfer in the States for many years.
Jung Eun-hee (Lee Jung-eun) is single and one of the most successful fish shop proprietors in Jeju. Will sparks fly again when she bumps into her first love from her high school, Han-soo, 30 years later?
Go Mi-ran (Uhm Jeong-hwa) has been besties with Eun-hee since high school. Tired of the tough city life, she comes back to Eun-hee and Jeju Island to slow down and get out of the urban rat race.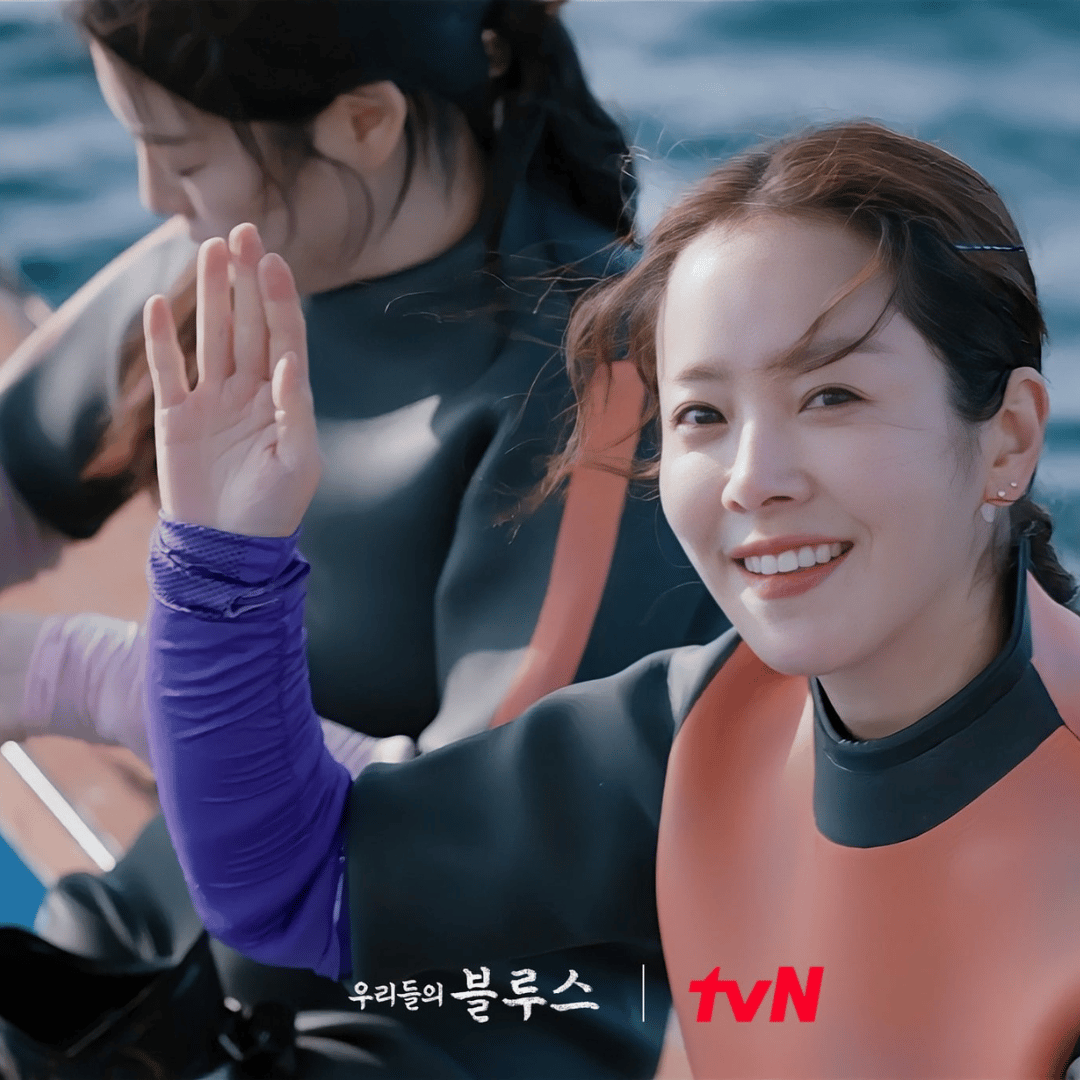 Lee Young-ok (Han Ji-min) is a novice haenyeo who also works at the bar and came to Jeju a year ago. She is bright and bubbly, but there are rumors that she has many complicated relationships with men.
(Haenyeo are female divers in the Korean province of Jeju, whose livelihood consists of harvesting a variety of mollusks, seaweed, and other sea life from the ocean.)
Park Jung-joon (Kim Woo-bin) is a captain with a pure and warm heart. He's looking for a woman who will not leave the island, like so many do. Luckily he's drawn to Young-ok, whose chosen profession is literally in the waters of Jeju.
Kang Ok-dong (Kim Hye-ja) is Dong-seok's mother. She grows vegetables in her field and sells them at the market. She and her son's relationship has been estranged for some time. Will they mend their rift?
Hyun Cheon-hee (Go Doo-shim) is a veteran haenyeo and sells her mollusks, seaweed, and other sea creatures at the market. She also looks after of her granddaughter, who was recently left in her care.
Jung In-kwan (Park Ji-hwan) is a high school friend of Han-soo and Eun-hee. For some reason, he doesn't get along with Ho-sik anymore who also is a friend of Han-soo and Eun-hee. What happened between them? Call us intrigued.
Bang Ho-sik (Choi Young-joon) is a high school friend of Han-soo and Eun-hee and a frenemy of In-kwan. In addition to holding grudges against a former high school friend, Ho-sik also sells ice at the market.
Jung Hyun (Bae Hyun-sung) is In-kwan's son and attends high school on the island. He usually makes the honor roll but can't always say no to the temptation to play the bad boy.
Bang Young-joo (Roh Yoon-seo) is Ho-sik's daughter and goes to the same high school as Hyun. She is the valedictorian of her school. Hyun and Young-joo are attracted to each other. However, their relationship is characterized as Romeo and Juliet on Jeju Island due to their fathers' strained relationship.
Son Eun-gi (Gi So-yoo) is a 6-year-old girl and Cheon-hee's granddaughter. Recently, her mom and dad left her with her grandmother on Jeju Island for reasons that Eun-gi doesn't really understand.
---
Here Is The Trailer For Our Blues
---
Each Episode in Our Blues
Our Blues is an omnibus format so arranging several independent short stories around each character and the main character will be different for each episode. However, since 14 characters are related to one another, those 14 characters will continue to appear throughout the drama even when they are not the primary focus of an episode.
Episode 1-3 (Han-soo and Eun-hee 1, 2, and 3)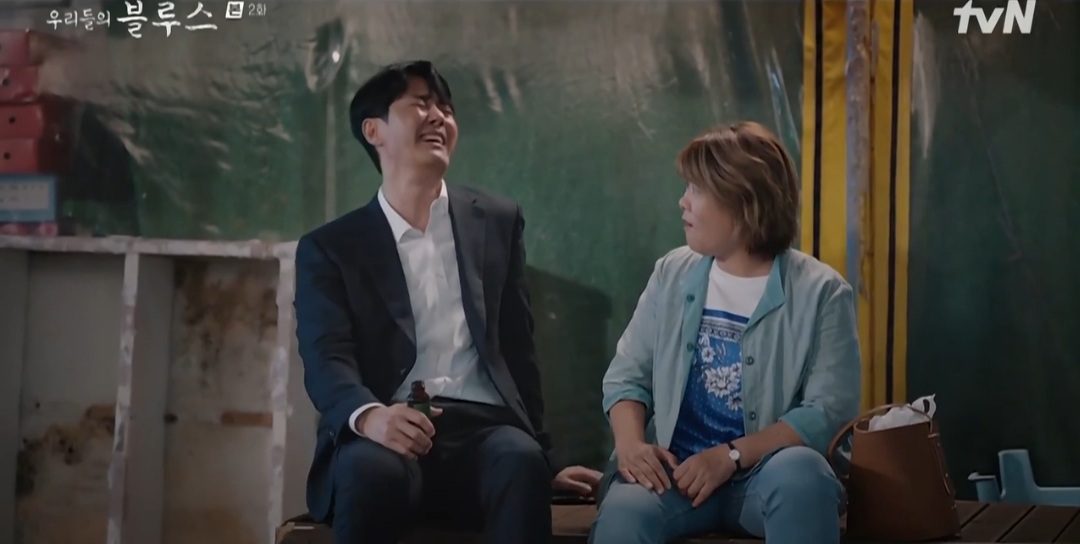 Episode 4 (Young-ok and Jung-joon 1)
Episode 5 (Young-joo and Hyun)
Episode 6 (Dong-seok and Sun-ah 1)
Episode 7-8 (In-kwan and Ho-sik 1 and 2)
Episode 9-10 (Dong-seok and Sun-ah 2 and 3)
Episode 11 (Dong-seok and Sun-ah along with Young-ok and Jung-joon)
Episode 12-13 (Mi-ran and Eun-hee 1 and 2)
Episode 14-15 (Young-ok and Jung-joon along with… 1 and 2)
Episode 16-17 (Cheo-hee and Eun-gi 1 and 2)
Episode 18-20 (Ok-dong and Dong-seok 1, 2, and 3)