For the past decade, Korean products have pushed their way firmly into the Western beauty and skincare market and have made the 10 step Korean skin care routine a catch phrase in the world of beauty. K-beauty has even inspired Western brands to come up with their own versions of ingenious Korean invented products such as sheet masks, essences, and cushion foundations.
The real reason behind the ubiquitous popularity of the Korean brands (and no we are not talking about the super-cute packaging that has already won us over) is the quality of the products and the fact that the products and methods actually make sense and work.
Is K-Beauty Worth the Hype?
Natural beauty is the most prized facet of the Korean culture. A bit ironic given that Korea is also considered the world capitol of plastic surgery! In any case, for better or for worse, both men and women in Korea are extra-conscious about their looks and put in extra effort to achieve a healthy, glowing, flawless complexion.
Koreans invest in elaborate skincare regimes to ensure that their skin shines through, even when they have no makeup on, or to just look like they have no makeup on. In fact, Korean beauty products are so effective precisely because the K-beauty is all about prevention. So they use skincare to create a beautiful, clean canvas rather than using makeup to cover up imperfections.
Beyond Snail Slime, Bee Venom, and Bubble Masks
The best aspect of the Korean beauty products is that they not only incorporate the most authentic natural ingredients and employ the latest developments in the beauty tech, but are also deeply steeped in tradition. The products rely on time tested Eastern aesthetic and sometimes even medicinal knowledge to drive innovation.
Demystifying the 10 Step Korean Skin Care Routine
In spite of the cult status that the Korean skincare regime has achieved, there is still a lot of confusion around how to use the products and the order of application. The 10-step regime can seem quite overwhelming however, once you start witnessing the results for yourself, you'll be hooked.
You Don't Need to Do All 10 Steps
We just can't emphasize it enough! The 10 steps don't have to be repeated religiously every single day. In fact, you can unlock your radiant skin in just a few steps if you identify the correct skin problem and focus on it in just the right way. Whether your ultimate skin dream is glass skin or you are working your way towards honey skin, the basic concept of the Korean beauty remains the same: Chok Chok! The word embodies the tapping noise your finger pads make against your skin when it is so hydrated that it's almost drenched in moisture, which can easily spill over into sticky skin or oily skin with the wrong products or too many products.
Layering it Right!
The 10 step Korean skin care regime includes a lot layering. Therefore, it is important to layer the products in a way that their efficacy is optimized. Thus, the ideal way to start layering the products is to begin with the thinnest formula and end with the thickest one. The water based formulae are applied before the oil and gel based ones to ensure that the skin continues to benefit from all the good being put on it.
It is also necessary to use the right application techniques while putting on the skincare products. Koreans prefer tapping the product into the skin rather than rubbing it. It is even more effective to use Korean face massage techniques to further the benefits of your skincare products.
Dive into the 10-Step Routine
The 10-step routine can further be classified into 4 stages: Cleansing, Preparation, Nourishment, and Protection.
---
Cleansing
The cleansing ritual starts by taking off the makeup and impurities on your skin. Koreans swear by the double cleansing method and though it seems cumbersome at first, once you start following it, you will totally understand why this makes sense, and why this is an absolute necessity in the evening.
---
1. Makeup Remover/ Oil Based Cleanser (Evening only)
Oil cleansers are the best way to get rid of the makeup, SPF, and sebum that clog your pores. Working on the principle of like dissolves like, these formulae remove all oil based impurities from the skin. In fact, the jojoba, grape-seed and squalane based cleansers are quite a joy to rub onto the skin as you see and feel it working to dissolve impurities.
BoK PICK: Farmacy Green Clean Makeup Meltaway Cleansing Balm, $34. Feels and smells like a delicious sherbet. Amazingly effective makeup remover that you'll love massaging onto your face every evening. Nothing else really comes close to this delightful makeup melter. I rarely have to use eye makeup remover after using this cleanser all over my face.
---
2. Water Based Cleanser
Water based cleansers are usually foamy in texture and draw out water-soluble impurities like sweat. Green tea enriched cleansers are great to treat breakouts, and ginkgo has natural anti-bacterial properties that help clean your skin.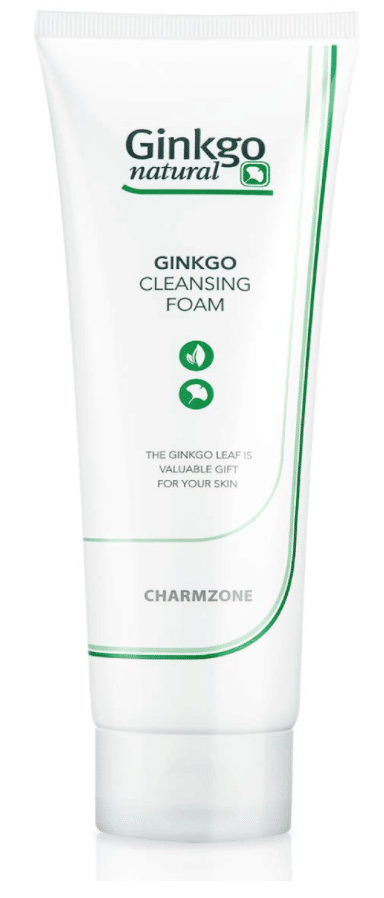 BoK PICK: Charmzone Ginkgo Cleansing Foam, $17, Rich bubbles contain ginkgo energy complex and herb extracts from Jeju island. A tiny drop will go a long way and the tube lasts an incredibly long time. This product also doesn't dry out the skin like many water based cleansers.
Also great for all over use as a shower gel. Excellent lathering properties that don't dry out the skin!
---
3. Exfoliator (Once a week)
The quickest way to a visibly brighter skin is sloughing off the dead skin cells using gentle physical exfoliators like rice extract scrubs and lactic/glycolic acid based chemical exfoliators. Exfoliators are important because by getting rid of the dead skin cells, it is easier for the applied products to absorb into the skin cells and do real good underneath! Please follow product instructions and don't use more frequently than recommended!
BoK PICK: Neogen Bio-Peel, $27, Manual exfoliation pads combined with chemical peeling effect of the wine serum help remove dead skin cells, cleanse, and purify the Skin. Also, it smells like grape soda, yum!
Pro tip: There's a LOT of product in each container. You can supplement the exfoliation pads with your own cotton cosmetic pads that will easily soak up excess exfoliating serum and extend the product life.
---
Preparation
Toners are the ultimate way to prepare your skin. They offer a perfect transition from cleaning to nourishment steps as your skin is moisturised and the pH is restored.
---
4. Toner
Toners come in a variety of formulae but the most famous ones draw on natural goodness of ingredients like aloe vera. Toners repair the skin barrier and make it ready to suck up moisture.
BoK TOP PICK: AHC Toner with Triple Hyaluronic Acid, $18. A supremely lightweight, refreshing formula is infused with a triple blend of hyaluronic Acid, ceramides and french seawater. You will feel the hydration right away, and on truly hot humid days, this might be the only thing you need on your face.
---
Nourishment
Essences, ampules, serums, sheets masks, eye creams, lotions, moisturisers, packs, and boosters are elaborate skincare steps, all working towards one goal: skin nourishment!
---
5. Essence
Essence, ampoules, and serums are often interchangeable by name. Essence is usually the most lightweight product which goes on right after the toner. Essences are concentrated hydrators and aim towards achieving a more youthful skin by enhancing the cell turnover rate. When layering essence with serum and/or ampoule, use the thinnest formulas under the thicker formulas.
BoK PICK: COSRX Advanced Snail 96 Mucin Power Essence, $18, Formulated with 96% Snail Secretion Filtrate(Mucin), this essence protects the skin from moisture loss while keeping the skin texture smooth and healthy. This essence is created from nutritious, low-stimulation filtered snail mucin in order to keep your skin moisturized all day while bringing back your skin's vitality.
---
6. Ampoule, Serum
Based on the particular skin problem, like fine lines or hyperpigmentation, these products pack a punch. Ampoules, serums, and boosters are highly concentrated and are sometimes used as spot treatments i.e. are applied only to the affected area of the skin rather than slapping the product on all over.

BoK PICK: TONYMOLY Vital Vita 12 Ampoule, $20. The super BRIGHTENING multivitamin ampoules in the Vital Vita line have been customized to address a variety of skin concerns. Each ampoule has been formulated with a unique combination vitamins and key ingredients that target skin concerns such as elasticity, skin tone, brightness, and hydration. 12 types of vitamins (A, B1, B3, B5, B6, B8, B12, C,E,F,H) are combined to create a our exclusive Vita-12 Nanosome, which is featured throughout all products in the Vital Vita 12 Collection. Does not contain: parabens, sodium laureth sulfate, triethanolamine, triclosan, oxybenzone, avobenzone, isopropyl alcohol, artificial colorants, artificial fragrance
---
7. Sheet Masks (Once a week or as needed)
Seeped in concentrated essences and serums, the sheet masks are applied directly to the skin, to allow the skin to soak up all the nutrition through continued application to the face. Calendula, cucumber, green tea, snail, and royal honey remain cult favourites while the internet is filled with bubble mask selfies. The mask also encourages you to relax into a meditation like setting, allowing your skin to further de-stress and unwind.
BoK PICK: Mother Made Rich Snail Deep Moisturizing Sheet Mask, $14 for 5 sheet masks. ANTI AGING SNAIL SECRETION FILTRATE – Infused with the highest amount of cruelty-free snail secretion filtrate (10,000ppm) in the market, every time applying each mask sheet you will instantly feel the difference of fully hydrated, smoother and younger looking skin preventing fine lines and wrinkles.
If you have time to do a sheet mask everyday then good for you! But try to make time at least once a week for this wonderful treat for your skin.
---
8. Eye Cream
Drawing inspiration from the Korean tradition of using Ginseng and Royal Honey to treat dark under-eye circles, eye creams are packed with powerful ingredients to ensure that those crow feet remain in check. This one from Sulwhasoo is an amazing holy grail item but is very pricey. If you want to save money, try using the AHC Eye Cream for Face which does double duty as both an eye cream and a moisturizer.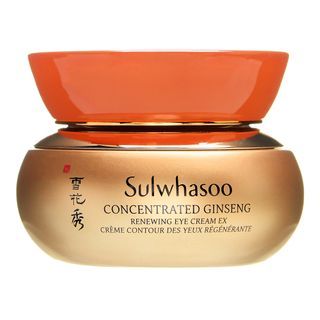 BoK PICK: Sulwhasoo Concentrated Ginseng Renewing Eye Cream, 0.7 Fluid Ounce, $136. An anti-aging eye cream with red ginseng formula, helps to minimize the looks of wrinkles and care for sagging skin for younger look of your eyes with intensive double anti-aging care.
---
9. Moisture
Snail mucin or hyaluronic acid based formulae are ideal, for both day time application in the gel or lotion forms and for night time sleeping packs. The final dose of moisturizer is more like sealing the deal with a heavy formula to ensure that your skin absorbs all the rich love and care it has received. Moisturizer keeps the signs of aging at bay by plumping up your skin.
Bok Pick: Aesthetic Hydration Cosmetics (AHC) Essential Eye Cream, $29. Ever wonder why you can't use your amazing eye cream all over your face? AHC eliminates the double purchase and created this premium concentrated all-in-one eye cream to be used as a face moisturizer for the whole face. This amazing cream felt wonderful on my skin even throughout the dry winter months.
---
Protection
You don't need protection from sun simply because it causes skin cancer. In fact, Koreans are so mindful of the aging effects of the sun that in addition to sunscreen, they regularly use parasols, hats, visors, and gloves as they go about their daily lives. But regardless of any accessories, facial sunscreen is a must even if your foundation includes SPF.
---
10. Sun Protection (Daytime only)
The last step of the 10 step Korean skin care regime is to apply sun screen on the top. Using mineral based sun protection is recommended but if you're like me and find the formulation too drying or don't like the white cast, use a good chemical sunscreen to ensure that the harmful UV rays don't damage your skin.
---
One Last Critical Step
So you have applied all your skin care and walked your way through the 10 step Korean skin care regime… and are now ready to binge watch your favourite show. You need to stop and look at the clock! Sleep is a critically important part of your skincare regime. In fact, science reveals that skin is in repair mode only while we sleep. In the day time, the skin cells are in a proactive mode. Therefore, if you want to see some real difference in your skin, you should call it a night and save the show for the weekend.
Overwhelmed?
If you are still feeling too overwhelmed with the endless gamut of products and the vide range pf ingredients, fear not! Stay tuned for our skip care routine that even the most time deprived amongst us can live with.
---
Jia Kim is an electrical engineer by profession, skincare junkie by choice, and recently started following her true calling of writing.
---
We hope you like our product recommendations! All products featured on Best of Korea are independently selected by our writers. If you would like to purchase a product, please use our links and we may receive an affiliate commission for your purchase.