K-beauty has elevated the sunscreen game.  Korean sunscreens are years ahead of the competition with new and innovative formulas unavailable elsewhere. 
Spring is just around the corner and after a secluded winter, we're all eager to get outside and get some sun!  As inviting as this sounds, we all know the sun can wreak havoc on our delicate skin and is a key contributor to premature aging and skin cancer. I recently conducted online research on how to combat the sun's harmful effects and the experts agree – wear sunscreen!
The importance of sunscreen is old news, as evidenced by my drawer full of them. However, they all go unused as each one I try is greasy, leaves a white cast and has that awful sunscreen smell.
Fortunately, my research led me to the solution.  Once again, K-beauty to the rescue!
K-beauty has elevated the sunscreen game.  They are years ahead of the competition with new and innovative formulas unavailable elsewhere (compare to the FDA, which hasn't approved a new sunscreen ingredient in over 20 years!)  Korean sunscreens are oh-so-easy to apply.  The texture resembles a light-weight lotion and leaves a barely-there feeling without the typical sunscreen smell or white cast.  No more greasy, thick, stinky sunscreen turning my face ghostly white.  Innovation allows Korean sunscreens to also provide additional benefits such as moisturizing and anti-aging benefits. They are also cleaner than many other brands that contain ingredients harmful to us and the environment. 
---
5 Best of the best Korean sunscreens
K-beauty sunscreen is a crowded field with many products to choose from. To find the best sunscreen for me, I tested 5 Korean sunscreens that I found to be the most often recommended online. Below are my takeaways from each sunscreen, which are ranked from my favorite to least favorite. The sun doesn't gender discriminate so I've also added my partner Gilbert's takeaways to provide the male perspective.  Bottom line – these are game changers and even though some were better than others, we recommend all of them over non-Korean sunscreens!
---
Her Take: My favorite!  It absorbed very quickly and easily into my skin with no white cast.  Once applied, I felt nothing on my skin and the only remaining evidence was a nice, subtle sheen and slightly flowery scent that quickly fades.  $10 for 1.7oz (Amazon).
His Take:  His #1 too! He liked that the scent was very light and it absorbed very easily with no greasy feel.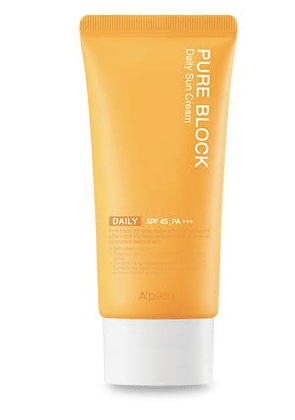 ---
Her Take:  This is the only mineral sunscreen I tested (see below for my explanation of mineral v. chemical sunscreens). It applied as easily as a chemical one but left a slight white cast, which wasn't too noticeable on me, but it may be more noticeable on darker skin.  It has a slight soap and baby powder scent that lingers. It claims to be beneficial for fragile skin.  Because it has the health advantages of a mineral sunscreen without the disadvantages, except for the slight white cast, it's my second favorite.  $15 for 1.8oz (Amazon).
His Take:  He rated this #3 because while he liked everything about it, he didn't like the "lotion" scent.
---
Her Take:  This applied very easily and left my skin with a slight sheen.  It had the worst white cast of the chemical sunscreens upon application but it quickly disappeared.  I felt this sitting on my skin initially but soon I couldn't feel anything.  It had a slight sweet and medicine-like smell that eventually faded.  $29 for 1.65oz Amazon.
His Take:  He liked the barely-there scent of this sunscreen the best but he also thought it was a bit greasier than the others. His #2 based mostly on the minimal scent.
---
Her Take:  This had the thinnest formula, which took some rubbing in to absorb.  However, it had no white cast and felt very light on my skin upon application and soon I couldn't feel anything. It left a nice, slight sheen.  However, it's lower on my list because it had a strong scent that lingered for hours, which reminded me of a cross between night cream and fragrant soap.  It claims moisturizing properties (slightly, but not enough for me to skip my moisturizer), a cooling effect (it does upon application but fades pretty quickly) and oil controlling properties. $19 for 2.37oz (Amazon).  
His Take:  He didn't like the "perfumey" scent but it wasn't too bothersome.  The watery texture made it harder for him to rub and absorb into his skin which is why this is his least favorite at #5.
---
Her Take:  The gel formula absorbed immediately into my skin with no white cast, but my skin felt a bit sticky and looked glossy for hours.  It felt heavier on my face than the others and left a lingering smell, reminiscent of lotion and baby powder.  It claims moisturizing properties (more moisturizing than Missha, but still not enough for me to skip my moisturizer), and brightening and wrinkle fighting properties.  $28 for 2.53oz (Amazon).
His Take:  This felt greasy, but not necessarily in a bad way because it also felt moisturizing. This was the only sunscreen that he detected a slight typical sunscreen smell, which is why he ranked it lower at #4.
---
Safe Sunning FAQs
In addition to a good sunscreen, here are some important sun tips you may not already know to help keep your skin youthful and healthy.  Happy safe sunning!
What's broad spectrum?  It is critical that your sunscreen is BROAD SPECTRUM, which means it protects against both UVA rays (prematurely ages skin) and UVB rays (burns skin).  
PA+ protection rating – it's a thing. Always use a sunscreen indicated to be "Broad Spectrum", which means it protects against both UVB and UVA rays.  However, because the FDA hasn't approved a rating system for UVA protection, you may get very little UVA protection even from a Broad Spectrum sunscreen.  Fortunately, countries such as Korea have a UVA protection rating. Minimal protection is indicated by "PA+" while maximum protection is indicated by "PA++++".
Higher SPF the better?  We already know sunscreen must have sufficient SPF.  Less commonly known is that beyond SPF 30, you don't get much additional protection.  SPF 30 blocks about 97% of UVB rays while SPF 50 only blocks about 1% more (protection against UVA rays isn't rated).
Apply how much??!?  Speaking of SPF, we only get the full SPF protection if we apply enough, which most of us don't.  The general rule is a shot glass amount for the body, and a nickel to quarter sized dollop for the face.
Re-apply every 2 hours?   We've all heard we have to re-apply every 2 hours. However, this is only if we're sun exposed.  Sunscreen actives break down from sun exposure, not time, so if we apply in the morning and have been indoors all day, no need to re-apply when heading out that afternoon.
When to apply?  We don't get full SPF coverage right after application, so apply 15-30 minutes prior to exposure. 
Is sunscreen bad for you?  This is still being debated but there is overwhelming consensus the benefits outweigh the harm.  To be on the safe side, if your moisturizers, foundations or other products contain SPF, you may want to also have products without SPF for when the sun's not a factor, like an evening out on the town, to avoid sunscreen when there's no need.
There are different types of sunscreens?  Sunscreens are chemical sunscreens, also referred to as organic sunscreens (confusing, because there is nothing organic about them), or mineral sunscreens, also referred to as physical sunscreens.  Chemical sunscreens absorb into the skin and soak the sun's rays like a "sponge".  Mineral sunscreens sit atop the skin and form a "shield" that blocks harmful rays.  Because mineral sunscreens don't absorb into the skin, they are thought by some to be healthier than chemical sunscreens.  However, because they sit atop the skin, they tend to be thicker, more difficult to apply and leave more of a white cast and heavy presence than their chemical counterparts. 
---
We hope you like our reviews and recommendations! All products featured on Best of Korea are independently selected by our writers and editors. If you would like to purchase a product, please use our links and we may receive an affiliate commission for your purchase. Best of Korea, llc, is a participant in the Amazon Services LLC Associates Program.
---
Huiri Kim is a full time pragmatist, currently working as an attorney based in Chicago. She is also a part time idealist, devising ways to see and save the world, then eventually retire in a warmly decorated tiny home.