Now that Thanksgiving is over, the countdown to Christmas has officially begun! If you've already found yourself frantically scouring the internet on the hunt for that perfect gift for your kids, look no further! I've rounded up 21 fun and unique Korean and Asian-inspired gifts and stocking stuffers that are perfect for the kid who has everything- and for anyone who's young at heart!
Because the best gifts don't always require a plug or a screen, many of the items I've included inspire creativity or encourage kids to stay away from their devices. Guaranteed to be a list like no other online, shop my picks of fun finds that are all Korean-mom approved!
---
What better way to spread happy vibes than with these super-adorable holiday cards! Your kids and Yakult fans will love sending out these "sweet" cards featuring Korea's favorite probiotic drink made cuter than ever.
---
UNO-BTS is a combination of an old time favorite but with an updated K-pop twist… there's a new rule which requires a player to perform their favorite BTS dance or draw three additional cards. What makes this gift especially swoon-worthy for your BTS fan? Each giant card features a photo of super idols Jung Kook, V, Suga, Jin, J-Hope, RM, or Jimin!
---
What better way to reward your young aspiring athlete than with this Korea strike soccer ball? Have them channel their inner Heung Min Son to shoot, dribble and score this holiday season.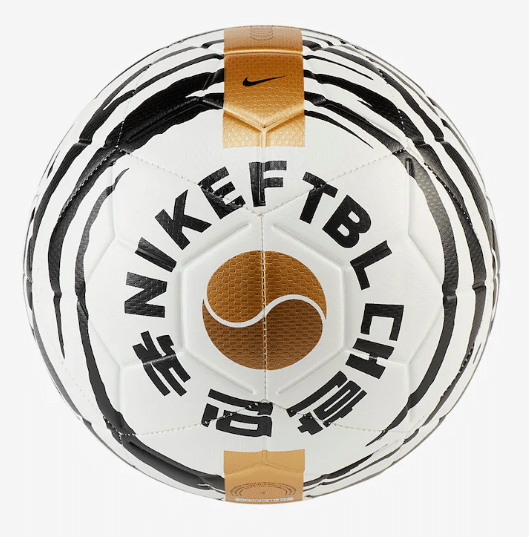 ---
Encourage creative play with this set of cute kimbap/sushi roll chalks! The paint and coloring are non-toxic and eco-friendly so mom and dad can rest assured that it's safe for their precious ones- even the packaging is biodegradable and recyclable!
---
As the most successful soccer team in Asia, South Korea has earned qualification for the next Summer Olympics! You can't go wrong surprising your Team S.Korea soccer fan with this cool jersey from one of Nike's newest lines- inspired by K-Pop fashion and the Korean flag.
---
Some girls would agree that there's no such thing as too many hair accessories! Keep hair from getting wet with this soft and absorbant hairband from very popular Korean brand, Line Friends.
---
Not all fun gifts have flashing lights and batteries! Gonggi or Korean Jacks, has been around for hundreds of years and is considered to be one of the most popular traditional Korean games of all time. Gonggi can be played with multiple people, teams or individually- a great way to get everyone off of their screens!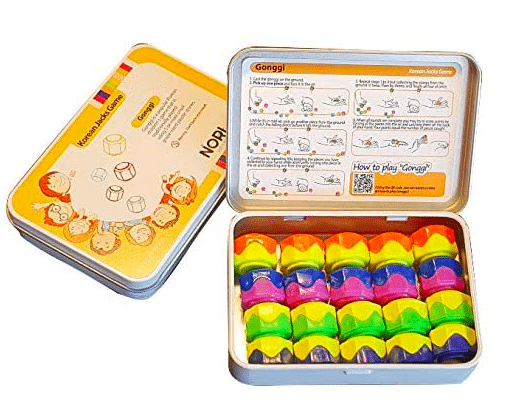 ---
Add some sparkle this holiday season with this blinged-out microphone- a stylish upgrade for the singing diva in your home! Featuring "dancing LED lights" and "crystals" all over, this is sure to please. Simply connect to a smartphone, tablet or computer and the party is good to go!
---
Apple Air Pods are one of the most purchased gifts on Black Friday, so what better way to protect the new purchase than with this Kakao Friends air pod case! Easy to put on and take off, you can also charge air pods without having to take the case off. Available for AirPods 1, 2 and Pro.
---
With all the holiday meals we've been indulging in, bring your family together and get everyone's blood pumping with the game that has been popular in Korea for decades. This cleverly designed set allows you to convert any table into a table tennis court in seconds!
---
Your children will get a "kick" out of these personalized and hand-painted tae-kwon do ornaments! Put them on your tree year after year and turn them into treasured keepsakes.
---
This New York Times best seller and critically acclaimed cook book will light up the face of your budding chef… and the seasoned cook as well! Filled with over 60 fun and humorous comic recipes, your child will learn how to make mak kimchee, bulgogi, gimbap and so much more… Yum!
---
Everyone loves mochi ice cream… and now your kids can make them at home! Experiment with different colors and flavors using your favorite jams or use the cocoa and matcha powder that's included. A fun activity for the whole family… no cooking skills required- just "mochi motivation"!
---
Give a gift that will impress! "Hold the entire galaxy in the palm of your hand, touch fossils and ancient artifacts, watch a volcano erupt before your eyes….This award-winning item is the only product that lets you hold digital 3D objects (holograms), enabling a new and powerful way to learn Science and Stem." What a fun and ingenious gift… and definitely Korean mom-approved!
---
After Tony Ko started Tony Moly in South Korea back in 2006, the brand quickly became a household name in Korea and has become a popular k-beauty brand in the U.S. as well. This pleasantly scented cute fruity lip balm is made with real cherry extract to moisturize and protect lips. Smells yummy too!
---
The Rays may not have won the World Series, but they won our hearts! Pick up this Ji-Man Choi jersey t-shirt in honor of our first baseman.
---
Give your kids room a "yummy glow" with this adorable battery operated Boba tea light… So much cuteness embodied in this ultra-sweet gift!
---
Is origami beneficial to our health? Apparently, yes! The art of origami develops fine motor skills, sharpens mental concentration and is sometimes used in therapeutic settings (This is the kind of gift parents love to give and kids love to receive!). Develop your child's cognitive skills and stir up their creativity while they engage in the art of folding paper. Thank you to 11-year old Nate for his suggestion!
---
Pororo is a popular South Korean animated series which revolves around the fun adventures of Pororo and his buddies. This beloved show teaches practical and moral lessons as the characters overcome challenges. My friend's very precocious 5 year-old daughter, Abby highly recommends this adorable plush!
---
We all know about the Dalgona coffee craze that made its round on social media earlier this year. But did you know that this trendy coffee was named after the enormously popular traditional Korean candy that was sold on nearly every street corner long ago? Made from just sugar and baking soda, this spongy sugar candy is fun and easy to make. Parental supervision is recommended so why not make this a fun family activity!
---
Dating back thousands of years and known as the oldest board game in the world, Go (called Baduk in Korean) is still popular in Korea today. The game of Go is intellectually challenging with the objective of controlling and capturing your opponent's territory… good mental sport for those who have spent too much time bingeing on K-dramas or Netflix!
---
We hope you like our reviews and recommendations! All products featured on Best of Korea are independently selected by our writers and editors. If you would like to purchase a product, please use our links and we may receive an affiliate commission for your purchase. Best of Korea, llc, is a participant in the Amazon Services LLC Associates Program.