Once we booked our tickets to Korea, my 15 year old daughter was eager to write up a bucket list of foods to check out in Korea. The list comes from not only past visits to Korea but also Korean dramas readily available on Netflix. K-dramas have been a lifesaver during Covid. Some of the foods on our list are available here in the US (see below) but we were eager to try the original versions.
We weren't able to venture out as much as we wanted to due to the pandemic but my teen was happy that we were able to check off all the edible items on her list. City streets being adorned with numerous cafes, bakeries, and eateries, not necessarily just in Seoul, makes it enjoyable to stay in the suburbs, for us Bundang, and still be able to enjoy various restaurant and street foods.
The efficient delivery culture is so huge that you could call it "a nation of delivery". Most eateries have some kind of delivery service via mobile app that makes it super convenient to order pretty much anything right to your doorstep. One of the most popular is Baedaleu Minjok, 배달의 민족.
---
Myungrang Hotdog, 명랑 핫도그, Deep Fried Hot Dogs on a Stick from Start Up
We started watching Start Up as a family when it first aired on Netflix. Every weekend we eagerly waited for new episodes. Not only were the dramas worth the wait, but the food also made our mouths water. What especially caught my teen's eye was the hot dog truck run by one of the main character's grandmother. Right out of the deep frier along with the perfect amount of ketchup drizzled on.. who wouldn't crave one especially for a midnight snack?
So utilizing the Baemin app, we searched for Myungrang Hotdog 명랑핫도그. Myungrang, which means bright and happy, has become a popular quick snack-like meal. Unlike corn dogs in the states, the batter is not made with corn meal but with a mix of rice flour in the batter which gives a nice crunch and texture to the batter. The variety on the menu made it difficult to decide what to order, so we were glad to see that they offered a "customize your own" set option.
*PRO TIP: In the States, you can try Korean hot dog on a stick at CrunCheese in Las Vegas or Oh-K Dog in NYC, LA, Atlanta, and other major cities.
---
Egg Drop, Toasted Egg Sandwiches, from Hospital Playlist
Watching Hospital Playlist is entertaining enough, but why is it that any time there is eating involved everything looks so good on TV? A new eatery "Egg Drop" was at the top of the list for my 15 year old. I had never heard of this place and when I searched it on Naver (Korea's most popular search engine), fortunately, there was one about 10 minutes away in our town of Bundang.
The sandwich had me at "brioche." The bread and special sauce make the sandwiches one of a kind. We ordered "Mr. Egg" and "Avoholic" and my vote goes to the simple yet classic, "Mr. Egg." 
---
Bungeo Ppang, 붕어빵, Fish-Shaped Red Bean Paste Filled Pastry, from Vincenzo
Vincenzo is another K-drama we enjoyed as a family on Netflix. In episode 12, Vincenzo and Chayoung have a debate about a popular winter street food: the difference between two different kinds of carp fish buns, bungeo-ppang or ingeo-ppang. Vincenzo says the shape of the lips when one says "bung" or "ing" determines whether it's a bungeo-ppang (puckered up lips) or ingeo-ppang (spread out lips). Chayoung has the more logical answer: different ingredients and amount of red bean filling.
I hadn't really thought about the difference but enjoying a hot pastry right off the mold was a wonderful treat.
*Pro Tip: Try making your own bungeobbang at home with these fish shaped molded pans from Amazon.
---
We had stumbled upon this Italian restaurant after a tour to JTBC Studios five years ago. My then 10 year old and I were so impressed at how perfectly seasoned and prepared the dishes were with just enough salt and spice and the perfect amount of oil and cream that we had to revisit. Sure enough there was one not too far away in Pangyo, an adjacent city to Bundang. My personal favorite dish is the classic Aglio Olio, a simple dish made with garlic, extra virgin olive oil, parsley, and Parmigiano-Reggiano cheese tossed with cooked pasta.
---
Hans Chocolate Ganache cake
I'm not sure what the secret is but Korean bakeries are the best. Maybe it's just my tastebuds but they make cakes and pastries with the perfect amount of sweetness, moisture, and flavors. Fortunately, my daughter's 15th birthday cake was just this! Another one checked off the list. 
*Pro Tip: In the States, try Paris Baguette cafes or Tours le Jours bakeries for wonderful Korean cakes.
---
Chilk Naengmyun, 칡냉면, Arrowroot Cold Noodle Soup
A popular comfort food dish for the hot and steamy summers in Korea is naengmyun, cold noodle soup. Among all the different naengmyun dishes we tried, our favorite place, Sunae Chilk in Bundang, has its own version of noodles made with arrowroot. The arrowroot makes the noodle a bit darker and may be slightly bitter but the ice cold broth, toppings and red pepper paste sauce completes the heavenly combination.  
*Pro Tip: This is favorite Korean summer dish so look for it in your local Korean restaurant during the warmer months.
---
Chal-ogsusu, 찰옥수수, Korean Glutinous Corn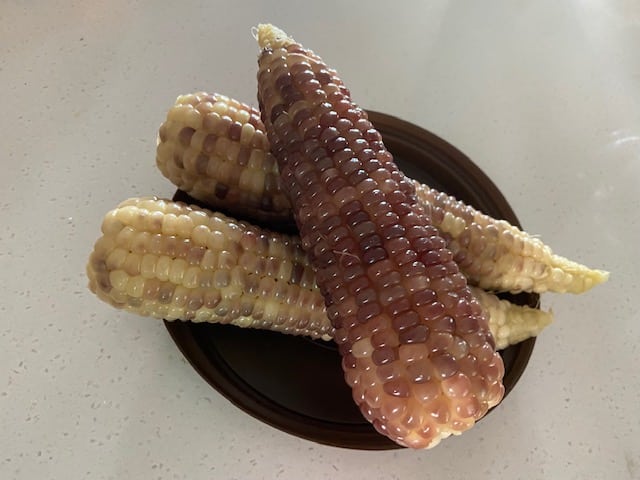 Even though Korean corn is chewier, stickier, firmer and lacking in sweetness compared to sweet corn in the states, we were addicted to Korean corn. Within a 10 minute walking radius, a  corn truck greeted us with a pack of 3 corns for $5. Yes, a bit pricey but we had to get our Korean corn fix and enjoy it while we could.
---
Donkatsu, 돈가스, Pork cutlet
One famous pork cutlet place in Jeju that we tried to make reservations for but failed two days in a row was 연돈, Yeondon. Thanks to "백종원의 골목식당 Baek Jong-won's Alley Restaurant" TV program, 연돈 became a hit in Jeju even though there are only two items on the menu: pork cutlet and cheese pork cutlet. Within 20 seconds of mobile app appointment scheduling (only allowed while physically in Jeju) at 8 pm for next day reservations, it was full. Sigh.
Fortunately once back to Bundang, we were able to order and at least try three kinds of pork cutlet: regular, sweet potato and cheese. They were delivered to our doorstep via the Baemin app by a motorcyclist just as we see in K-dramas. Not giving up, Yoendon. We'll be back to try again in the future.
---
Patbingsu, 팥빙수, Shaved Ice with Red Bean Paste
With the treacherous weather of heat and humidity, bingsu is always a go-to. Shaved ice with either condensed milk or a scoop of ice cream topped with sweet red bean paste, fruit, rice cake bites, gummies, and/or bean powder, I must say it is the best summer dessert you can find. Bingsu can be found at most cafes and bakeries.
What type of bingsu eater are you? Do you mix everything together and then dig in, or dig in without mixing the ingredients together but keeping the layer as is? As a bonus this time around, my daughter and I tried one with dalgona chunks and I must say it was heaven. If you enjoy dalgona coffee, you need to try bingsu (or any beverage) with dalgona toppings. 
*Pro Tip: In the States, try patbingsu at Grace Street in NYC or Sul & Beans in Las Vegas.
---
I think we will make this a tradition: a bucket list of things to eat and do whenever we travel. Hope we will be able to check off our list without a mask next time around.