Traveling to Korea and want to capture the best sights of Seoul, but not sure where to go, what to see, and when to visit? Want to know the most iconic landscapes, attractions, and structures? Then feast your eyes on these 20 beautiful places in Seoul and find out not only where to go, but also when to visit and how to get around.
This illuminating guide to Seoul's loveliest spots will whisk you around Seoul, from the mountainous peaks of Bukhansan National Park, to the wooded valleys that surround Seoul Grand Park in southern Seoul. You'll discover incredible sights from tall towers, peaceful contemplation in ancient Buddhist temples, and secret gardens fit for royalty.
Although beauty is in the eye of the beholder, it would be hard to argue against these 20 beautiful sights in Seoul. They're not only popular tourist destinations that are must-see places in Seoul, but also fashionable hangouts for locals who want to enjoy natural beauty, architectural wonders, or healing spots that calm the body and mind.
Find out for yourself all the beauty and wonder that Seoul has to offer with these 20 incredible spots. Don't miss our tips for visiting these beautiful places in Seoul including the best times to travel.
---
When To Visit These Beautiful Places In Seoul
Some of these beautiful sights in Seoul really shine at certain times of the year, especially the areas with lots of natural surroundings. This list has been created with locations you can enjoy at any time of year, and they're all timelessly beautiful places you'll want to visit when in Seoul.
First, here's a brief overview of what to expect in each different season. Korea certainly is a country with 4 (or even 5) very distinct seasons and knowing what they're like can really help you plan your journey.
Spring
This is arguably the best time of year to travel to Korea. From late March to early April you can see pink cherry blossoms all over Korea, with many festivals dedicated to the delicate flower. April and May are two of the nicest months to be in Korea. The weather is warm, sunny, and nature starts its beautiful display.
Summer
For those not used to high temperatures and humidity, summer can be a difficult season to travel to Korea. Temperatures can go over 100 during the day and don't drop below 75, even at night. The humidity makes it feel even worse. However, if you're OK with the heat, late July and August are good times to explore Korea's beaches and coasts. If you're in Seoul, plan to spend time inside for air conditioned breaks.
Fall
Fall offers a welcome break from the heat and humidity of summer. From mid-September, the temperatures are pleasant and locals and tourists alike start to travel more across Korea. The highlight of this season is the fall foliage, which slowly emerges from north to south starting in early October and ending in mid-November. Great weather, beautiful blue skies, and colorful fall foliage shine especially bright.
Winter
Winter arrives very quickly after the last of the fall foliage drops, with temperatures quickly dropping into the 30s by mid-November. It can even snow in some areas from late November, however, the most common time for snow is in January and February. Winter is cold and dry. That means you'll see clear blue skies – perfect for sightseeing. Temperatures drop to below 0 at night during January, so be prepared to wrap up warm when you travel.
Rainy Season
Korea's 5th season, which is known as rainy season, runs from mid-June until mid-July. During this time you can expect to see a lot of rain. It doesn't rain constantly, but downpours can last anywhere from 5 minutes to 5 days. It's difficult to predict. Be prepared for the worst. Typhoon season begins around the same time and lasts until the end of fall. However, most of Korea is safe from typhoons. Jeju Island gets the worst of it.
---
Whenever you're traveling to Seoul, be aware of the weather as it can change your travel plans. Spring and fall are the best (most temperate) times to travel, but also the busiest. Book ahead if plan to visit in cherry blossom or fall foliage season as tours and hotels get booked up early.
Now, here's the list of these 20 beautiful places in Seoul that you'll definitely want to visit whenever you travel.
---
1: Secret Garden In Changdeokgung Palace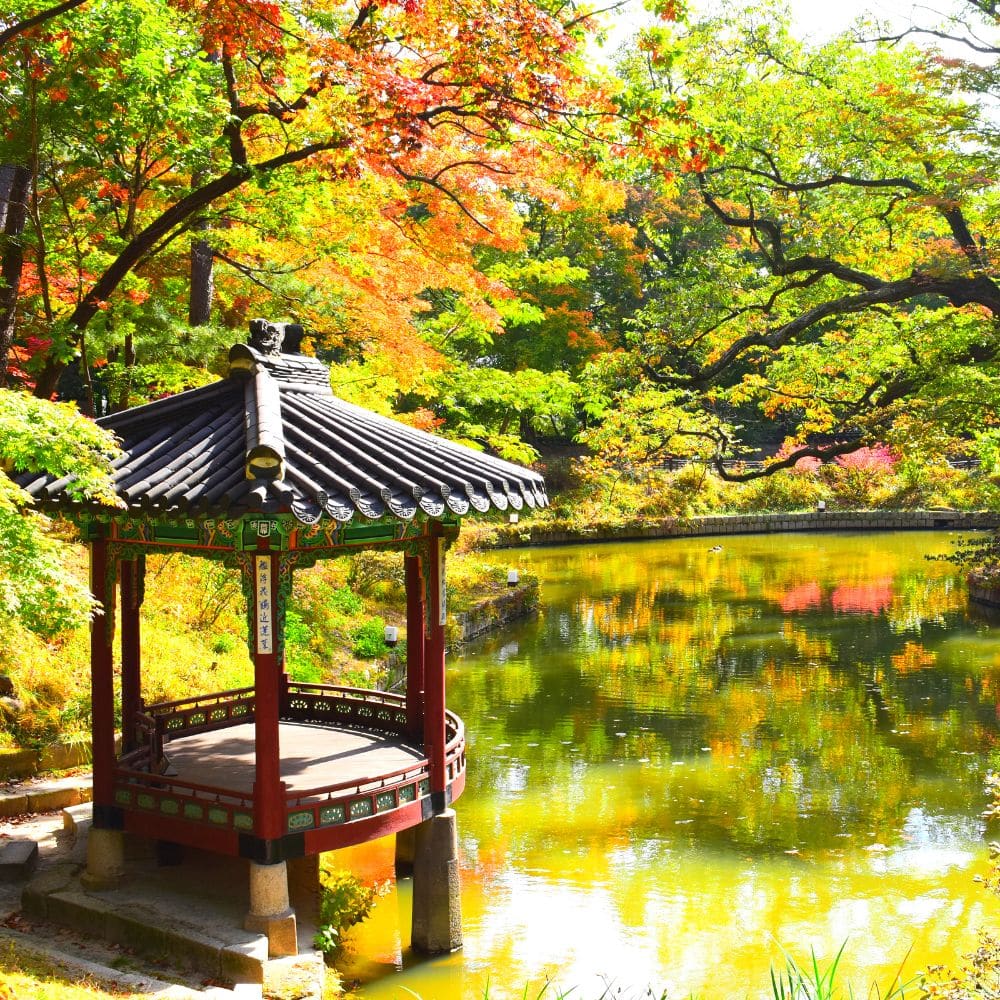 Visitors to Seoul definitely shouldn't miss the chance to witness the majestic beauty of the Secret Garden in Changdeokgung Palace. This sprawling garden area is tucked away at the back of the palace and features carefully crafted ponds, pagodas, and designs fit for a prince or princess.
The Secret Garden has to be one of the most beautiful places in Seoul and also among the least visited. This isn't because it's not a popular spot, quite the opposite. Access to this palace garden was restricted to members of the royal family for centuries and is still restricted to a small number of tour groups each day. Get there early to reserve your tour.
Our Tip: Wear hanbok to gain access to Changdeokgung Palace for free (and look stunning).
Best Time To Visit:
Any time is a good time to visit the Secret Garden. See cherry blossoms in spring, abundant nature in summer, crispy fall foliage in fall, and snowy, frozen ponds in winter.
How To Get There:
Take the subway to Anguk Station and head towards Changdeokgung Palace. To get into the Secret Garden, you'll need to reserve a guided tour. Tours sell out early, so book as soon as you arrive.
Address In Korean:
서울특별시 종로구 명륜3가
---
2: Seokcheon Lake & Lotte World Tower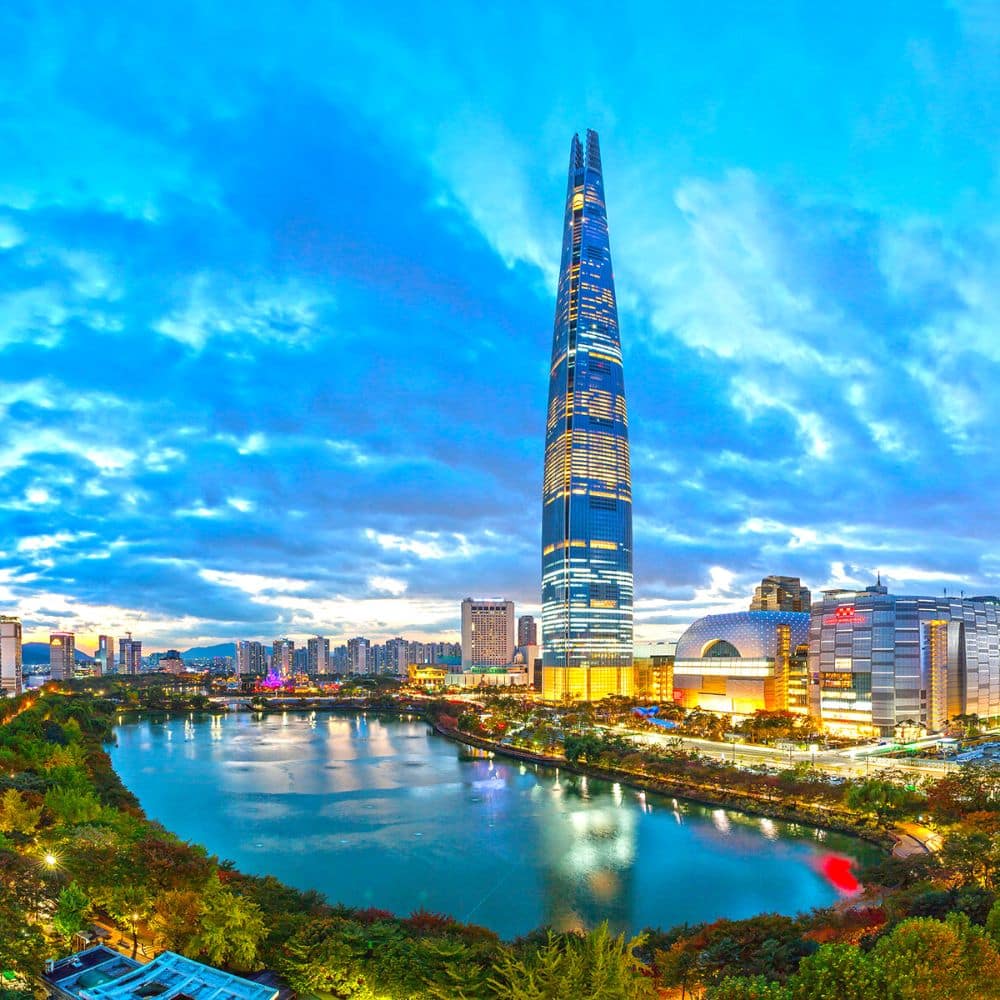 The dazzling waters of Seokchon Lake and the tree-lined pathways that run around this figure-of-eight pond make this the perfect place for a short stroll on a sunny afternoon. As you walk around, you'll also see the Lotte World Magic Island (very Disney-esque) and Lotte World Tower.
The impressive Lotte World Tower is a marvel of human design and engineering and a must-see spot when you visit Seoul. The world's 6th tallest building offers views of Seokchon Lake and the whole of Seoul. Feeling brave? Look through the glass floor from Seoul Sky Observatory. If that's not scary enough, walk outside on top of the tower (541m high) with the Sky Bridge Tour.
Our Tip: Plan a day out and have a Lotte fun at the Lotte World Tower, Seoul Sky, Lotte World Aquarium, and Lotte World Adventure indoor theme park. Get free access to all of these places with the Songpa L Pass and save $50 on entry fees.
Best Time To Visit:
Seokchon Lake is one of the best places to see cherry blossoms in early April, with millions of people visiting for a stroll around the wooded lake paths. Weekends are a good time to visit to see performances and food trucks, especially in the summer.
How To Get There:
Take the subway to Jamsil Station and go out Exit 2 for Lotte World Tower and Seokchon Lake.
Address In Korean:
서울특별시 송파구 잠실6동
---
3: Gyeongbokgung Palace Grounds
For those idyllic postcard views of Seoul, you can't beat Gyeongbukgung Palace. This beautiful royal palace is one of five in Seoul, but the one that draws the most tourists dressed in hanbok looking for that perfect picture. Wander the grounds and see the historic sights, well-groomed nature, and cultural exhibitions and performances.
There are so many picturesque places to take photos in this palace, including the cherry blossomed-line Gyeonghoeru Pavilion and pond, the newly restored Hyangwonjeong Pavilion, the royal exhibition rooms, or the many traditional rooms scattered throughout the palace grounds.
Our Tip: Visit at 10am or 2pm to see the changing of the guard outside the front gates.
Best Time To Visit:
Another place that's great to visit all year round. If you want to wear hanbok and see the best of Korea's nature, then visit in early April for cherry blossoms or late October for fall leaves, both of which can be seen in this palace.
How To Get There:
Take the subway to Gyeongbokgung Station or walk from Gwanghwamun Station
Address In Korean:
서울특별시 종로구 사직로 161
---
4: Yeouido Island & Riverside Parks
Of all these beautiful places in Seoul, this is the one most visited by locals. Seoulites flock to Yeouido Island to enjoy the relaxing riverside parks with a bowl of Korean ramen and can of beer. In summer, you can rent a sunshade here during the day and enjoy fireworks and street performances at night.
This small island is lined with parks, trees, and upmarket malls where you can enjoy fine dining and luxury shopping. Be sure to check out the view from some of the skyscrapers in the area, such as from the Sky Farm in the Federation of Korean Industry building. You can see all over Seoul on a sunny day.
Our Tip: Book a Han River Cruise to enjoy the night sights along the river and the many colorful bridges.
Best Time To Visit:
This is the site of one of the biggest cherry blossom spots in Seoul and there are long tree-lined streets of the pink-petalled blossoms in early April. Summer is also great and this is a popular place to cool off by the river and enjoy the cooler evening.
How to get there:
Take the subway to Yeouinaru Station and go out Exit 2 or Exit 3 for the Yeouido Hangang River Park.
Address in Korean:
서울특별시 영등포구 여의동로 330
---
5: Cheonggyecheon Stream
The 11km Cheonggyecheon Stream that cuts through the heart of Seoul is a charming place to enjoy a romantic walk. As you walk along the stream, cross the stepping stone bridges and smell the roses and other flowers growing from the walls lining this little oasis.
You can join the stream in many places as you journey across Seoul, but the best place to begin is at Cheonggye Plaza – the beginning section near Gwanghwamun Square. From this start point you can see a gigantic seashell, waterfalls, and regular cultural events.
Our Tip: Grab a coffee from Blue Bottle Coffee and walk along the stream early in the morning when it's empty.
Best Time To Visit:
There's no bad time to visit Cheonggyecheon Stream. Check out the weekend night markets here during summer. Visit in winter to see the Seoul Lantern Festival and Christmas decorations floating in the stream.
How To Get There:
For the start point, take the subway to Gwanghwamun Station and walk 1 block south, or to City Hall Station and walk 1 block north.
Address In Korean:
서울특별시 종로구 청계천로 1
---
6: Bukchon Hanok Village
Located between Gyeongbokgung Palace and Changdeokgung Palace is the historic Bukchon Hanok Village. This is truly one of the most beautiful places in Seoul and one that's a popular attraction for tourists. Get dressed up in flowing hanbok and explore the traditional alleys that look out over central Seoul.
See the wooden beams and doors holding up the black slate roofs. Follow the flowing artwork and designs on the tall brick walls outside each house. In some places you can even enter the hanok buildings and enjoy traditional Korean teas, desserts, and snacks. There are also a number of art galleries and workshops in the area you can explore.
Our Tip: Rent hanbok when you visit this area for the best pictures.
Best Time To Visit:
This is a residential area so it's best to visit during the day to not disturb the people living here. Come around 9am in the morning before it gets busy. If you visit in winter, you might get to see the curved rooftops covered in snow.
How To Get There:
Take the subway to Anguk Station and walk north from Exit 2.
Address In Korean:
서울특별시 종로구 계동길 37
---
7: N Seoul Tower On Namsan Mountain
For couples looking for beautiful places in Seoul to spend a romantic evening, the N Seoul Tower is a great place for a date night. Set in the leafy heights of Namsan Mountain, this old broadcast tower has been converted into a spot for lovers to lock away their feelings forever. Literally, with the help of love locks that you can place on the rails around the lookout points.
Take a trip to the observation deck inside the N Seoul Tower and see the incredible 360 degree views of Seoul, including the royal palaces, hanok villages, the presidential Blue House, and many of these other beautiful places in Seoul. Visit at night and walk along the fortress walls, place a love lock, and enjoy a meal looking out over the city.
Our Tip: Book N Seoul Tower Tickets online to save money on the entrance fee.
Best Time To Visit:
The mountain is awash with golden fall foliage in late October. Head up in the early evening, stay for the sunset, then watch as the city switches from day to night.
How To Get There:
Take the Namsan Cable Car from near Myeongdong Station or the Namsan Sunhwan Shuttle Bus 01 from Chungmuro Station or Dongguk Univ. Station. You can also walk up a footpath from Myeongdong.
Address In Korean:
서울특별시 용산구 남산공원길 105
---
8: Cheong Wa Dae Presidential Blue House
Until 2022, Cheong Wa Dae, also known as the Blue House for its vivid blue roof tiles, was the presidential residence and could only be visited through an organised tour. However, since the new president took over in 2022, the presidential residence has moved location and the historic palace is now open to the public.
This exquisite house, the Korean version of the White House, is nestled among the forested foothills of Bugaksan Mountain, which provides a stunning backdrop. For the first time in over a century, you can now trek through the mountain paths behind the Blue House and see a side of Seoul few have had the pleasure of witnessing.
Our Tip: Add a stop at Cheong Wa Dae to your central Seoul itinerary after visiting Gyeongbokgung Palace or Bukchon Hanok Village
Best Time To Visit:
Visit between spring and fall for the best views of the Blue House contrasting with the rich green lawns and trees that surround it.
How To Get There:
Take the subway to Gyeongbokgung Station and walk north past Gyeongbokgung Palace. Cheong Wa Dae is directly behind the palace.
Address In Korean:
서울특별시 종로구 청와대로 1
---
9: Gyeongui Line Forest Park & Book Street
The 100 year old Gyeongui Line was once a busy train-line through central Seoul, but is now home to one of the most beautiful green spaces in Seoul. You'll find plenty of urban culture, trendy cafes and restaurants in this long pathway stretching away east and west from Hongik University Station in Hongdae.
The best part of these twin pathways are the delightful green spots where you can sit and enjoy a book, chat with friends over coffee, or enjoy one of the many park-side bars and restaurants. You won't believe you're in the middle of Seoul as you walk along the Gyeongui Line.
Our Tip: Walk the Gyeongui Line parks as the sun is setting. The light during dusk is incredible as you watch the sun rays falling slowly through the apartment blocks onto the tracks. Find somewhere cosy and enjoy the free show.
Best Time To Visit:
Visit in the evening during summer to see Seoulites enjoying the cooler weather and late nights. Grab a seat in a bar and cafe and enjoy the hot weather that persists all day and night during Korean summer.
How To Get There:
Take the subway to Hongik University Station and use Exit 2 for Gyeongui Line Forest Park. Use Exit 6 for Gyeongui Line Book Street.
Address In Korean:
서울특별시 마포구 동교동 147-89
---
10: Naksan Park & Seoul Fortress Walls
Seoul has many fortress walls that offer breathtaking views across the city. Perhaps the most beautiful place in Seoul to explore these fortress walls is from Naksan Park near Dongdaemun. Cutting like a knife through Seoul's old urban center, the fortress walls offer views in all directions, gazing out over Gyeongbokgung Palace, Cheong Wa Dae, and the iconic N Seoul Tower in the distance.
Explore Naksan Park during spring and see the wide array of colorful blossoms and flowers here, as well as wooden pagodas and old stony walls. There are a collection of rooftop cafes and bars on the walk from Naksan Park down towards the historic Dongdaemun Gate that are perfect for enjoying Seoul's sunset and warm summer evenings.
Our Tip: Take the subway to Hyehwa and explore the pretty Ihwa Mural Village as you walk up towards Naksan Park.
Best Time To Visit:
You'll find incredible views here all year round. Winter can be the best as there's the highest chance of clear, blue skies. The walls are one of the best places to see snow in Seoul, too.
How To Get There:
Take the subway to Dongdaemun Station and use Exit 1 to access the start of the fortress wall path. For Naksan Park, take the subway to Hyehwa Station and use Exit 2. Walk up the hill and follow the signposts to Naksan Park.
Address In Korean:
서울특별시 종로구 낙산길 41
---
11: Bongeunsa Temple & Starfield Library
Mix traditional and modern Korean culture in Seoul's famous Gangnam district. See the giant statue of Buddha, the centerpiece of Bongeunsa Temple, as it looks out over the modern COEX Mall, home to the Starfield Library and the tallest wall of books you'll find in Korea.
These contrasting views offer travelers the perfect chance to seek spiritual solace in their preferred form – either from the pages of a book, or from deep contemplation in the surrounds of a Korean Buddhist temple as incense fills the air.
Our Tip: Explore the many attractions of COEX Mall, including the wonderful Starfield Library, during the day, then visit Bongeunsa after the sun goes down for Gangnam night views and a more peaceful temple experience. See all of these with a Tour of Gangnam
Best Time To Visit:
Bongeunsa is a Korean Buddhist temple and the best time to visit is right before and during Buddha's Birthday in spring. You can see thousands of illuminated lanterns streaming along the roads and all around the temple during this time.
How To Get There:
Take the subway to Samseong (World Trade Centre Seoul) Station and use Exit 6 to access COEX Mall. Take the subway to Bongeunsa Station and use Exit 1 or walk from COEX Mall to the temple.
Address In Korean:
서울특별시 강남구 봉은사로 531
---
12: Namsangol Hanok Village & Namsangol Park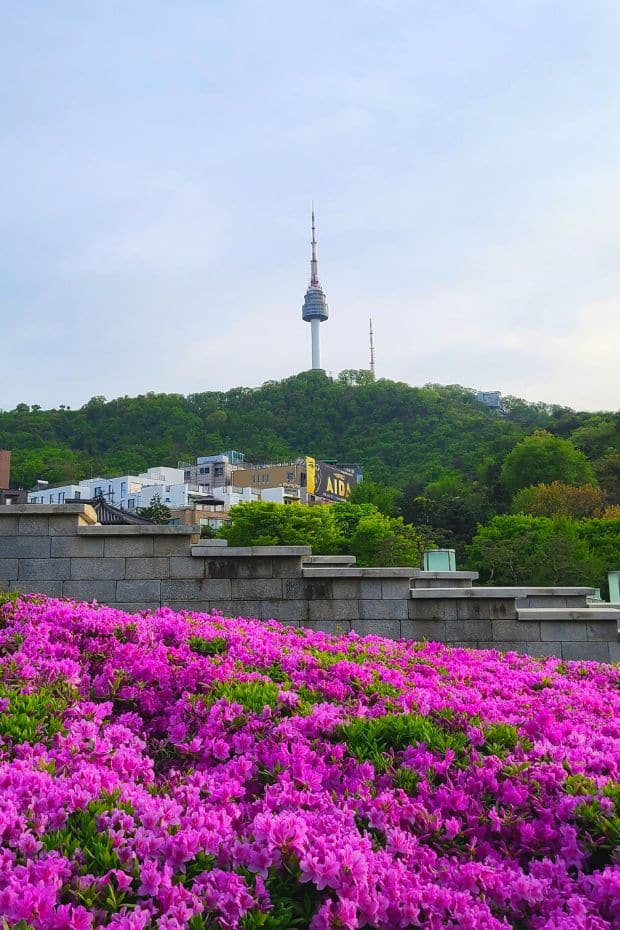 The second hanok village on this list of beautiful places in Seoul, Namsangol Hanok Village, offers up a contrasting experience from the aforementioned Bukchon Hanok Village. For starters, this village is a showcase of what traditional village life looked like in Korea, with traditional games, open hanok houses, and a window into Korea's past.
The Namsangol Hanok Village is also different as it's situated in a lovely park at the foot of Namsan Mountain (home of the N Seoul Tower) and offers open spaces to walk around and enjoy traditional and natural sights. There are ponds and streams with ducks and fish swimming around, an abundance of plants and trees to see, and fortress walls skirting around the corners of the park.
Our Tip: Visit one of the hanok cafes and enjoy some refreshing Korean green tea or herbal teas. They'll give you energy for the day ahead.
Best Time To Visit:
Visit in spring to see the vivid array of colors that the spring blossoms release and enjoy sights of N Seoul Tower from a hanok cafe inside the park during the warm afternoon.
How To Get There:
Take the subway to Chungmuro Station and use Exit 4. The entrance to the park is less than 1 minute away.
Address In Korean:
서울특별시 중구 퇴계로34길 28
---
13: Dongdaemun Design Plaza (DDP)
The Dongdaemun Design Plaza (DDP) is a building unlike you've ever seen before. It's hard to define the DDP, a mixture of galleries, shops, cafes, and creative spaces, but easy to describe it. Futuristic, stylish, elegant, unique, alienesque. Once you see the DDP for yourself, you'll understand.
What makes the DDP a must-see beautiful sight in Seoul? The curves of the building, the random outdoor pianos that people practice on, the pop-up shops and markets that bring life to the DDP, and all the fun exhibits and attractions going on inside. The DDP houses bizarre and wonderful experiences throughout the year. From gigantic indoor playgrounds to mind-bending trick art, movie sets, and more.
Our Tip: Take time to explore every corner, including the rooftop lawn that most people miss. There's so much to see at the DDP and it changes all the time.
Best Time To Visit:
Any time is a good time to visit the DDP as the exhibits change regularly and there's always something going on. There are night markets here during the summer and light displays on the side of the curved buildings during winter.
How To Get There:
Take the subway to Dongdaemun History & Culture Park and use Exit 1.
Address In Korean:
서울특별시 중구 을지로7가 을지로 281
---
14: Jogyesa Temple
Jogyesa Temple, located between Gyeongbokgung Palace and Insadong Art Street, is a popular tourist sight in central Seoul. It's also one you can easily miss as it's hidden between other buildings. When you do find it, you'll understand why it's so popular and marvel at it's beautiful Buddha statues, intricate woodwork designs, and colorful decorations.
Jogyesa Temple was built in the 14th Century and is one of the most important Buddhist temples in Korea. It's still an active temple, so you can see people going in to worship and monks carrying out ceremonies inside. Jogyesa offers a glimpse into Korean Buddhism and provides a stunning location to take pictures.
Our Tip: Be respectful when you visit the temple. You're allowed to take photos and to look into the buildings, but try to observe and not interfere. Enjoy the opportunity to see Buddhist monks performing their rituals.
Best Time To Visit:
As with Bongeunsa Temple, the best time to visit is in Spring for Buddha's Birthday. There's a large festival called Yeon Deung Hoe Lotus Lantern Festival where massive lanterns are paraded through the city.
How To Get There:
Take the subway to Anguk Station and use Exit 6. Jogyesa Temple is a short walk from here.
Address In Korean:
서울특별시 종로구 우정국로 55
---
15: Haneul Sky Park & Oil Tank Culture Park
You might wonder why an old oil storage site is on a list of beautiful places in Seoul, but once you visit, you'll understand why the Oil Tank Culture Park is a must-see place in Seoul. This area features delightfully landscaped gardens, open air performance spaces, and renovated oil tanks that have been turned into cafes, galleries, and curved contemplation rooms. A wonderful mix of industrial and natural design, this space makes you consider angles, volumes, and the human impact on nature.
Haneul Sky Park is one of many riverside parks along the Han River, but one that offers a unique view as it's located atop a small hill. Hike up the walking path and you'll be treated to an ocean of swaying reeds that form a maze on top of the large, flat hilltop. This park is also one of the best places to see pink muhly in Seoul – a frizzy pink bush that has become very popular in Korea in the last few years.
Our Tip: Enjoy an afternoon at these locations, explore the nooks and crannies of the old oil tanks and the many pathways through the Haneul Sky Park, then jump on the subway to Hapjeong Station for some of the best meals in Seoul.
Best Time To Visit:
Visit Haneul Sky Park and the Oil Tank Culture Park in October to see silver reeds swaying in the wind and fall foliage in the nearby riverside parks. There are seasonal markets, performances, and activities as well, such as the Santa Sled Race.
How To Get There:
Take the subway to World Cup Stadium Station. The Oil Tank Culture Park and Haneul Sky Park are about 5 minutes away. Walk towards the river to find them.
Address In Korean:
서울특별시 마포구 상암동 482
---
16: Deoksugung Stonewall Walkway & Deoksugung Palace
The Deoksugung Stonewall Walkway is a pretty spot near city hall that's listed as one of the 100 Most Beautiful Roads in Korea. It's a pedestrian-friendly street that runs around Deoksugung Palace, past Seoul Museum of Art and the Jeongdong Theater. It's also a popular K-Drama filming location in Seoul for dramas such as Goblin (2016) and Reflection of You (2021).
The area is peaceful and calm and perfect for an afternoon stroll, admiring the statues and pretty buildings on the way. After walking around the palace walls, head into Deoksugung Palace itself and admire the lush trees, fusion of Korean and international architecture, and the gift shop that sells excellent examples of Korean pottery, handicrafts, and traditional goods.
Our Tip: Plan to spend a whole afternoon in this area walking along the wall-lined streets, checking out the backstreets, visiting museums and galleries, and entering Deoksugung Palace. There's a lot to do in a small area.
Best Time To Visit:
Visit the Deoksugung Stonewall Walkway in fall for beautiful fall foliage sights, with large leaves dropping down from the trees, creating a crunchy pathway to walk along. The vibrant colors contrast well with the plain stone walls and black tiles.
How To Get There:
Take the subway to City Hall Station and use Exit 12. Follow the walls around the palace for the Stonewall Walkway
Address In Korean:
서울특별시 중구 세종대로 99
---
17: Seoul Grand Park, Seoul Zoo, & Seoul Land
Seoul Grand Park is a beautiful place in Seoul for a family day out, packed with attractions, sights, and natural beauty. Set in a wooded valley in southern Seoul, this sprawling park contains Seoul Land theme park, Seoul Zoo, an elephant train to take you between attractions, a pretty lake you can ride over on a sky lift, and hundreds of cherry trees.
Kids will love the wild animals, the roller coasters, the attractions, and the petting zoo with rabbits, sheep, and other animals. There are even alpacas. But even if you're not traveling in Seoul with children, Seoul Grand Park offers forest paths and lakeside rest spots that allow adults to appreciate nature and get away from the busy city.
Our Tip: Save 40% on Seoul Land tickets and get free entry to Seoul Zoo with a Discover Seoul Pass. You can also use it to get free entry to the palaces and free hanbok rental.
Best Time To Visit:
This is another great cherry blossom spot in Seoul that is less crowded than places like Yeouido and Seokchon Lake, which makes it perfect for those who want to enjoy the blossoms in a more relaxed way. Visit in early April for cherry blossoms. The fall foliage is equally beautiful and can be enjoyed from mid-October to early November.
How To Get There:
Take the subway to Seoul Grand Park Station. This is the entrance to Seoul Grand Park. You can take the elephant train between locations (Seoul Land, Seoul Zoo) or walk.
Address In Korean:
경기도 과천시 막계동 33
---
18: Kyung Hee University Campus
The Kyung Hee University Campus is one of the most beautiful places in Seoul for a number of reasons. First, the striking neo-classical architecture really stands out from most other buildings in Seoul. Secondly, the thick foliage that weaves through the campus grounds make it a very pleasant place to explore on a sunny day. You might mistake it for an American college campus.
This university, home to more than 30,000 students and, has picturesque gardens, leafy pathways to walk through, and terrace cafes to sit in and enjoy the views. It's best visited on the weekend when the students are mostly off campus or not studying.
Our Tip: When it's open to the public, you can visit the rooftop of the College of Fine Arts building and see the campus from above.
Best Time To Visit:
Both spring and fall are perfect times to visit this pretty campus. The cherry trees are light pink and camouflage the stark white buildings while the fall foliage is full of burnt coppers and dark reds, brining the classical architecture to life in contrast to the dying leaves.
How To Get There:
Take the subway to Hoegi Station or Hanguk Univ. Of Foreign Studies Station. It's a short walk to the Seoul Campus from either station.
Address In Korean:
서울특별시 동대문구 경희대로 26
---
19: Bukhansan National Park
Did you know there's a national park within Seoul itself? Carving its way into northern Seoul is Bukhansan National Park, a rocky set of mountains that are home to mountain temples, dozens of hiking and climbing paths, and wild animals such as boars. This is a great place to hike during the day, offering views of Seoul in all directions.
One of the most beautiful parts of Bukhansan National Park is Jingwansa Temple on the western side of the mountains. This is near the base of the mountain, so you can access it easily. It's also right next to Eunpyeong Hanok Village, a large hanok village that offers a more traditional experience than Bukchon Hanok Village and has Bukhansan to provide an impressive background.
Our Tip: If you want to hike Bukhansan National Park, it should only take a few hours to reach the top. The main peak is Baekundae, which is 835 meters high. It's a rewarding introduction to hiking in Korea.
Best Time To Visit:
Avoid hiking in the summer (July & August) as the weather is very hot. April to early June or September to early November are perfect times to hike. If you want to see snow in Seoul, the high peaks often get snowed on during winter.
How To Get There:
Take the subway to Gupabal Station and use Exit 1 or 2. Walk to the nearby bus stop between the two exits. There are 3 buses that go to Bukhansan: Bus 34, 704, and 720.
Address In Korean:
서울특별시 성북구 보국문로 262
---
20: Seoul Forest & Seongsu-Dong Cafe Area
Seoul Forest is a breath of fresh air for Seoulites, a reserved corner of Seoul that looks out onto the Han River. This is family-friendly place has several playgrounds, a deer sanctuary, and tree-lined pathways and gardens. The abundant sycamore trees in Seoul Forest, with their giant leaves as big as a football, make this a great place to visit during fall. There are also beds of tall, willowy silver reeds that people climb into for captivating pictures.
The area around Seoul Forest, known as Seonsu-Dong, is a quiet residential area that has become gentrified in recent years and now features boutique bakeries, fine foreign foods, arts and crafts shops, and dozens of unique cafes to relax in. There's also the Under Stand Avenue – a collection of galleries, cafes, and shops made up from shipping containers that's a symbol of the eco-friendly attitudes in this area.
Our Tip: Visit on a sunny day and explore the park at your leisure. Afterwards, rent a Seoul Public Bike and ride along the riverside paths before retiring for afternoon snacks and coffee in Seonsu-Dong.
Best Time To Visit:
If you want some peace and quiet, visit the Seoul Forest during the week as it gets busy on the weekends with local families enjoying a slice of nature. Spring and fall are extremely pleasant, with clear skies, cherry blossoms, flowers, and then fall foliage later in the year.
How To Get There:
Take the subway to Seoul Forest Station for the park. Use Exit 5 to head towards to Seongsu-dong Cafe Area.
Address In Korean:
서울특별시 성동구 뚝섬로 273
---
Planning To See Beautiful Places In Seoul?
Has this list of the most beautiful places in Seoul inspired you to visit Korea's capital? Do you want to know what else the rest of Korea has to offer? Maybe you've already got plans to go and want some advice about the current travel restrictions, what else there is to see and do, and other unmissable experiences to be had in Seoul and beyond?
If so, be sure to check out our South Korea Travel Guide for more info about what to see, where to stay, when to visit, and everything else you need to plan your trip to Korea. And be sure to brush up on Korean Etiquette and Culture to avoid making any cultural faux pas. Learn some Korea before you travel with our guide to the Best Ways To Learn Korean and travel more easily.
As mentioned, the best time to visit Seoul is definitely in spring or fall, where you can see cherry blossoms and fall foliage respectively. January and February are good if you want to enjoy winter sports and possibly see snow. Summer is best spent on Korea's sandy beaches.
Now, here are a few more tips to help you make your trip to Seoul more comfortable and guarantee you a great stay in the Land of Morning Calm. Check out these hotel recommendations and some of our favorite Korea travel essentials.
---
Where To Stay In Seoul To See Beautiful Places
Want to know where to stay to see these beautiful places in Seoul? Want to be close to the royal palaces and traditional hanok houses, or in the heart of modern Korean culture, street food, and fashion? Not sure of the most convenient places to stay with good subway connections, great nearby restaurants, or lively nightlife?
Whether you're traveling on a budget, want to spend on the best service available, or want to balance both, we've selected 9 of the best Seoul hotels that you'll love. Click on the name of each hotel to check prices.
---
Luxury Hotels
If you want the best the Seoul has to offer, then these three hotels are for you. Located in Seoul's wealthy neighborhoods of Gangnam and Itaewon, these hotels are in walking distance of Michelin-starred restaurants, chic boutiques, galleries and museums, and the finest shopping experiences available.
Signiel Hotel Seoul ★★★★★​
One of the best hotels in Korea, if not the world, the Signiel Hotel Seoul is inside the world's 6th tallest building – the Lotte World Tower – and will give you an incredible stay in Seoul. Experience unbeatable views from the Seoul Sky Observatory on the 117th floor.
Grand Hyatt Seoul ★★★★★
This sleek hotel is tucked away in a peaceful residential area with trendsetting fashion boutiques, cozy cafes & upmarket restaurants, all within sight of the N Seoul Tower. The views from the hotel are spectacular.​
InterContinental Seoul Parnas ★★★★★​
The hotel is adjacent to COEX Mall with convenient access to one of the topmost shopping, entertainment, and business complexes in Korea. Guest rooms and suites feature floor-to-ceiling windows, offering a sophisticated ambiance to unwind and relax.
---
Mid-Range Hotels
Families, couples, and other travelers that want to experience the best of Seoul without breaking the bank can sleep easy with these next three hotel recommendations. Discover stylish accommodation in these popular districts, each with fantastic city views. These hotels all conveniently located for sight seeing, shopping, and eating out. Great hotels with reasonable prices.
Mondrian Seoul Itaewon ★★★★★​
Mondrian Seoul Itaewon is an immersive lifestyle destination fueled by bold, captivating designs expressed through a playful mindset–an ideal choice both for forward-thinking locals and for international visitors who are looking for fresh and exciting cultural experiences.
Four Points by Sheraton Seoul ★★★★​
Explore vibrant Gangnam and famous local attractions including Apgujeong and Garosugil, the Han River, museums and the Hyundai Department Store. Immerse yourself in K-pop culture and K-beauty experiences, great shopping, trendy restaurants and famous lounge bars and clubs.
Lotte Hotel Seoul ★★★★★​
Step outside the hotel and you'll find yourself in Myeongdong, one of Seoul's most popular district for tourists, with royal palaces, famous markets, street food stalls, and a wealth of shopping all a few footsteps away. This hotel is a great base for busy travelers.
---
Budget Hotels
Seoul has a wealth of budget accommodation options that will help make your money go further. These hotels are all under $100 but offer comfort and convenience. One hotel even has a beautiful rooftop pool. Although these hotels are cheaper, don't lower your expectations. You'll always find great service in Korea. Save on sleeping to spend more on shopping, souvenirs, sights, and all the other fun things there are to do in Seoul.
L7 Hongdae by Lotte ★★★★​
L7 Hongdae is a delightful cultural station, filled with chic and artistic decorations and colorful rooms that resonate with the stylish inhabitants of the neighborhood. Travelers looking for a relaxing place to stay in a trendy area will love this hotel.
Rosana Boutique Hotel ★★★★​
The Rosana Boutique Hotel is a stylish hotel that offers a comfortable night's stay at budget prices. Located under the shadow of the world's 6th tallest building – The Lotte World Tower, this is a great hotel for bargain hunters who want beautiful surroundings without 5 star prices.
Mercure Ambassador Hongdae ★★★★​
Well known for urban arts, indie music, clubs, restaurants and various entertainment offerings, Hongdae is where you can experience the beating heart of Seoul's creativity. Watch local students perform at night and try out cutting-edge youth fashion in the boutiques.
---
Our Recommended Seoul Travel Essentials
From mobile internet to travel passes that save you time and money getting around, here are some of our top tips for when you visit Seoul.
Flights To Korea: Check prices on flight search sites like Skyscanner and Expedia before booking your flights. You can find some amazing discounts and flights to match your schedule from 100s of different airlines.
Getting To Seoul From Incheon Airport: Ride the Airport Express high-speed train to Seoul Station and connect to the subway system and local taxis. However, if you're traveling as a group, or have a lot of luggage, an Incheon Airport Private Transfer direct to your hotel is a lot more comfortable.
Transportation: Grab a T-Money Card as soon as you arrive at Incheon Airport. You can use it to ride the subway, buses, and pay for purchases in shops, cafes, convenience stores, and more.
Mobile Internet: Internet access makes traveling so much easier these days. Check the weather, get around, order food, book tickets, and so much more. Best of Korea recommends a Korean Sim Card if you want to use Korean apps (you need a number), or a Portable WiFi Router if you just want Internet access without the number. Preorder online and collect at the airport.
Discover Seoul Pass: If you want to see some of Seoul's hottest attractions, definitely buy a Discover Seoul Pass. This will get you free entry to the N Seoul Tower, COEX Aquarium, Lotte World, Royal Palaces, and lots more. You even get a free T-Money Card and Airport Express Ride with the card.
Keep checking Best of Korea for all of the latest travel recommendations and travel advice.
Thanks for reading.