Long before LA LA LAND brought light to the wonders of the City of Angels, the likes of Jonathan Gold and Anthony Bourdain helped open mainstream eyes to the marvels of the Los Angeles Koreatown food scene. Los Angeles is home to the largest Korean population in America, and serves up some of the most delicious Korean food to be found in the nation… or I dare say, in the world. 
There are even people in Korea who say that some of the Korean food in Los Angeles is so uniquely its own and special that they crave it when they are back home on native soil. Korean food has become so popular now that you will often find many Korean restaurants in LA filled with non-Koreans, not to mention non-Asians.  In fact, LA Koreatown has become the hot "IT" place to hang out for many.
Since many popular LA K-Town restaurants have already received plenty of press, like Quarters, Park's BBQ, Soowon, Kang Ho Dong Baekjeong, Sun Nong Dang, Dan Sung Sa, and others, I'll share some of my other favorites which have not been given as much coverage… yet.
Here, in no specific order, is my guide to everything from hearty KBBQ dining and homecooked style Korean food, to army stew and tteok-bok-ee style goodness for when you are kicking it with your buddies cheering soju bombs. 
12 Amazing Korean Restaurants in LA
---
Los Angeles, CA 90019
(323) 936-9106 
Popularized by "Parasite" Movie Director Bong Joon Ho as his go-to place, Soban was asked to stay open after hours the night of Bong's historic Oscars win. Hollywood came in droves to hang with the "Parasite" crew until 5 am and you'll see the photos as proof on the walls, next to the many bottles of specially marinated homemade sauces used as the base and umami for the fresh, delicious, and flavorful food made here.
The restaurant is listed on the Michelin guide and the owner of this restaurant is also the Vice-Chair of the Korean Food Global Association so there is definitely some pride behind the exquisite food served in this very unassuming restaurant. All the dishes will come with about 6-8 delicious banchan so be ready to eat! 
Some of my go-to orders include Raw Soy-marinated Crab, Braised Black Cod, Spicy Stir-Fried Octopus aka "Nakjee bokkum", Spicy Braised Beef Short Ribs aka "Kalbi Jjim", and Soybean Paste Stew.  If you have room, you might also try their Tofu Jeon. Reservation recommended. 
---
Los Angeles, CA 90020
(213) 388-8988 
This place is categorized as a Korean Gastropub in YELP for some reason, but I feel like it's more of a delicious hearty Korean home-cooked meal type of restaurant, wonderfully created by owner and chef Wonsuk John Kang.
Some of my favorite dishes here include Spicy Mackerel Radish Stew, Variety Pan-Fried "Modeum" Jeon which LA Times just raved about, Spicy or Soy Marinated Fresh Raw Crabs, Spicy Whole Chicken and Potato Stew aka "Dak-do-ri-tang" and Spicy Stirred Fried Squid aka "Oh-Jing-Uh-Chul-Pahn". 
I especially love their kimchi here as it tastes perfectly marinated and fermented.  Ask for their Ginseng Soju Drink aka "In-Sahm-Joo" to pair with all the great food! Reservation recommended. 
---
Los Angeles, CA 90005
(323) 902-6328 
Even the world-famous BTS always makes sure they have at least one meal at this KBBQ restaurant whenever they are in LA.  Yep. That good.  The only downside is that too many fans have found out and have made the wait at this restaurant a lot longer since they don't take reservations.  When you go during peak hours, don't be surprised if the wait is over an hour, but once you can get a table, you'll agree it was worth the wait. 
Their quality of beef and pork as well as their intestine aka "gopchang" as well as their savory flavors make this place extra special. I like to start with some beef chadol (thinly sliced brisket), kkotsal (Prime boneless short rib), and Kalbi (short rib) – the beef combo is always good to try all the different beef options. Then I have some pork KBBQ, such as Samgyupsal (Pork Belly) and Hangjungsal (Pork Jowl) before diving into some Gopchang (Beef Intestine) and Daechang (Large Intestine – my fav!) Combos.
Be sure to get the Cheese Tripe Fried Rice aka cheese yangbap and Soybean Paste Stew aka dwenjangjjeekeh to round it off! 
---
Los Angeles, CA 90006
(213) 249-9292 
If you really want good traditional "sigole-style" banchan with your KBBQ, this is the place.  They offer 9-10 dishes of some of the most unique banchan of all the Korean restaurants in LA K-Town. These remarkable sides remind me of when I go to the really good restaurants in the countryside of Korea, like pah (green onion) kimchi, radish kimchi, soy "bee-jee" Jjeekeh stew, and their marinated sesame leaves are exquisite. Their steamed eggs come with roe on top and it's perfectly fluffy.
Start with their Prime Beef Combo, and add their Intestine Combo.  This is also the only place in LA I've had Pork Skin KBBQ – so deliciously marinated and comes with sweet soy dipping powder aka "mee-soo-garu" which all kind of melts in your mouth like a dessert filled with collagen.  They have great choices of stews like Premium Seaweed Soup and Spicy Intestine Stew if you want to explore outside of the delicious brisket soybean stew. 
Their fried rice with tripe is a must and Kimchi Cold Noodle is such a good way to cool off after all the beef and large intestine KBBQ. Unfortunately, they don't take reservations so always prepare for a wait.
---
Los Angeles, CA 90006
(213) 386-6660 
This restaurant has been long-standing in LA but given its remote location, it is still a bit of a hidden gem for getting your seafood fix, as well as some KBBQ.  "Bok" or Blowfish aka Pufferfish is known to be poisonous if improperly prepared and there are only a few restaurants with chefs who can prepare and offer them properly as a special delicacy, which is not only delicious, but often considered to help regain extra strength and stamina.
They are also known for their various delicious monkfish aka "Agoo" dishes, and when you order their "Combo A" you can get a taste of a variety of deliciousness.  My personal favorites include Agoo Jjim which is a spicy stir-fried mix with bean sprouts, Agoo or Bok Maeuntang which is spicy monkfish or pufferfish stew, Ahltang aka fish roe stew, pan stir-fried squid aka "oh-jing-uh bokkeum", fried agoo aka bok, stir-fried eel (another delicacy hard to find anywhere else in LA) aka kkomjanguh, and don't forget to snack on some fried fish skin with an ice-cold glass of beer.  
Their whitefish sashimi is also fresh and delicious at reasonable prices so a perfect way to start a meal before getting into all the hot stews and dishes. If you have room in your stomach, ask them to add SooJeBee in your stew or to make fried rice at the end of your stir-fried dishes and experience the next level.
BONUS: When the pandemic started and many Korean restaurants in LA started to offer outdoor seating, this place took it to another level by creating private tent bars for each party. Whenever the weather is typical "LA nice" it's definitely worth eating at one of these outdoor seatings. Only there, can you get the special perk of their "outdoors only" menu which includes Grilled Pork KBBQ with their variety kimchi set. My mouth is already watering just thinking about their duh-duk and pah kimchi!  
---
Los Angeles, CA 90020
(213) 388-2326 
If you believe chicken noodle soup does the soul good, then you can find your comforting "seoul"ful healing noodle stop in LA.  I dare say Hangari has some of the best knife-cut noodles, aka kalguksu (pronounced kahl-gook-soo), in LA.  The go-to is chicken kalguksu, but they also have many varieties, such as delicious clam kalguksu, spicy seafood kalguksu, kimchi kalguksu, etc.
Another option is their kimchi soojebi, which is basically the noodles prepared by flattening the dough and tearing the bite-sized pieces (instead of cutting into noodles) into the soup with their hands to deliver an even more chewy texture. People often refer to soojebi as Korean gnocchi but I didn't really get that because it's not made out of potatoes, but I digress.  
The bonus is that they serve their barley rice and banchan appetizer before they serve the noodles, which honestly, I can have as a meal on its own. The line is also usually out the door and they don't take reservations, so expect to wait if you are there during peak times. 
---
Los Angeles, CA 90010
(213) 382-6677 
The Tofu Stew, aka soondubu, is so delicious here that even visitors from Korea make this a mandatory stop. BCD stands for Buk Chang Dong which is the name of the founder's hometown in Korea. The name makes it seem like the original recipe would have been from Korea, but the chef created a special taste and recipe that makes it a uniquely LA Korean food.  It became so popular that they even opened some "LA BCD" restaurants in Korea but I hear it's not quite the same as the one right here in LA. 
Some might quickly write off anything tofu as "diet" food, but au contraire…  be ready to pig out when you enter BCD.  There is nothing "diet" about their menu as there are so many choices and combos to explore. 
My go-to is the kalbi combo with spicy seafood soondubu, which starts off with their delicious variety of banchan including even a whole fried fish which I nibble off to the bones. Then the kalbi and the soondubu are served in their sizzling dolsot (stone hotpot), with rice that is also sizzling in its dolsot.  After you carefully scoop the super hot rice into a metal bowl, they take the rice dolsot that has the crispy rice still in it and pour hot barley water into it and leave it to the side.  Towards the end of the meal, the crispy rice porridge is ready and it feels almost like dessert to help round off the hearty meal. 
Hard to believe the whole meal is so cost-effective, too… talk about a value meal.  It's no wonder that this big restaurant on Wilshire always seems packed and has people waiting. 
---
Los Angeles, CA 90005
(213) 389-7300 
If you love pork bossam, look no further… this is the best bossam in LA, hands down. Their kimchi jjigae and doenjang jjigae, as well as their cheongukjang (for those who can handle it!) are also fantastic.  Some of their other delicious dishes include haemul pajeon aka seafood pancake and Spicy cold noodles aka jaengban-bibim-guksu. Wrap the bossam with delicious pickled napa cabbage or pickled radish and top off with a little bit of brine shrimp and marinated radish kimchi for a perfect bite.  Pair it with a little soju or beer, especially their bokbunjah or baekseju.
They also offer a perfect lunch set which includes bossam and doenjang jjigae portioned for serving one, so a great affordable option to have alone (or to have as part of a meal where you also want to try their other dishes and feel like it might all be too much food). Not all bossam is the same, so if you know the difference and want to try the best one in LA, be sure to drop by this place.
Note: there will be long lines during peak hours and no reservations, as is often the case with the best Korean restaurants in LA.
---
Los Angeles, CA 90006
(213) 386-8477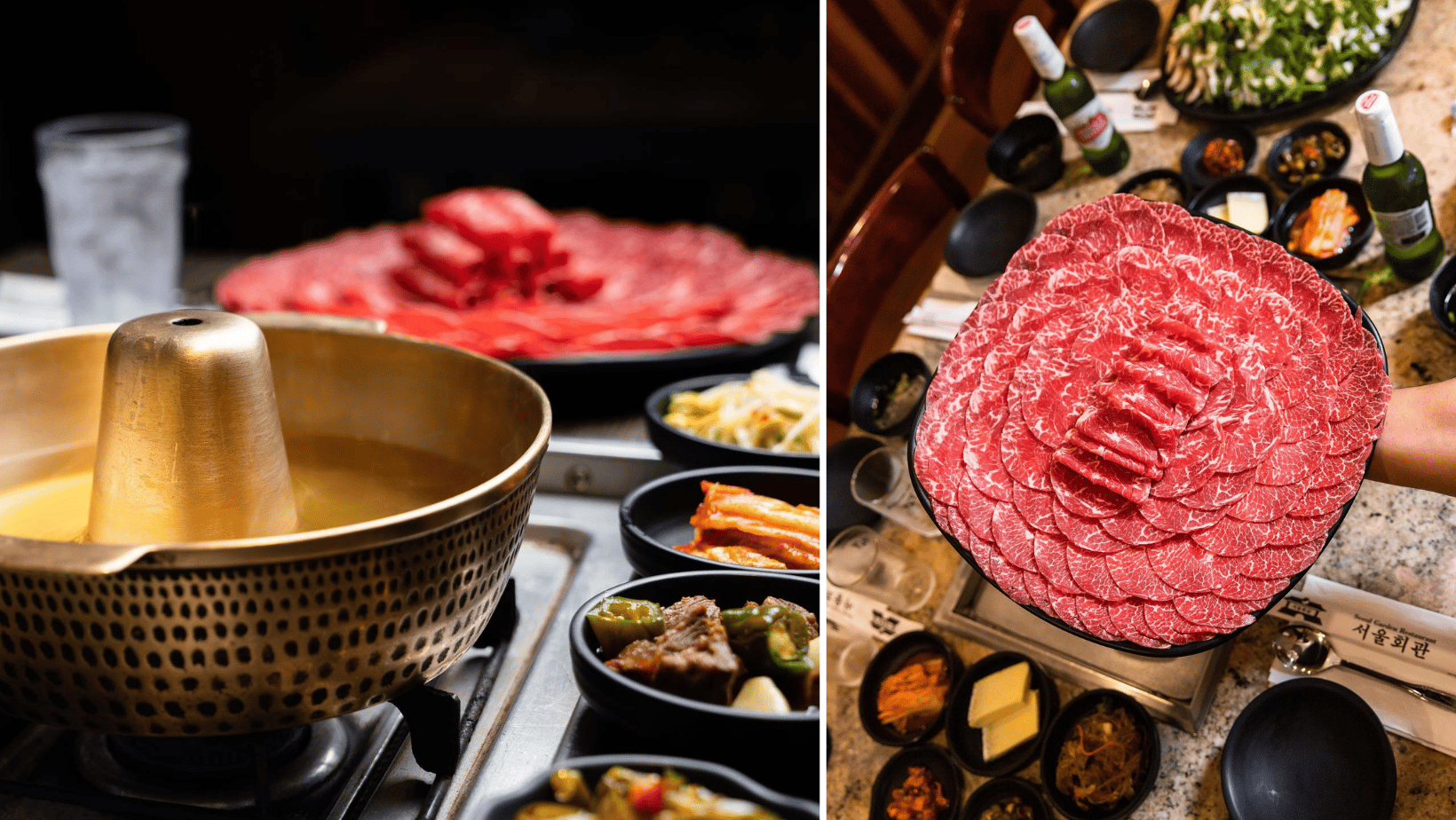 There are quite a few shabu shabu places in K-Town, but the many various options of shabu shabu combos here that take things to another level, especially with their broth base. They provide a mountain of veggies as well as freshly carved beef for the shabu shabu and the quality is excellent.  Then they cook udon in the broth as the next course, after which they add rice to make porridge in the broth. 
They have a lot of other great specialties as well, like beef tartar, roast gui, and KBBQ, not to mention delicious noodles, stews, and seafood pancakes… but the shabu shabu experience will have you coming back for more. 
---
Los Angeles, CA 90006
(213) 487-5002 
If you are craving a variety of Korean-style porridge, LA has a place for that, too. They offer over twenty different types of porridge made with no artificial ingredients and all-natural seasonings. They're known far and wide, for the healthy ingredients in their comfort foods.
They also offer many different Korean dishes besides porridge, all made with all natural and organic healthy ingredients. For example, for dishes that have mushrooms as part of the ingredient, they use pine mushrooms all year long that they bring from in from Oregon during the wild pine mushroom season which is October through December, and likewise will seek and use hard to find ingredients that are harvested in their best seasons, making them a true gem in the heart of K-Town.
In Korea, when it's chilly out, or when you are feeling under the weather, or if you have an upset stomach, you eat porridge instead of just chicken noodle soup. They were recently featured on NBC's California Live introducing all different types of Kimchi to help celebrate California Kimchi Day. Especially on a chilly day, a bowl of porridge will certainly warm you up… and you can be certain you'll find delicious and healthy ones here. My fave is the abalone porridge! 
---
Los Angeles, CA 90020
(213) 263-2355 
In the mood for some extra spicy rice cake dish, aka tteokboki? They offer different levels of spiciness. Even a "medium" spicy level will put your mouth on fire, though, so be warned.  Koreans say that spicy foods help you de-stress – I'm not sure if this is scientifically proven, but I certainly crave this whenever I need a bit of stress relief… and the spiciness will kick my butt good!
I like to order YUPOH which is the version that has more fish cakes than rice cakes. Be sure to add lots of mozzarella cheese and add a side of fried wonton and fried kimmari.  You can get rice balls to help cool down the heat, or they also offer banana milk or yocool which helps calm the spice. They also have spicy chicken feet both with bone-in or boneless versions which are also just as spicy and delicious.
Too bad they don't serve alcohol here as some beer or soju would pair well with their dishes.  Although the food is always the best when you eat in, I often order this to go… so I can have it at the comfort of my own home and pair it with my alcohol of choice as I profusely sweat off the spice – not a pretty sight. Lol.
---
3465 W 6th St Ste 110 Chapman Plz 
Los Angeles, CA 90020
(213) 516-5081
Yes, the name is spelled funny, but this place has nothing to do with toes or feet for that matter… the way it's spelled in Korean really means "traditional" as this is a bar that brings some traditional Korean feels with the decor while you bond with your buddies cheering with soju bombs over some eclectic mix of delicious street and tent bar foods like Military Style Army Stew aka Boodehjjigeh, Fish cake soup aka Ohdengtang, Clam Soup, aka Jokehtang, Spam and Eggs (yes, just fried spam and eggs – you KNOW it's so delicious, haha!), Chicken Gizzard, Seafood Pancake, a variety of skewers and my personal favorite, rose pyunchae aka thinly sliced beef carpaccio to even Asado Argentinian Rib Eye.
There are so many choices of delicious food that you won't realize you drank too much… until it's too late, so be cognizant of all those cheers. This place is one of the popular go-to hangouts for many in Chapman Plaza, where they also have Quarters, Kang Ho Dong Baekjeong, Escala, and Hikari Sake House. 
---
These top 12 places are a great place to start exploring the next time you visit LA.  This is only a "taste" of the many great Korean restaurants in LA K-Town.  I hope you get to try these as well as continue to explore all the great Korean restaurants in LA so you can start creating your own list… mine would be way too long for a single post if I were to list all my favorites.  Happy feasting!