A remarkable selection of Korean movies awaits on Amazon Prime, which PC Mag recently named as the top streaming service for movies.
The phenomenon of the ascendance of Korean entertainment worldwide is called the Korean Wave or Hallyu, which is made of two root words: han (한) meaning "Korean", and ryu (류) meaning "flow" or "wave". A treasure trove of Hallyu movies awaits any Prime member seeking Korean movie magic.
Whether you are a Korean movie fanatic or are new to Korean films, you are in for a treat. The list below is a testament to the wide range of categories where Korean filmmakers are thriving, and we, the international audience, are lucky indeed to have such high quality offerings at our fingertips.
---
Bong Joon Ho's "Memories of Murder" was only his second feature film as a director and it is genuinely incredible. A real-life murder mystery that was only recently solved, Memories tells the story of a series of grisly murders in South Korea and the investigators' desperate but sadly flawed attempts to find the killer.
There are so many classic Korean details in this visually striking film that you might want to watch it twice. Strong performances from the stellar cast, including Song Kang Ho of "Parasite", deliver some truly edge-of-your-seat moments. Since its release, this film was notoriously difficult to watch in the States, so catch it on Amazon Prime before it's gone.
---
This movie might remind you of "The Wolf of Wall Street", but with an authentic Korean point of view. "The King" is all in on wealth, power, corruption and debauchery. And the unfolding story will leave you infuriated but mesmerized. While imaginatively exploring serious historical events in Korean politics, there is plenty of humor to keep you entertained while educating you on the power dynamics that make Korean prosecutors possibly the most dangerous people in Korea.
---
In this award-winning coming of age tale, two young friends, Sun and Jia, go through the ups and downs of youth. Sun is a transfer student who befriends Jia and forms a strong bond. However, when Sun faces bullying from those around her, she finds her friendship in a hard place.
---
This R rated suspense tale is not for the faint of heart. A visually stunning work of cinematography, "The Handmaiden" is a story of love and betrayal set when Korea was under the Japanese occupation. There are many twists and turns in this Korean movie that stars Kim Tae-ri in a role that will shock many who saw her as the prudish and proper Aegi-ssi in "Mr. Sunshine".
---
A moving and life affirming story, "Shoot Me in the Heart" deftly explores the themes of freedom, oppression, and mental illness. The story of Soo-Myung and Seung-Min begins in a mental institution after Soo-Myung is admitted there by his father after suffering from traumatic psychological issues triggered by the death of his mother.
Seung-Min, on the other hand, is in there for all the wrong reasons. He was framed as mentally unstable by his half-brother who needed to put him away for his own selfish purposes. The two roommates hatch plans of escape but meet with harsh punishment every time they are caught and end up facing possibly life altering shock treatment therapy.
The often hard to watch brutal environment of the mental institutions is softened by the warm hearted community of inmates who take care of each other in their own inventive ways that shows how the bonds of trust and friendship can sometimes lead to a road of healing.
---
This little gem by South Korean director Yim Soon-rye will have you yearning for the simple life you never knew you wanted. An endearing and understated celebration of authentic Korean food, friendship, and family, "Little Forest" is about a young woman (Aegi ssi, for "Mr. Sunshine" fans!) who moves back to her childhood farming village and discovers what truly makes her happy.
You'll be inspired by the amazing farm-to-table cooking scenes and wonder why you aren't drying your own persimmons.
---
Yeon-woo is a successful, single, hard-nosed lawyer whose clients are wealthy bullies taking advantage of the poor and vulnerable. She meets an untimely death. But she's given a chance to resume her life if she agrees to live one month as a middle-class ajumma mother of two– who is married to a junior public official, whose family struggles to get by on his meager salary.
The ensuing hilarity of a fish out of water comedy is what you might expect. But the wonderful acting of Uhm Jung Wha and Song Seung-heon elevates this rom com and keeps the audience engaged and deeply invested in Yeon-woo and her new family.
Ramping up from a bit of a slow start, "Wonderful Nightmare" is a well written and fun movie that depicts a modern Korea that is struggling with a class divide and political correctness.
---
---
A beautifully imagined war film that depicts the condition of poor Korean villagers during the Korean War, "Welcome To Dongmakgol" is an interesting movie to watch as we all struggle with an increasingly divided political landscape where it's hard to find a way to get along with the other side. The story is set in the fictional remote village Dongmakgol where an American soldier has crash-landed, and a troupe of North Korean soldiers have also found haven. The villagers don't seem to know how to be unkind to anyone and unwittingly teach both sides an important lesson in humanity, peace and friendship.
---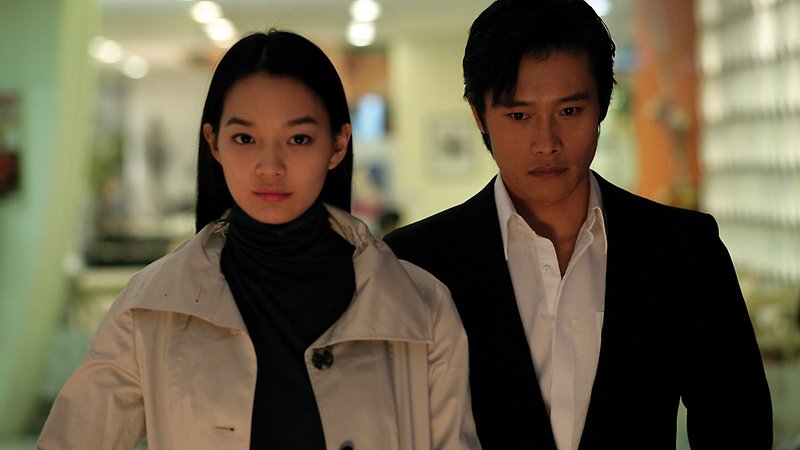 Lee Byung-hun is one of the top movie stars in Korea and this story is a great example of one of his favorite personas, the deadly gangster with a heart of gold. "A Bittersweet Life" is the tale of a gangster called Kim Sun-woo who has fallen into some deep trouble after falling in love with his boss's girlfriend. This film has some great action sequences and a must watch for Lee Byung-hun fans.
---
A violent action/thriller, "The Man From Nowhere" is the story of a pawnshop owner called Tae-shik who was previously a high-ranking special agent. Now a complete recluse, Tae-shik's only human relationship is with a little girl who lives near his shop. This little girl's mother ends up stealing a bag of heroin from a gang of drug traffickers and invites a lot of trouble for both herself and her daughter. The film is well written and directed, with Won Bin doing a fantastic job as the leading character. If brilliant action sequences are what you love, this is the film for you.
---
More great recommendations for Korean movies on Amazon Prime