Korean food is skyrocketing in popularity and with awesome dining options all over the world, millions of people are making this healthy cuisine a top option for eating out. Not sure what to order? It might be way easier than you think. Here's what to order in a Korean restaurant plus a printable guide at the bottom of the article.
---
1. Start with the basic and best: Galbi
If you like meat, you'll love Marinated Galbi (thick cut short ribs), possibly the best-loved Korean dish of all time. Order one serving per person and your entree will be accompanied by an array of complimentary vegetable side dishes called Banchan.
You'll be treated to various kimchi, sprouts, and other wonderful dishes and if you are lucky enough to get a basket of lettuce, be sure to try wrapping some meat and scallions in the lettuce and stuff it in your mouth like a true Korean food pro.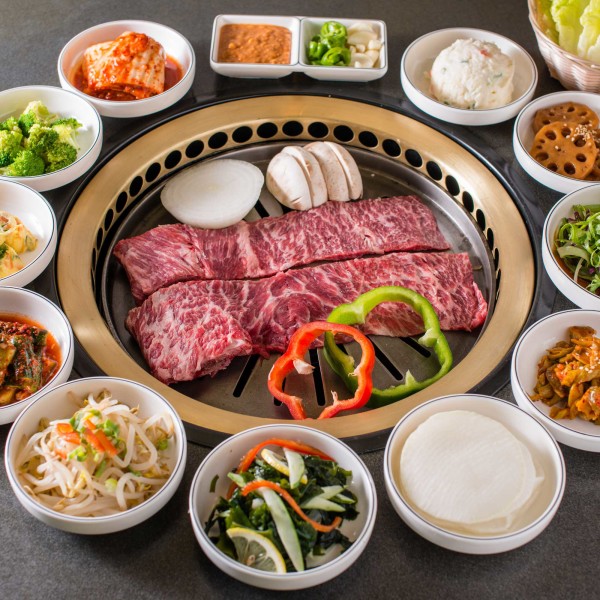 ---
2. Add an appetizer to share
Korean food is traditionally served with the bbq meat and all the side dishes first, and then either hot jjigae (stew) and rice afterward or cold noodle soup in the warmer months. But at restaurants these days, you can order appetizers to arrive before your main meal of meat and soup. Among the most popular appetizers are japchae (glass noodles with sauteed vegetables and meat), mandoo (fried or steamed dumplings), and pajeon (scallion pancake often made with seafood or kimchi). You can't go wrong with any of these three options.
---
3. Try a soup
Soup plays an important role in Korean food and it is not an appetizer. It often follows the meat course but can also be eaten alongside the meat. There are two different kinds of soups, jjigae which is a thicker stew, and tang which is a lighter soup. Jjigaes are usually eaten as a complement to meat dishes and tangs, like galbi tang and seollung tang are meals unto themselves. Korean soups range in spiciness but are always eaten with rice.
The three most popular soups to order with bbq are doenjang jjigae, soondubu jjigae, and kimchi jjigae. All delicious and on the spicy side.
---
4. Last but not least: drinks
Koreans love to drink and the best pairing to accompany Korean food is a Korean drink. The three most popular drinks to have with Korean food is beer (OB and Hite are nice light Korean brands), soju (Korean vodka sipped from a shot glass), and makgeolli (a light sweet rice wine).
---
Final tips for ordering at a Korean restaurant
Table grill

: If you have a grill at your table, a server will cook the meat for you and you can participate as little or as much as you like. If your meat is cooking too much at the end, either move it to a plate or ask the server to turn off your grill.
Lettuce wraps: Try wrapping your meat in the lettuce that often accompanies bbq orders. If you don't receive any lettuce, ask your server for sahngchoo (lettuce). If you are given marinated scallions and a mini bowl of ssamjang (orange bean paste), add a bit of each to your lettuce wrap.
Beef alternative: If you're not in the mood for beef, try the pork belly called SamGyupSal, which literally translates to three layers of meat. And lest you fear missing out on the Banchan, not to worry. All the main dishes will be accompanied by the wonderful sides.
Less expensive beef dish: If you want a less expensive beef bbq, try ordering bulgogi, a thin-sliced marinated ribeye that can be enjoyed exactly the same way as galbi.
To make this delicious Korean bbq at home, check out our recipe for Galbi!
---
[Printable] What to order in a Korean restaurant:
Last but not least, here are some of the best Korean restaurants to try out your new ordering skills. Good luck and let us know how it goes!