A public address system that was piped into my hotel room reminded me every day that if I violate the quarantine orders, I would be arrested and deported.
I never dreamed I'd be spending my birthday quarantined in a Covid Hotel, but that's what happened after I flew to Korea on October 17th from my hometown of New York City to visit my parents who live in Seoul. My parents are elderly and my father's health has been declining. I decided it was important to make the trip to spend precious time with him and my mom, especially as I'm able to work remotely in the pandemic.
The South Korean government has strict Covid-19 policies requiring all inbound travelers to quarantine themselves for 14 days upon their arrival. Travelers like me with relatives or a residence in Korea have the option of self-quarantining at home rather than at a government designated hotel; however, given the age of my parents and my father's frail health, I felt it was risky to quarantine at home which is why I chose to go into a hotel.
At JFK Airport, before I could board my virtually empty Korean Airlines flight, my temperature was taken and I had to sign a Quarantine Agreement consenting to be placed in mandatory isolation for two weeks once in Seoul.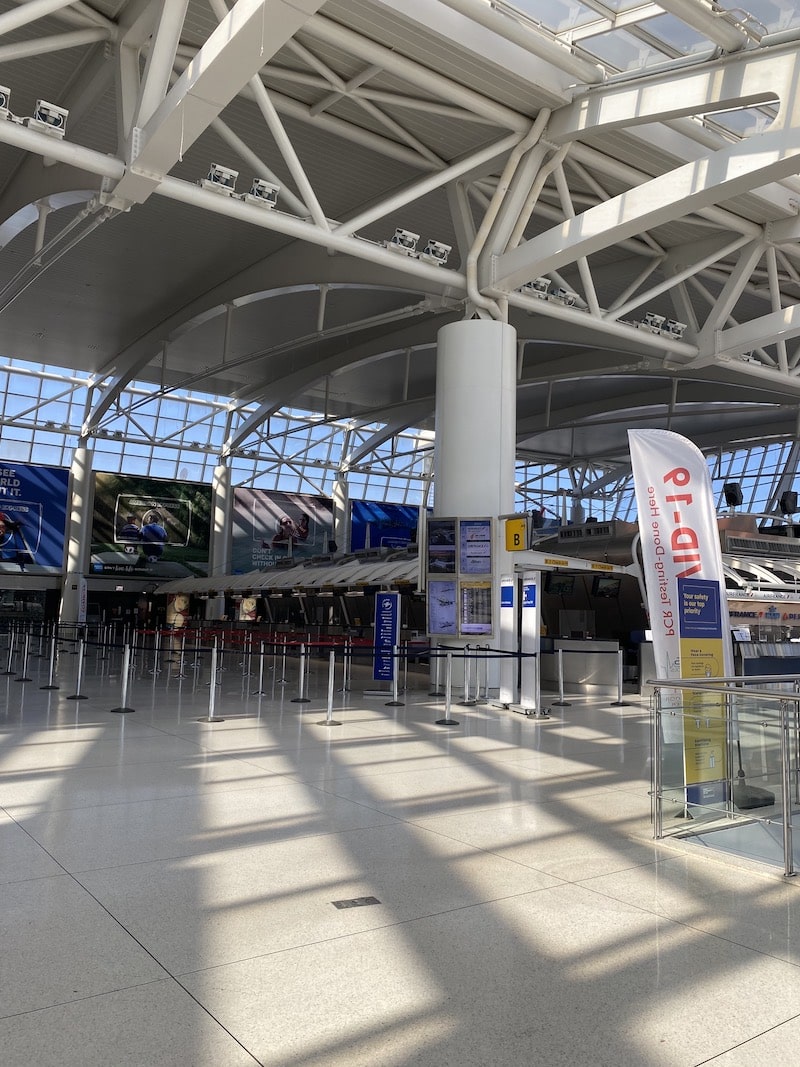 I wore a N-95 mask the entire plane ride and I was comfortable during the very socially distanced flight. The plane was not crowded at all– my guess would be that it was only about 10% full. Even though I flew coach, I was very comfortable because I had all three seats to myself and could stretch out. There was no one in the seats behind or next to me.
Upon my arrival at Incheon Airport 13 hours later, I was met by security personnel covered head to toe in Personal Protective Equipment, who took my temperature and helped me download an app onto my mobile phone that would allow the Korean government to monitor my health during the quarantine period.
I was then allowed to go through immigration and baggage claim, and then steered to a waiting area at the airport to board a bus that would take me and my group of travelers to our quarantine hotel.
The South Korean government has designated several hotels as quarantine facilities and our bus brought us to one called the Sotetsu Splaisir Myeongdong, a four-star hotel in the heart of Seoul. Before I could check in, I had to get a nasal swab Covid test and pay in advance for the 14-night stay (about $1,470 or $105/night).
Finally, weary from my long journey, I was allowed to take an elevator up to the hotel room that would be my solitary home for the next 14 days. It was clean and comfortable but with none of the services you would typically expect in a hotel: no laundry or cleaning, no room service, just 3 meals delivered contact-free outside your door.
Each day, I was required to take my temperature and submit health updates on the government app. There was a public address system that piped announcements into the room in multiple languages, reminding guests that if we violated quarantine orders, we would be arrested and deported. We were also reminded daily that, under no circumstances, could we open our doors except to put out our garbage once a day and pick up food three times a day.
The meals were doshirak-style Korean food and tasty but there wasn't much variety so it got monotonous after the first few days. For exercise, I set a goal for myself to walk at least 10,000 steps a day which meant a lot of pacing back and forth in my small room. I had a window with a city view that I could crack open for fresh air.
If you quarantine at home instead of a hotel, you must have a room and a bath that you don't share with anyone. You have to submit daily health updates on the government app and are prohibited from leaving your home during the 14 days of quarantine. The app on your phone actually tracks your location so they can monitor you closely. If your phone doesn't "move" for a while, they call you just to check that you didn't leave your phone at home and are out walking around.
Like all of South Korea, my hotel had strong WiFi which meant I had no problems working, zooming with colleagues and friends, and for entertainment, watching TV or Korean dramas shows online. I especially enjoyed a series called "Crash Landing On You" that had me completely hooked and entertained during my quarantine!
My birthday is October 27 which meant it landed on Day 9 of my 14-day quarantine. My family arranged a virtual birthday celebration for me on zoom, so even though I spent my birthday in isolation, I never felt alone. My birthday 2020 will be one I will never forget!
---
Kyung B. Yoon is president and co-founder of the Korean American Community Foundation (KACF), a leading funder of Korean and Asian American community organizations in the Greater New York City area. Her previous experiences are in the fields of global development and media including making history as the first Korean American broadcast reporter in New York City. Kyung is currently a contributing reporter to CUNY-TV's ​Asian American Life,​ and serves as the Board Chair of Philanthropy New York and as a trustee of the New York Foundation.