Q&A with Suzanne Yoon, Pioneer in the Male Dominated World of Private Equity

In the vanguard of female leaders in finance, Suzanne Yoon stands apart. Women represent seven percent* of private equity founders but Yoon is the only Korean American in that trailblazing group.
Yoon founded Kinzie Capital Partners, a Chicago-based private equity firm, in 2017 and currently has about $150 million AUM (assets under management). Named by the The Wall Street Journal as a "top female dealmaker shaping private equity's present & future," and to Mergers and Acquisitions' 2021 Top 25 "Most Influential Women in Mid-Market M&A.", she is a respected leader in the world of finance.
But before she became a fearless innovator, Suzanne Yoon was a little girl in Chicago whose family suffered a devastating tragedy when her father was killed during an armed robbery while working long hours at his small business. With three daughters under the age of ten and another baby on the way, Suzanne's mother worked double shifts as a nurse to not only survive but also provide the best education she could afford for Yoon and her siblings.
Deeply influenced by her roots, Yoon now serves on on the boards of numerous civic organizations including the Chicago Public Library Foundation and is currently the chairwoman of the board of trustees for The National Philanthropic Trust (NPT), the largest independent Donor Advised Fund manager in the world with approximately $17 billion under management.
Here is Best of Korea's exclusive Q&A with the formidable Suzanne Yoon:
---
What books have influenced your life the most and why?
From a young age, I have been an avid reader and learn something from almost everything I read, so it's really hard to pick just one! I love books so much that I sit on the board of the Chicago Public Library Foundation. But the more recent books I have read that have stayed with me are: Caste by Isabel Wilkerson, Principles by Ray Dalio and Minor Feelings: An Asian American Reckoning by Cathy Park Hong. (For all the KA's out there, I highly recommend Minor Feelings.)
The last book I read was Empire of Pain by Patrick Radden Keefe. There is a lot to learn from this anthology of the Sackler Family. In many ways it's the ultimate immigrant story that spans generations. It serves as a powerful reminder to always consider business ethics and how the decisions made today (good and bad alike) can profoundly influence everyone around you and last for generations to come. It was quite heartbreaking to read, mainly because my family lost someone to the opiate epidemic a few years ago.
What was the first big break in your career and who helped you get there?
I have had many pivotal moments in my career, but my first big break was in the Special Assets group at ABN AMRO N.A./LaSalle Bank. David Shapiro, a senior banker in charge of the "work out" of structured and syndicated credits (aka the big deals), was instrumental in my career.
I was grateful for the opportunity to work for David, who took me under his wing, invested in me, coached me, and taught me the fundamentals of investing. David was very hard on me and expected an extraordinary level of detail, but he was fair. More than anything, I had someone who believed in me and focused on the progress I made. I worked tirelessly because I did not want to disappoint him.
I have since had many mentors and executives who have had an enormous impact on who I am today. I'll forever be grateful for them, particularly, Norm Bobins (retired CEO/Chairman of LaSalle Bank) and Peter Schwab (former president of EY Corporate Finance), both of whom continue to serve as advisors to me and Kinzie.
What's the one trait that has contributed most to your success?
I believe it's my ability to see around the corner. What I mean by that is I pay close attention to my intuition, which is the ability to take in experiences and analyze and process them quickly to make decisions. In my profession, I absorb and assess situations and information all the time to evaluate and plan for what's coming next. It also allows me to connect with people, read a room, and make good decisions.
What would people be surprised to learn about you?
People are surprised that I have three boys—three young and very active boys! I had my youngest when I was in my 40's. In fact, I started Kinzie Capital Partners when my youngest was just a year old. It was no small feat when I became an entrepreneur because my husband has a very demanding career too, but we work as a team to keep it all together.
The other fun fact that people are always surprised to know is that I am a lover of almost all outdoor activities and fishing is a core family activity. We have fished all over the world and have replicas of trophy fish hanging pretty much all over our house.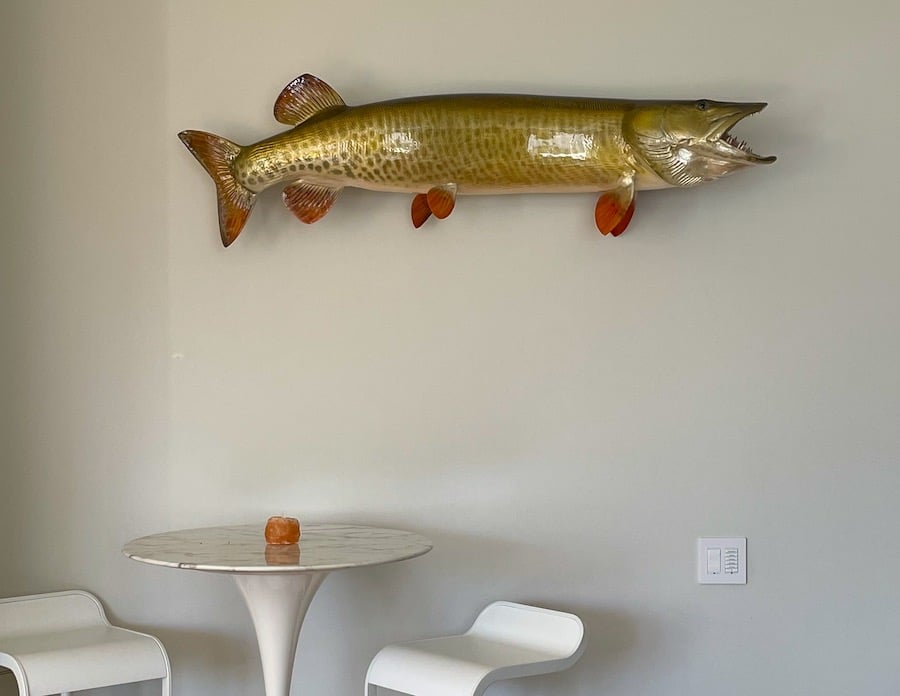 You travel a ton for business. What are your best tips for smart travel?
I have a few: pack as lightly as possible; have all of your travel items replenished and ready to go at all times and carry an empty water bottle to reduce waste and save money. I also always bring my own slippers. The Asian in me can't wear shoes by my bed and I cannot walk barefoot on someone else's floors.
What's your go-to cocktail?
I'm actually not much of a cocktail drinker as I tend to gravitate towards wine, but while traveling in Argentina years ago, I discovered I love the Aperol Spritz and it's been my go-to summer cocktail ever since.
Describe your perfect summer vacation.
This is easy. As a Midwesterner, it's the North Woods of Wisconsin, hands down. It's a very special place for our entire family. We bike, hike, fish, ride horses and remain active every time we go. There is something very grounding and special about being in nature. It centers me, clears my head and I am reminded by how small we are in the grand scheme of the universe. It puts everything into perspective. Plus, the clarity I find in the air and space has allowed me to come up with creative, innovative ideas to improve our business.
What's your favorite Korean comfort food/restaurant?
Galbi-Tang or Nurungji —reminds me of my childhood. I've always been a carnivore and my grandmother would make this for me. I pretty much love all Korean soups as my comfort food, but Galbi-Tang is my all-time favorite.
What do you like to splurge on and what are you most frugal about?
I definitely splurge on electronics and love having the newest technology. It's a combination of curiosity and making sure I know what is going on in the market. The plus is my boys come to me with tech questions and issues first. I also will spend money on quality food. I think it's really important to pay attention to what you feed your mind and body.
I'm generally a big believer in quality over quantity, so where I am frugal is my accessories (i.e., I have shoes that are 20 years old, but are well maintained and in perfect condition.)
What's your favorite Korean drama or movie?
I don't watch a lot of TV, but I do love K dramas and movies! The last K Drama I watched and was instantly hooked on was Misaeng, translated to "an incomplete life," which is the story of a young man who missed his chance to become a professional baduk player and joined a large trading company. It's a must watch.
Do you have a favorite Korean beauty product or secret?
My grandmother used to take me to the Korean bath houses when I would go visit her in the summers and scrub me with the green scrub cloths which I hated as a kid (my earliest memories of this was when I was 4 years old). Today, we keep a supply on hand in the house in every shower as I learned early that scrubbing and moisturizing afterwards is very important. My boys and husband have all been trained on the benefits of regular exfoliation… and moisturizing as well! [laughing]
I do not have a favorite product, but I have purchased Sulwahsoo products for my mother.
Are you an obsessive person and, if so, what are your biggest obsessions?
[Laughing] Yes, when it comes to cleanliness and order. I can't think straight when things are dirty and messy. I am desperately trying to raise my boys to be good spouses who can clean up after themselves and actually put their clothes in the hamper instead of on top or around it.
How did you find the courage to quit your corporate job to start your own private equity firm?
I wanted to control my own destiny and I knew if I didn't try, I would always regret it.
What's the advice you most often give to your female mentees?
Take a seat at the table. Be bold, be visible and contribute. Also, the people with whom you surround yourself matter – leverage the collective power of your community, whatever it is, and foster the connections you have with people and organizations. The meaningful relationships you build will be an asset throughout your career.
What have you learned about hiring great employees?
I focus on potential. When hiring, I seek resourcefulness, integrity, a strong work ethic, and cultural fit. Building and developing a cohesive and talented team is one of the most difficult (and most rewarding) aspects of my job.
What mistakes do people often make during interviews?
I would say not knowing your superpower—what you do better than anyone else—and how that contributes and helps the team.
A deal breaker for me is rude or dismissive behavior towards anyone in a service role, i.e., receptionist, administrative assistant, or a server at a restaurant.
How do you relax and recharge your batteries?
Exercise and Meditation are my two (almost) daily activities. I have been practicing Transcendental Meditation for years and begin each day (and break) with a meditation session. It's now a habit for me like brushing my teeth and I don't feel right if I don't do it.
My guilty pleasure, which is another way I recharge, is Sunday football. There is nothing better than sitting at home watching football games and napping between with my husband and sons.
---
Suzanne Yoon's keynote speech at the CKA Women's Mentorship Conference:
---
Learn more about Suzanne Yoon at the Council of Korean Americans.