Ultra fresh seafood and photo ops galore on this beautiful island paradise.
After a two week quarantine in Korea for my two daughters and myself, a pleasant surprise was awaiting us. My mother had booked a trip to Jeju Island! My girls were definitely excited. "Isn't Jeju Korea's Hawaii? Will there be palm trees? Can we play on the beach?" Yes, yes and yes! The only caveat? Face masks must be worn everywhere. Yup, indoor or outdoors, masks are mandatory except for eating and/or drinking. Girls weren't too thrilled about that but hey, we are going to Jeju!
Jeju Do, or Jeju Island, located off the southern coast of the Korean peninsula and is a popular destination not only for foreigners but also domestic honeymooners and vacationers. Jeju is known for its wonderful seafood, a dormant volcano called Hallasan, lovely beaches, and haenyo (literal translation "sea women" divers who gather seafood in the ocean without any scuba gear). It's also known for its wind which is harnessed to generate electricity for every house on Jeju Island.
*Pro Tip: A mask chain will help keep your mask with you at all times.
With Covid-19 still present, there didn't seem to be as many tourist groups but since international travel has been down and people have been itching to travel, there were quite a few honeymooners and families on vacation. The way to visit Jeju Island during a pandemic is via a relaxed self guided tour such as the package we purchased through the "Very Good Tour" travel agency, 참좋은 여행. Our package for three nights and four days included air travel, resort stay, and rental car for just shy of $300 per person.
Fortunately, I enjoy driving and always travel to Korea with an international driver's license, so I took on the role of tour guide and chauffeur. It only takes 45 minutes to an hour to drive from one end of Jeju to the other. My resource? A working smartphone and navigation system are all you need. I searched online for 맛집s (mat-jib: tasty house) and checked reviews and ratings (over 4.0 out of 5).
Just over an hour flight on Korean Air took us to Jeju Island from Gimpo Airport. My girls said that it felt no different than taking a bus. Why? No snacks or entertainment system on the fight. Sorry, girls, but stop complaining. We are going to Jeju! The check in process was a breeze at Gimpo with plenty of self check-in kiosks. It was a later flight, so by the time we landed, picked up our rental car, and checked into our resort on the opposite side of the island in Seogwipo, it was 10 pm.
*Pro Tip: If you feel comfortable driving abroad, get your International Driver's License. I got mine for $20 at AAA.
---
Day 1: Seogwipo Seongsan
Pyosun House of Sea Women Restaurant, Seopjikoji, Gwangchigi Beach, Seongsan Sunrise Peak/Cafe Orda, Curcumin Black Pork BBQ
One of the must eats in Jeju is 전복죽 (jeonbokjuk: abalone porridge). Abalone, conch and many other sea goods are collected by 해녀 (haenyo: sea women). Men would venture out into the ocean while the women went diving near the shores. So with today's itinerary of touring the Seongsan area, I found Pyosun Haenyo Jib (표선 해녀의 집) on the way to Seongsan. Not only did it get an above 4 star review but its location along the coast caught my attention as well. The porridge had a slight greenish color, but I was told this is due to using the entire abalone including the organs minus the shell.
Cooked organs could have a bitter taste but this one was far from it. It was so delicious that my girls couldn't even put their spoons down. With a full stomach, we were off to wet our feet. The shoreline was filled with volcanic rocks that made walking a bit more difficult but the girls still had a blast taking photos on the rocks and a rocky trail to a quaint little lighthouse. The weather was hot and humid so the ocean breeze was very much appreciated.
Next, we headed over to Seopjikoji. Parking was pretty full with rental cars. How do we know? We figured out that rentals have a "ㅎ" (하허호, etc.) on the license plate and are 90% white. The walk up to Seopji+koji, which means narrow place of land + promontory, used to be a place with a signal fire beacon during the Joseon dynasty. My younger daughter wasn't a fan of all the walking, but a 5 min 5,000 won (equivalent to about $5) horse back riding made her day. Oh, the little things that bring us joy.
Seongsan Sunrise Peak is a beautiful tourist hotspot formed by hydro volcanic eruptions with a shallow seabed at the top. This was the next stop on our list but unfortunately my younger daughter didn't want to hike up to the peak so we ended up heading directly to lunch instead. Flexibility is key when traveling with kids! We decided to check out a friend's recommendation and Cafe Orda was pastry heaven for us four hungry ladies. An array of beautiful pastries was waiting to be ogled and chosen from.
Two rounds of lattes and six pastries later, we hung out outside on the comfortable bench beds with the majestic Seongsan Ilchulbong in view. This cafe is also one of the cafes that have the so-called "Stairway to Heaven" stairs. Boy, did we not want to leave.
Another online find not too far from Cafe Orda is Gwangchigi Beach. The flat landscape of rocks surely make it picturesque. Please do be careful since the rocks are quite slippery due to moss, but the blue water and green moss create a beautiful landscape topping it off with the majestic Seongsan Ilchulbong in the distance. Children will enjoy hours of fun treading and splashing in the shallow waters and playing peekaboo with hermit crabs.
On the way back to the resort, we decided to go for another must eat on Jeju Island, Jeju black pork bbq. Jeju Black is a Korean breed of domestic pig and the name obviously comes from the pig's black skin and hair. Curcumin Black Pork BBQ restaurant was just down the road from Gwangchigi beach. It was quite tasty with curcumin sprinklings on black pork, a local specialty.
---
Day 2: Seogwipo City
Jeongbang Waterfall, Seogwipo Maeil Olle Market, Camellia Hill
Jeju has so many beautiful sites but since I had to choose things that both my girls would enjoy we started the day at the tallest waterfall on Jeju Island, Jeongbang Falls. Located along the south west coast, Jeongbang is 23m high and is the only waterfall in Korea to drop right into the ocean. The cool water spray was a nice break from the beating sun and made the walk down to the fall worthwhile.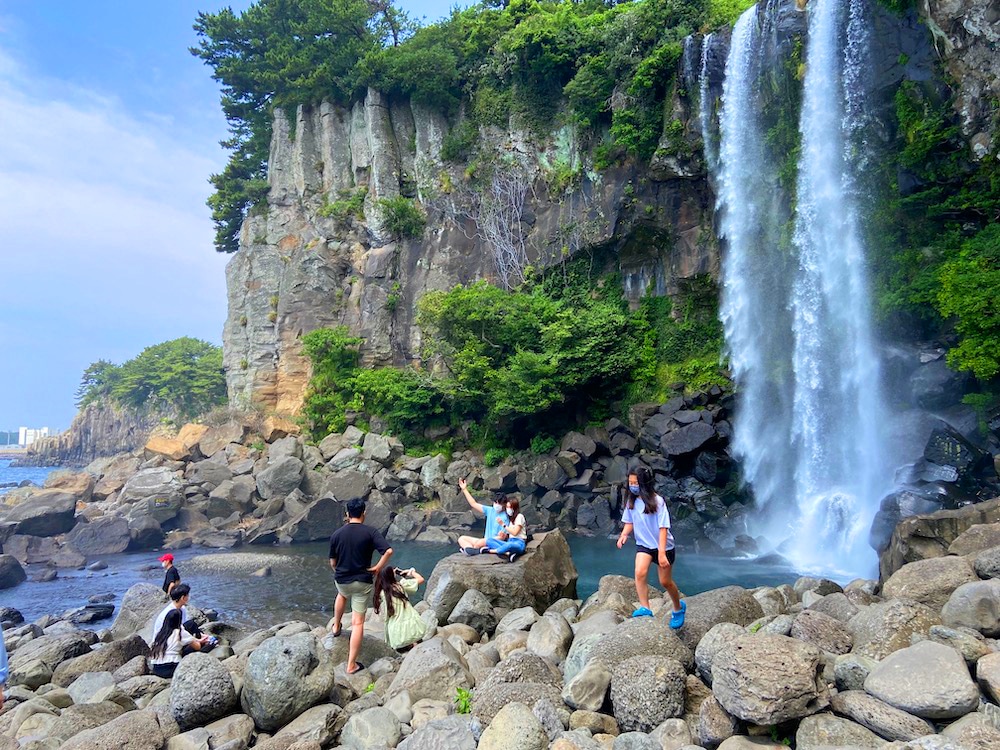 Along the rocky coast, there was a make-shift eatery with a seafood merchant. A canopy tent was all that was needed. No wonder Koreans need to be able to do the "kimchi squat". We sat on tiny plastic stools waiting for fresh seafood to be cut: abalone, sea urchin, conch and octopus.
My older daughter and I were a tad hesitant to try, but a dip in 초고추장 (chogochujang: tangy red pepper paste) was the way to go. Out of the four, our top votes went to the chewy textured abalone!
*Pro Tip: For fresh raw seafood lovers, chogochujang is the best combo for a savory and tangy flavor.
Second stop, Seogwipo Maeil Olle Market which was not too far away from the waterfall. I like the cuteness of how the name of the market translates into "Will You Come Everyday" market. The aisles of Olle market are frequented by honeymooners and tourists. The stores were filled with trinkets, souvenirs, and products of Jeju. With 감귤 (gamgyul: Jeju tangerine) being the trademark of Jeju Island, lots of merchandise and food include gamgyul. It's a great place for honeymooners to shop since it is tradition to take home post honeymoon gifts for parents.
We grabbed some fried rice with abalone and black pork for lunch while eating among the hustle and bustle of merchants and customers. I was told that Olle is the second largest market on the island. We will be visiting the larger Dongmoon Market in Jeju city the next day). Now off to Camellia Hill for a major flower fix.
Our last stop for the day is the remarkable Camellia Hill. This is the largest camellia arboretum in Asia, but being it summer, there were lots of hydrangeas and hibiscus in the gardens among many other plant species. We were all swept up in taking photos of the beautiful flowers and displays in the gardens. The highlight of the day was the sudden shower that cooled us from the heat and reminded me of the short novel, "소나기, Rain Shower". Flower lovers will enjoy a nice stroll among various flowers and paths.
---
Day 3: Jeju City
Manjanggul Lava Tube, Buchon Diner, Jeju Dongmun Traditional Market, Yongduam Coastal Road
With the warm humid weather and a full day ahead before our flight at 9:20 pm, visiting a nice cool cave was a no brainer. After our breakfast buffet at the resort, we headed to Manjanggul, the world's 12th longest lava tube. My daughters thought we should be driving through this  tunnel since it was wide enough to build a road with 2 lanes. We were allowed to walk down to the 1 km point, but it took much longer than expected due to the uneven surface floor and the darkness forcing our eyes to focus on our steps. The temperature inside was about 50 degrees fahrenheit with 99.9% humidity, which felt great to us Minnesotans.
After the 2km walk and our stomachs grumbling, I searched for one more dish both my mother and I wanted to try before leaving Jeju Island: 갈치 (galchi: silver belt fish). A local we met recommended 부촌식당 (Buchon Diner) but this was out in Seongsan area. 'To drive or not to drive to Seongsan', that was the question. Manjanggul being more inland, for seafood we would need to head out to Seongsan's coastal area. This wasn't planned very well, but we decided to give it a go and it was worth the drive.
Buchon Diner specializes in 갈치조림 (galchijorim: braised belt fish) that is also accompanied with 전복미역국 (jeonbok miyukguk: abalone seaweed soup) which was perfect for my 9 year old. Interesting fact: I've noticed several restaurants having break times and being closed for a couple of hours during low traffic hours. Glad we made it in time.
A quick drive to Jeju Dongmun Market, the oldest market in Jeju, and boy, were we overwhelmed. There definitely were more stores, merchants, tourists, etc. Sometimes you wonder how the stores survive by selling pretty much the same merchandise or service. Competition at its best I guess.
We picked up a couple of souvenirs and headed out. I couldn't help but wonder why the market was called dongmun, east gate, but I didn't get a chance to ask.
*Pro Tip: Carry cash with you for bargain power and discounts at markets.
We had some spare time until we had to return our rental car. Another quick search online and we headed over to the 용두암 (Yongduam: dragon head rock) area with cafes along the coast. There were many to pick from but I wanted to support a local cafe. Unfortunately, they were closing early, so I played it safe at a popular chain, A Twosome Place.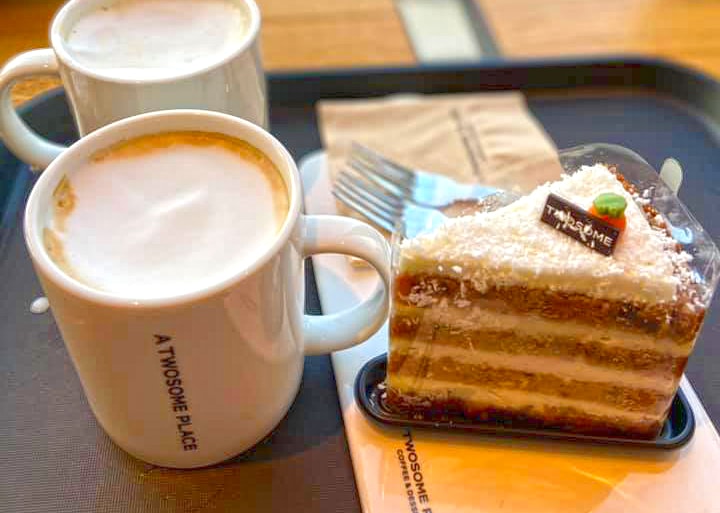 There were hardly any customers, so it felt like we had rented the place out. We grabbed our desserts and drinks and hung out upstairs with a nice ocean view seating. It turns out there was a stairway to heaven on the rooftop here as well, so one last photo opportunity for the girls before we headed to the airport.
---
One Last Thing..
For those who may be driving in Jeju Island, make sure you abide by all the traffic and road signs regarding speed. The cameras are there to give you a heads up to slow down and protect pedestrians, but you could also receive a ticket for violating speed limits. Give yourself enough time to get from one place to another. The car I rented had a built-in navigation system, and thanks to this, I didn't have to worry about my super slow speed 2G smartphone. (By the way, as a T-mobile customer, I got free unlimited 2G and text throughout Korea including Jeju Island.)
*Pro Tip: As pedestrians, please watch out for cars. Unfortunately, there aren't many cars that yield to pedestrians, but it seems like it's the pedestrians job to look out for cars.
My mother and I had been to Jeju Island a few times before and this pandemic trip was certainly not the same as our previous more carefree experiences. With a nine year old who doesn't like to hike, my girls didn't get to experience Jeju as fully as they could have, but we still had a wonderful time and can't wait to return again in the future, hopefully mask-free.
---
Summary of Itinerary for Pandemic Travel to Jeju Island with Links:
---
Pro Tips Roundup:
A mask string will help keep your mask with you at all times.
If tech savvy, utilize the "Naver Map" app. "Naver" seems to be the way to go in Korea.
Carry cash with you for bargain power and discounts at markets.
For fresh raw seafood lovers, chogochujang is the best combo for a savory and tangy flavor.
For first time chopstick users, try using wooden ones. Metal ones are slippery and more difficult to use.
As pedestrians, please watch out for cars. Unfortunately, there aren't many cars that yield to pedestrians, but it seems like it's the pedestrians job to look out for cars.
If you feel comfortable driving abroad, get your International Driver's License. I got mine for $20 at AAA.