The restrictions on travel to Korea are finally easing up and although I was just a couple weeks shy of taking advantage of the upcoming changes, I'm here in Gwangju and nearly finished serving my time in quarantine. I felt that a visit to my family was well deserved after the craziness of 2020 and I pulled the trigger back in March to purchase tickets for myself and my two daughters to spend six weeks of summer in Korea. Here is a glimpse of what we experienced and what will be changing in the weeks to come.
---
What will change on July 1?
On July 1, the huge change in travel to Korea is that many vaccinated travelers like me will be able to skip the quarantine restrictions if we follow the correct protocol. Here are the details according to The Korea Herald:
This new exemption from quarantine applies only to people who were fully vaccinated at least two weeks before their travel to Korea.
The new exemption is only for those traveling for business or academic purposes, for the public interest, or to visit immediate family members. Otherwise, you still have to self-quarantine for two weeks. Immediate family members are defined as spouses, lineal ascendants or descendants, and lineal ascendants or descendants of spouses. You will have to fill out forms and prove your intent to visit them.
Only COVID-19 vaccines approved for emergency use by the World Health Organization will be accepted. The list includes those from Pfizer, Janssen, Moderna, AstraZeneca, Sinopharm and Covishield.
Any traveler seeking exemption under the new rules has to fill out an application and prove that he or she is fully vaccinated. Applications are available online from Korean embassies and consulates abroad or other government agencies.
Exemptions without vaccination records will be granted for children aged below 6. The applicant's citizenship does not matter.
Even if you were granted the exemption, you will still need to take a total of three COVID-19 tests before and after arriving. You will also have to install a self-diagnosis app on your phone and regularly report your health status.
Pro Tip: Don't assume that you will be able to travel on your old routes to Seoul. Our tickets were purchased as nonstop flights to Inchon, however all nonstop flights from MSP (Minneapolis/St Paul) were canceled and we were rerouted to fly through DTW (Detroit).
---
What to expect if you are not exempt, or if you travel before July 1
One thing that won't be changing is the series of Covid tests required to travel to Korea. Three days prior to our flight date, we took the PCR Covid tests via nasal swab. I had hard copies of the test result ready including the following information: full name, test appointment date and time, and test result including the words "PCR test" on the document. The test result documents would be checked at two points: checking in at MSP and at the gate before boarding the flight to ICN in DTW. 
We landed in Korea on June 11, so even though my older daughter and I have been vaccinated, we still had to abide by Korea's strict 14 day quarantine for all incoming travelers. Since I was with my two daughters, I very much wanted to quarantine at my sister's single family home in Gyeonggi, Gwangju, and I don't think we would have made the trip if we had to quarantine in my mother's three bedroom condo. Now the tricky part. Korean nationals can quarantine pretty much anywhere as long as someone vouches for them. US citizens can visit Korea for up to 90 days without a visa, but in order to stay with a close relative (within 3촌) and avoid quarantining at a government designated hotel, several documents are required to prove the family relationship.
I made sure I had all the necessary paperwork for two scenarios: quarantining at my sister's single family home and quarantining at my mother's 3 bedroom condo if the former fails. Being US citizens, the documents I had to prepare were:
Certificate of Removal from Family Registry (제적등본)
Verification of Identity (동일인 증명서)
Certificate of Citizenship
Birth Certificates (translated in Korean) for my daughters
Not an easy process! And all of which can be avoided after July 1.
Before we left the states, I was told to expect about three hours for the quarantine inspection and immigration process, so once we landed, I again reminded my girls what to expect, so they wouldn't be disappointed.
When we landed in Inchon, we made our way to the first stop where a soldier in PPT helped us complete the "Self-quarantine Safety Protection" app on my smartphone which I had already downloaded in the states. A working cell phone is not necessary since wifi is available at the airport but make sure there is wifi at your place of quarantine. The app includes a daily self diagnose symptoms questionnaire that has to be completed twice a day.
Then we stepped up to one of the booths and got our temperatures checked and submitted the two new documents (Health Condition Report Form and Travel Record Declaration) that have been added due to Covid and the PCR test result document. Those with temperatures below 37.5C get a sticker on the passport.
On to the next station we go. Here another soldier in PPT welcomed us and confirmed our quarantine residence by making a phone call. My sister, unfortunately, was unavailable, so I was asked if I had any other family members. He made a second call to my mother, who, fortunately, picked up and confirmed our arrival. Second check point done.
The third and fourth stations were with immigration officers. At the third station, the immigration officer combed through my paperwork. The obvious hiccup I expected was how my name on the passport did not match the name on the Certificate of Removal from Family Registry. I pointed out my father's name on my Certificate of Citizenship as well as submitting the Verification of Identity document. It would have been great if my middle name was my full Korean name, but who would have known this would be an issue 45 years later. My daughters' birth certificates were also checked and then we were off to station four.
My photo and index finger prints were taken but only facial checks were required for my daughters. Off to the luggage carousel. We were one of the last ones, so our luggage was waiting for us. Once out of the sliding doors, we were greeted by more soldiers who asked how we were getting to our quarantine site. There were different waiting areas for different means of transportation out of the airport. We waited in the pick up area since my sister was picking us up.
Due to the later arrival in the day, we got our first PCR Covid test the day after arrival at the local Gyeonggi-do Gwangju City Health Center. Testing was to be done within 24 hours of landing. Both oral and nasal swabs were done and test results were called in the next day. The final test was to be done the second to last day of quarantine.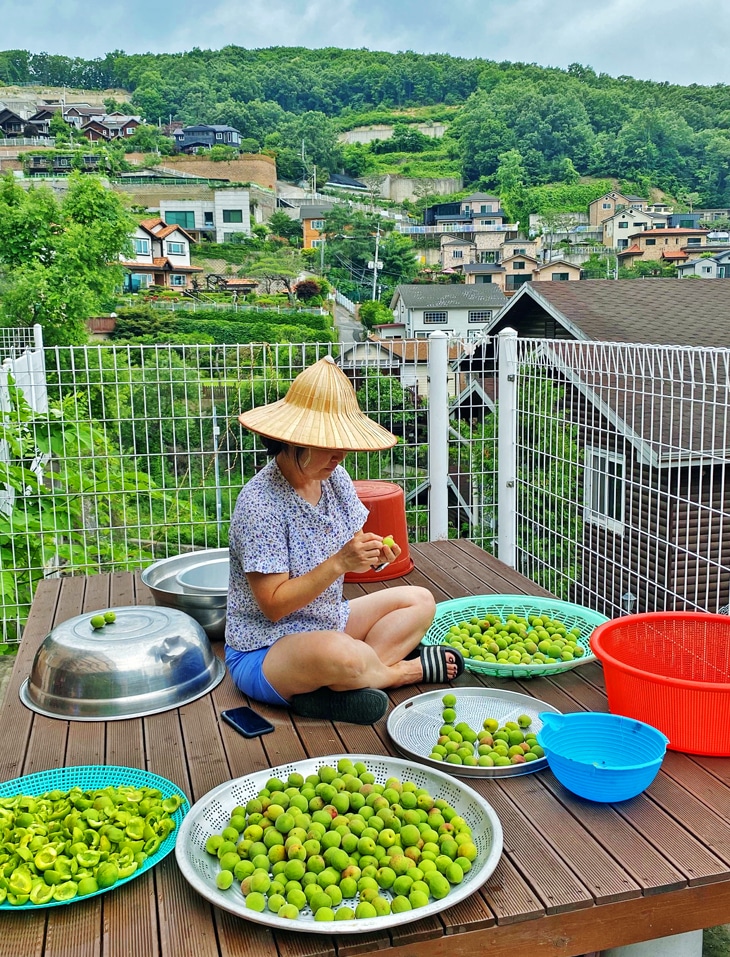 The best part? Each of us got a box of relief goods delivered from Gwangju city and a box of hygiene kits (hand sanitizer, sanitizing spray, biohazard trash bags, 5 masks, thermometer) were sent from the city health center. We were impressed by the content of relief goods: microwavable rice, ramen, soup, tuna, ham, etc. Yum!
So here we are on Day 14 of quarantine. Thanks to my sister living in a single family home and not in a condo building, it's actually been more of a vacation away from the busyness of life.
The girls have been enjoying water play on the deck, daily art activities, online and offline games, and being entertained by a majestic yet aggressive rooster and two hens.
Compared to quarantining in a small hotel room or even my mother's condo, we had it quite good at my sister's country home. However, we can't wait to reunite with family, feast on some great Korean comfort food and do plenty of market shopping Covid style.