New York's celebrated chefs Junghyun Park of Atomix, David Shim of Cote, and Jihan Lee of Nami Nori gather to create a culinary masterpiece to benefit the Korean American community.
---
Last week, top Korean American chefs from acclaimed NYC restaurants combined their superpowers to serve up an unforgettable meal, all in the name of helping fellow Korean Americans in need. This unprecedented collaborative effort was the much anticipated centerpiece auction item of the Korean American Community Foundation (KACF) virtual gala last year where philanthropists gathered to raise money to aid under-resourced and underserved Korean Americans.
This featured auction item consisted of dinner and wine pairings for 12, designed and prepared by the Korean American chefs of three top NYC restaurants: Atomix (2 Michelin stars), Cote NYC Steakhouse (1 Michelin star), and Nami Nori (Michelin Bib Gourmand).
For the uninitiated, snagging a reservation at any one of these celebrated restaurants is nearly impossible. But to have the chef/owners come to your home and create a meal for you is beyond amazing even for the most jaded New Yorker. To make the evening truly priceless, the dinner would also include a virtual visit by Miky Lee, executive producer of the Oscar winning film Parasite, along with select members of the cast.
How much for an unforgettable experience like this? The bidding started at $5,000 and quickly escalated from there with people texting in their bids while watching the action live on Zoom. The dinner was expected to go for well over $10,000, but the eye popping last second winning bid of $65,000 by financier and philanthropist Dow Kim was a wonderful surprise for all involved in putting together this unique offering.
Almost a year after the virtual gala, when people were finally able to gather once again, a small ensemble of Korean American culinary superstars packed up their trove of magical ingredients and headed to Connecticut for a much anticipated evening of gastronomical delight. As a nod to the hard work of his favorite charities, the host invited some key leaders of three Korean American nonprofits: KACF, Korean American Family Service Center, and the Council of Korean Americans to join him for this event. Included were Kyung Yoon and Chul Pak, president and board chair of KACF, respectively.
---
Korean Fine Dining in NYC
If you thought Korean food in NYC was limited to the fabulous midtown area known as K-Town, you would be sadly mistaken. For the past decade, Korean American chefs have been scaling the peaks of haute cuisine in neighborhoods as diverse as Nomad, Flatiron, and the West Village, now ranking at the very top of the food chain in what is the most competitive restaurant scene in America. All while keeping true to their Korean heritage.
"Atomix's beginnings were firmly rooted in our mission to deliver and translate Korean culture to our guests," said chef and owner Junghyun Park in an interview. "We wanted to tell the stories of Korean traditional cuisine, history, ingredients, techniques; we also wanted to help tell the stories of contemporary Korean designers working and living in modern Korean society."
The all star cast of chefs who came together for this remarkable KACF dinner featured the top names in new Korean cuisine, a completely original evolution of Korean food that has been recognized by top culinary reviewers to be among the most exciting new fare to hit the international food scene.
Chef Junghyun ('JP') Park and his wife Ellia Park run

Atomix

, which was awarded 2 Michelin stars, and 3 New York Times stars. They also own and operate Atoboy, another terrific and more affordable restaurant in New York City.
Chef David Shim is the executive chef at

Cote Korean Steakhouse

and SK Kim is the corporate chef / culinary director. Cote has received a Michelin star, was hailed as "The Absolute Best Steakhouse in New York" by New York Magazine, and named "One of the Best New Restaurants in America" by GQ.   
Chef Jihan Lee of

Nami Nori

 teamed up with his colleagues at Masa to create the most exciting restaurant in the West Village. Awarded Bib Gourmand status in the Michelin Guide, Nami Nori has been lauded as a breath of fresh air in the world of high end sushi.
Master Sommelier Mia Van de Water of Cote Korean Steakhouse is one of only 172 master sommeliers in the US. She was previously on the esteemed sommelier team at Eleven Madison Park.
The success of these young Korean American chefs does not stop at their restaurant doorstep. Giving back to the community has been an integral part of their success mindset well before and all throughout the pandemic. These Korean American restaurateurs have been giving back to charities such as City Harvest, the world's first food rescue organization dedicated to feeding hungry New Yorkers, as well as Asian American focused organizations such as the Korean American Community Foundation, a 19 year old organization dedicated to helping the most vulnerable Korean Americans in our community.
---
A Night to Remember
The evening began with glasses of champagne and delightful Nami Nori hors d'oeuvres served on the patio of the beautiful waterfront property of Dow Kim, whose family foundation focuses its giving to organizations who specifically assist the Korean American community.
After the cocktail hour on the patio, guests were ushered into the dining room to meet the talented crew who had been busy at work creating the multi course dinner.
The meal was a celebration of traditional Korean ingredients presented with festive sophistication. The first three courses were created by Atomix (pronounced A-toe-mix). I never had the opportunity to eat at the restaurant and was beyond excited to try the dishes. Each small dish was a work of art. Thoughtful compositions of Korean ingredients like minari, mungbean, and perilla were prepared using traditional and modern techniques. The complex flavors were bright without an ounce of heaviness, harmoniously melding layers of different textures.
Following the Atomix dishes were three dishes by Cote NYC which consisted of a tasting menu of USDA prime filet mignon with freshly shaved black truffles, tender American wagyu ribeye, and spectacular grand cru galbi. Accompanying the fabulous cuts of beef were house-made kimchi, ssamjang, and vegetables pickled in some wonderful way.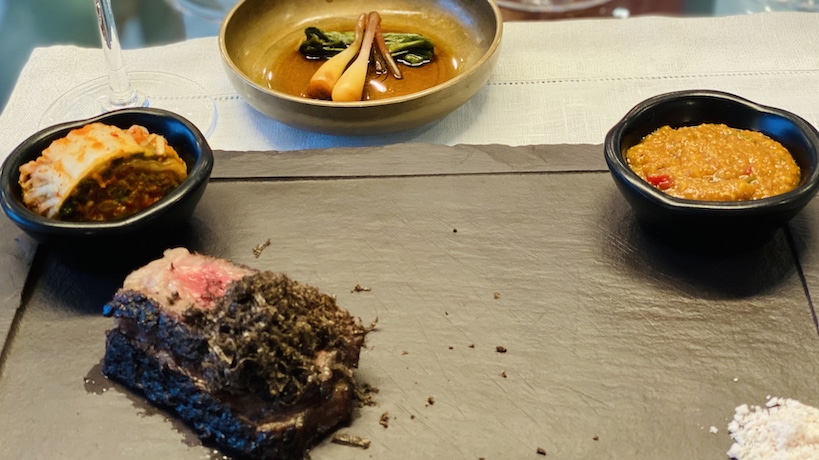 After the 6 course tasting menu was served, Wesley Sohn, service director of Cote, presented a glorious bokkeum bap with ingredients leftover from the meal, as an homage to our shared humble Korean roots.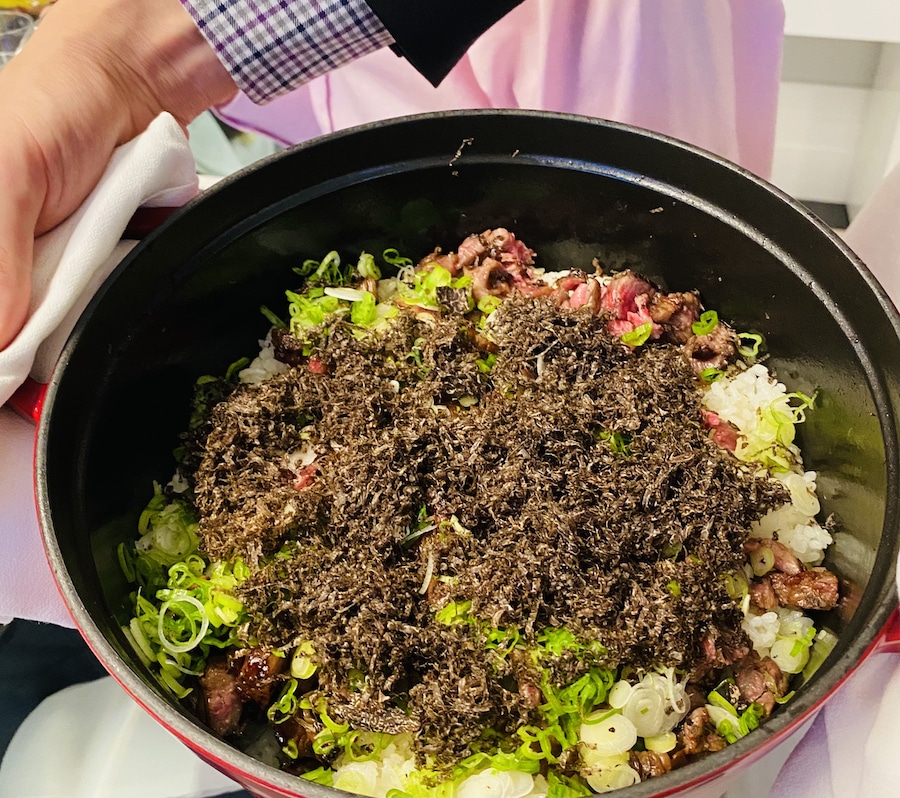 The dessert courses were kicked off with a unique compressed peach that had a curiously firm texture and burst with flavor. The peach was served on a refreshing bed of Korean tea granita.
The Parasite team dropped by to say hello and the guests had an opportunity to chat briefly with Miky Lee, Lee Sun Gyun (My Mister!), Jang Hye-jin, Woo-sik Choi, and Park Myung-hoon. Bravo to the team that helped win the first four Academy Awards for a Korean film!
"Korean Americans have come a long way in philanthropy", says Kyung Yoon, the president and co-founder of KACF. "The myth that Asians are a 'model minority' have blinded many 1.5 and second generation Korean Americans to the dire needs of their own community. It's so inspiring to see the incredible generosity of leaders from so many fields coming together to contribute their time, talents and philanthropic giving to make a difference in the lives of struggling neighbors. Their impact is enormous. "
The pandemic shutdown has been especially difficult for the restaurant industry no matter how successful. We applaud these amazing Korean American chefs and restaurateurs for taking the time, effort, and expense, to auction their talents in order to help those struggling in unprecedented times. Bravo and fighting!
---
Get to know KACF, a trailblazing leader in the world of Asian American philanthropy
The Korean American Community Foundation (KACF) was founded in 2002 by a group of Korean American leaders in New York with a simple idea: the creation of an organization to help fellow Koreans and give back to the community. The goal was to address challenges in the community by raising funds for programs serving under-resourced Korean American individuals and families, while also mobilizing community members to embrace a culture of giving. 
Many Korean Americans are thriving in this country, but there are also many who are struggling. According to recent data from the Asian American Federation: 18% of Korean Americans live in poverty and 88% of Korean seniors have limited English proficiency. As of 2020, KACF has given more than $8.8 million in grants to lift up the most vulnerable in our community. 
For more information on KACF, please go to KACFNY.ORG.