"Reborn Rich" was 2022's most-watched K-drama in Korea with its finale becoming the second highest-rated episode in Korean television history. Despite being aired on a cable network, rather than the three primary channels (KBS, MBC, and SBS), audiences could not get enough of "Reborn Rich".
Based on a popular Korean web novel, "Reborn Rich" is an extremely engaging insider look into how the .01 percent lives. Chaebol conglomerates control 84% of the South Korea's wealth while employing only 10% of the workforce. It's a tremendous disparity that evokes avid curiosity, among other emotions. Sure, there are many depictions of the chaebol life in K-Dramas. But many shows use marriage as a vehicle to get into a chaebol family while preserving the viewpoint of a relatable outsider. Not here. The "how" is explained later but suffice it to say, viewers get in via bloodline, not wedding vows. It makes a vital difference.
Included in this ultimate insider pass, we experience a retro Chaebol world that spans the years of 1987 to 2002. Inspired by the greatest hits of other shows, this series has it all: time travel, fabulous wealth, vicious/scheming family members, murder and revenge.
The series starts by introducing our hero, Yoon Hyun Woo (Song Joong-ki), who is in charge of risk management for the Jin family. The Jins own the Soonyang Group, a barely disguised fictional version of Samsung.
However, he is framed for embezzlement and killed by a member of the Jin family. The twist is that he wakes up 35 years earlier in 1987 in the body of the youngest grandson of the family, Jin Do Joon. Since Yoon Hyun Woo doesn't know which family member killed him, he goes on a mission to figure out who it was and vows revenge against the whole family.
Great acting takes this drama to another level, especially Lee Sung-min for his portrayal of the ruthless and charismatic founder of Soonyang Group who bears an unmistakable resemblance to the founder of the Samsung Group. It's fascinating to watch how "Reborn Rich" seems to reenact the real-life Samsung story.
Here are five parallel themes between Samsung's Lee family and Soonyang's Jin family that appear consistently throughout "Reborn Rich"
---
1. Jin Yang Chul & Lee Byung Chul
The most similar things between Samsung and Soonyang in Reborn Rich are Samsung's Lee Byung Chul and Soonyang's Jin Yang Chul. As you can see in the picture above, Jin Yang Chul's hairstyle and glasses (left) are very reminiscent of Lee Byung Chul (right).
Here are some more similarities between them.
Lee Byung Chul is the founder and chairman of Samsung, the #1 Chaebol in Korea just as Jin Yang Chul, the founder and chairman of Soonyang, the #1 Chaebol in the drama.
Both of them are from Gyeongsang-Do with a heavy regional accent.
Both of them started out with a trucking business and built the biggest conglomerate in Korea.
Their hobby was practicing traditional Chinese calligraphy.
Known for his extreme attention to detail, Lee Byung Chul in fact asked the Hotel Shilla's sushi chef how many grains of rice were in one piece of sushi just like Jin Yang Chul did in the 2nd episode.
---
2. Jin Yang Chul & Lee Kun Hee
Even though Jin Yang Chul in "Reborn Rich" mostly portrays the founder of Samsung, he also resembles the late chairman, Lee Kun Hee, the third son of Lee Byung Chul.
Here is a list of the similarities between them.
It is Lee Kun Hee who pursued the semiconductor business even though everyone was opposed to it initially. The losses were huge in the beginning, however, it was semiconductors that launched both Samsung and Soonyang into the international rankings of powerful businesses.
Soonyang Motors is featured in the drama and Lee Kun Hee was the one to start Samsung Motors. He was a well-known car enthusiast who enjoyed race cars and regularly purchased high-end new cars that came out every year.
---
3. Soonyang vs. Daeyoung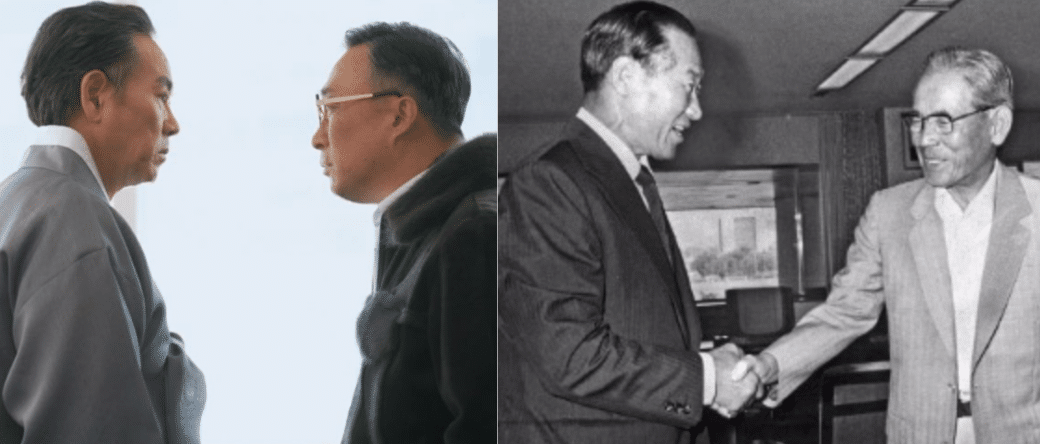 The rivalry between Jin Yang Chul and Joo Young Il (the founder of Dae Young Group) is another thrilling thing to see in "Reborn Rich". Joo Young Il is based on Chung Ju Yung, the founder of the Hyundai Group.
Here is a list of similarities between Joo Young Il and Chung Ju Yung, and the rivalry between Samsung vs. Hyundai and Soonyang vs. Daeyoung in "Reborn Rich".
Joo Young Il was born in North Korea just like Chung Ju Yung who was born in the North Korean part of Gangwon-do.
Joo Young Il has five sons in "Reborn Rich". Chung Ju Yung had eight sons.
Just like on "Reborn Rich", Lee Byung Chul and Chung Ju Yung didn't get along. Hyundai is the only company that surpassed Samsung and ranked first in the Korean financial hierarchy in the 80s and 90s.
Unlike Reborn Rich, Hyundai was successful in acquiring Kia Motors in 1998 which is Asan Motors in "Reborn Rich" and dominated 80% of the car market in Korea. Because of Samsung's failure to purchase Kia Motors, Samsung Motors was sold to Renault, a French automaker in 2000.
---
4. Company Succession Does Not Go to the Eldest Son
The eldest son traditionally inherits the family assets in Korea, and both Jin Yang Chul and Lee Byung Chul tried to make this happen. The character of Jin Young Ki seems based on the eldest son of Lee Byung Chul, Lee Maeng Hee. Both eldest sons are incompetent and weak and their father didn't trust them with the business.
Lee Byung Chul was initially adamant about following the Korean tradition of having the eldest son, Lee Maeng Hee, succeed as the chairman of Samsung Group. But due to Lee Maeng Hee's poor business performance and conflicts with his father's closest associates, Lee Byung Chul changed his mind and left the company to his third Son, Lee Kun Hee, just as Jin Yang Chul changed his mind about giving his company to his first son.
---
5. A Son Goes to Jail for the Father
In "Reborn Rich", the eldest son, Jin Young Ki went to jail instead of his father. However, in real life, the second son of Lee Byung Chul, Lee Chang Hee went to jail instead of his father for smuggling 50 tons of saccharin into Korea in 1967.
---
6. The Father is Betrayed by a Son
In Reborn Rich, the second son, Jin Dong Ki went behind his father and family's back to acquire Asan Motors. In 1969, the second son of Lee Byung Chul, Lee Chang Hee went behind his father's back by informing the president of South Korea, Park Jung Hee, about his father's slush funds in 1969. Lee Byung Chul also believed that his first son, Lee Meang Hee plotted this with the second son. Because of that, both were excluded from the line of succession.
---
7. The Daughter Inherits the Department Store and Hotel
In "Reborn Rich", the daughter Jin Hwa Young is a combination of Lee Byung Chul's youngest daughter, Lee Myung Hee, and Lee Kun Hee's first daughter, Lee Bu Jin. Just like Lee Myung Hee, Jin Hwa Young inherited the department store sector, and just like Lee Bu Jin, she also inherited the hotel sector.
Jin Hwa Young is also married to a commoner, a poor student who tutored her when she was in high school. This is very similar to Lee Bu Jin who married a former Samsung C&T employee in August 1999 even though they officially divorced in 2020. At the time, the Korean people loved the fact that it was a marriage between a child of Korea's most powerful Chaebol and an ordinary employee.
---
Bonus: 4 Fun Facts about "Reborn Rich"
The director, Jung Dae-yoon, waited four years to cast Song Joong Ki due to his busy schedule.
The drama is an adaption of a web novel, "The Youngest Son of a Chaebol Family", published between 2017 to 2018. This web novel was also adapted into a webtoon in 2022.
"Reborn Rich" was the first K-Drama to air three times a week. (Usually, K-Dramas air twice a week.)
K-Pop superstar Tiffany's role as Rachel in "Reborn Rich" is her dramatic acting debut. (She's a member of Girls' Generation or SNSD).