While working in the United States, there's a lot that I miss about my home country of Korea. I've managed to find replacements for most of my everyday needs, such as a neighborhood Korean restaurant, online shopping for Korean beauty products, or watching Korean TV shows through streaming services. However, there's one thing that I haven't been able to substitute… hair salons.
Even now, I still often wait to go back to Korea to visit a hair salon in Seoul for a perm or even just a simple haircut. There's something about Korean hair salons that make it incomparable to any other, but you need to visit one for yourself to know what I mean!
Seoul has become one of the greatest beauty hubs in the world, and hair is no exception. Going to a hair salon in Seoul is a popular activity for many tourists who visit Korea. With the rise of K-Pop and K-Beauty, certain hairstyles that idols wear on stage have become popular requests for fans and the trend-savvy.
Korean hair salons, also known as miyeongshil (미용실) typically feature the latest technology for perms, hundreds of different dye colors, and a menu of hairstyles that cater to the latest trends. If going to a hair salon is on your itinerary for your next trip to Korea, here are some recommendations for the top salons for both men and women.
Almost all Korean hair salons include extensive hair/scalp wash and massages before and after your service of choice, provide refreshments and quick snacks, and feature magazines or tablets to keep you entertained while receiving your style. Here are three famous franchise hair salons that you can find in almost any area of Seoul where you can't go wrong:
---
Reliable Budget-Friendly Chain Salons in Seoul
When you think of chain salons or barber shops in the U.S., you may think of Supercuts where you can typically expect quick no frills cuts for men. There are a number of budget-friendly, chain hair salons in Korea as well—but don't be fooled, as many of these salons still uphold the same quality and expertise that you may expect of a high-end salon in the States.
1. Juno Hair
Juno Hair opened their first location in 1982 and currently has 164 locations around Korea, so you are almost guaranteed to find a location in any area of Seoul. While on the more budget-friendly side, Juno Hair has an excellent reputation for its professionalism. Hair cuts typically cost around $25-30 for men and $40-50 for women (depending on length and style), with perms and dye services ranging anywhere from $80-300. Juno Hair also has a high-end studio location in Cheongdam, Seoul, called Avenue Juno, that offers top luxury services for both hair and make-up.
2. Lee Chul Hairkerker Salon
Similar to Juno Hair, Lee Chul Hairkerker has been around in Korea since 1988 and currently has around 210 locations in the country. The brand has won numerous awards, including one from the National Assembly of Korea, for their consistent level of high quality and performance. Prices for cuts and perms are often very similar to other well-known franchises (like Juno), so you can assume that these are the standard prices you can expect from a non-luxury Korean salon.
3. Park Seung Chol Hair Studio
Park Seung Chol Hair Studio is another renowned and reliable hair salon that opened in 1981 and features over 250 locations today. As one of the first franchise hair salons to open in Korea, this brand is well known for its reliable and reasonably-priced services. Park Seung Chol Hair Studio is also one of the few Korean franchises to open locations in the United States and China, with plans to expand to Europe and Australia.
---
Fancier Hair Salons in Seoul
If you want to experience more unique and catered hair-styling services, here's where to go to in Seoul:
4. Chahong Room (multiple locations)
Chahong is one of the hottest hair salons in Seoul and caters to a number of K-Pop idol and celebrity clients. Known for their aesthetic interiors and experienced hair dressers, Chahong is one of the best places to visit if you're trying to get a specific K-Pop hair design. There are about 20 locations around Seoul that share consistent prices and services. Chahong also has a luxury studio location called Chahong Ardor in Apgujeong and Cheongdam if you're looking to receive the best-of-the-best services—and possibly run into a celebrity you know!
Famous for their balayage and ombre styles, Royal Salon is another popular salon destination in the Seoul vicinity. If you're looking to do an intricate balayage design, this is a great place with hair stylists who specialize in color. Balayage dyes typically cost anywhere from $200-400 depending on the number of times you bleach your hair to achieve the color you want. Check out their Instagram page for inspiration pictures to take with you, or visit them directly if you want a change in your look!
---
Just for Men Specialty Hair Salon
6. Kingston Mens Hair (Apgugeong)
Kingston Mens Hair is an upscale salon for men who want the classic barbershop experience. The first floor of this barbershop features a tailor shop with custom-made suits, and the interior is designed with leather and other masculine attributes. While prices are slightly higher than the typical hair salon, Kingston specializes in cuts/styles for men and provides one of the best professional services. They also feature a waiting area with console games, an open bar, and a variety of snacks, so feel to bring your friend or partner to wait while you get your service.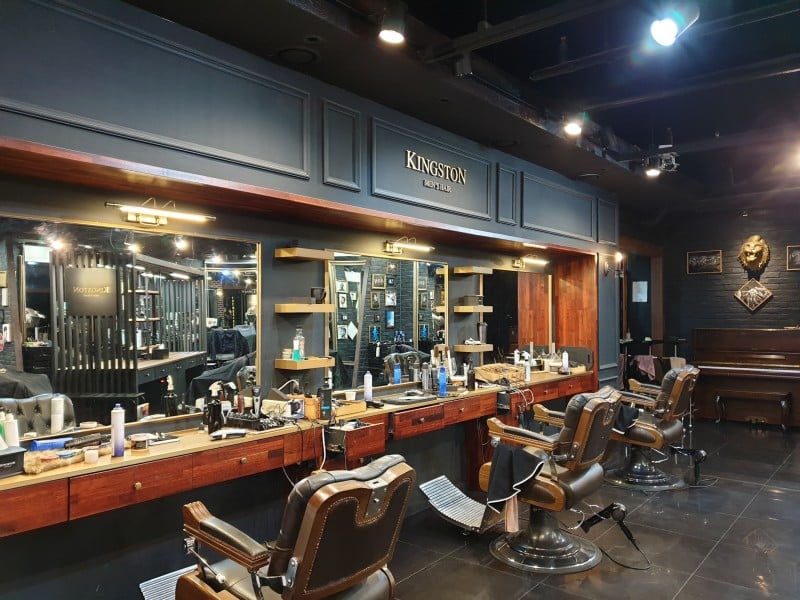 While every salon will range in price for their services, here's a rough breakdown of prices that you can expect at a salon in Seoul, Korea.
Haircuts for women: $25-$70 (based on length)
Haircuts for men: $20-$40
Color and dye: $80-$200 (based on length and color)
Perm (Magic straight or curls): $90-$200
Hair and Scalp Treatment: $80-$150
One tip to know about Korean salons is that prices typically differ based on the experience level of the specific stylist designated to you. When you make a reservation, you can request a specific designer (based on their specialty, such as cuts, perms or dyes, or years of experience) after looking up their profiles on the salon website. Otherwise, they'll most likely book a designer based on availability. So if you're looking for the least expensive option, make sure you let them know that you would prefer a more modestly-priced designer when you make your reservation.