The Best Hotels in Seoul 2023
This guide to the best hotels in Seoul will introduce you to the best neighborhoods and help you discover wonderful hotels that suit any budget. Whether you're looking for luxurious accommodation or a budget stay, the best of every option is covered here.
The best thing about staying in Seoul especially in 2023 is the value for money you can find given the exchange rates. Hotel prices in Seoul are very reasonable and you can get 4-star hotels for under $100 per night if you book in advance and plan your trip well. 
Be sure to check our South Korea Travel Guide for more tips about the best way to plan your adventure to South Korea.
Seoul is a diverse city with different neighborhoods that focus on historic Korean culture, modern marvels, street foods, markets, designer shopping, traditional markets, and more. They're packed with authentic restaurants, the best foreign foods, delightful shops that sell anything from Korean face masks to designer goods, and all offer incredible places to stay.
In this section, you can learn about the four best neighborhoods for travelers to visit in Seoul for an authentic Korean experience and easy connections to all over the city. These are all perfect for first-time visitors to Seoul, as well as seasoned travelers who want to know more about Korean culture and history, go shopping, or see Seoul's many sights.
There are plenty of other areas to stay in Seoul, such as Itaewon, Jamsil, and Yongsan, but they lack the convenience, sights, shopping, and spectacle of the 4 areas detailed below.
Hongdae is one of the best places to stay in Seoul to see Korea's innovative talents and modern culture. This area is buzzing with creativity of all kinds and is home to modern Korean fashion trends, design items, the hippest new cafes and restaurants, and lots more. 
Witness performances by local dancers and musicians, explore interesting galleries and museums, visit boutique fashion stores, and tuck into some of the best dining available in Seoul, including many Michelin-starred Korea and international restaurants. 
There are a good range of hotels in Hongdae, from artistically designed modern luxury hotels, to friendly town-house budget hotels and hostels. They're all within walking distance of the vibrant streets of Hongdae and multiple subway stations.
Gangnam, a district of Seoul which became internationally known thanks to Psy's 'Gangnam Style', is Seoul's elite neighborhood where the rich and famous live and where you might bump into a K-pop star or celebrity out shopping or getting lunch.
This area hosts some of the best shopping and people looking for designer-goods will find all the best stores to shop at here. There's also a range of award-winning restaurants and some of Seoul's finest dining options, both local and international. 
Hotels in Gangnam typically cater to more upmarket travelers and host some of the finest accommodation options in the city, with plenty of 5-star hotels. However, there are also mid-range and budget hotels in this area if you want to save more for shopping.
Myeongdong is arguably the best place for first-time travelers to Korea as it's situated in the center of the main attractions that travelers will want to see. Myeongdong is a busy area of street markets and street food stalls squashed in between popular shops.
You're only a short walk or ride from the most popular sights in Seoul; such as the royal palaces, Namsan Tower, Jogyesa Temple, Insadong, Bukchon Hanok Village, Namdaemun Market, and places to rest; such as cat cafes, BBQ restaurants, and noodle shops.
Myeongdong has some of the best hotels in Seoul, especially mid-range options where you can good quality rooms at very affordable prices. There are many subway stops and bus routes in this area, making it the most convenient place to stay in Seoul.
The Jongno neighborhood is the sprawling area north of Myeongdong that includes royals palaces, hanok houses, fortress walls, traditional markets, and even part of Bukhansan National Park. Stay here if you want to walk outside your hotel directly to Seoul's top sights.
Staying in Jongno allows you to experience traditional Korean culture and sights. Spend the morning exploring serene Buddhist temples, the afternoon in a traditional wooden teahouse, and the evening walking along the peaceful Cheonggyecheon stream.
Jongno covers areas such as Bukchon, Insadong, Dongdaemun, and Ihwa and is more residential than nearby Myeongdong. There are still plenty of great hotel options, ranging from splendid suites to budget-friendly guesthouses in traditional hanok houses.
If you want the best Seoul has to offer, these luxury hotels are for you. Located in Seoul's glitziest neighborhoods, these hotels are in walking distance of Michelin-starred restaurants, chic boutiques, galleries, museums, and the finest shopping experiences available.
Expect nothing but the best in terms of service and style at these luxury hotels. Silky soft sheets, immaculate rooms with the finest fixtures and fittings, and a true 5-star service from the hotel staff. These hotels all come with sports, dining, and entertainment facilities to make you comfortable during your stay.
Airport transfers are available with these hotels, making your journey into and out of Seoul a breeze. Located in popular upmarket districts in Seoul, these neighboorhoods have lots of local charm for you to discover, as well as allowing easy access to other parts of the city with excellent transport options nearby.
Not only are these beautiful, comfortable hotels inside, they are located in some of the most iconic buildings or districts and provide amazing views over some of Seoul's most interesting districts.
Rating: 5-star | 9.4 Customer Rating
Neighborhood: Songpa (Jamsil)
One of the most exclusive hotels in all of Seoul, the Signiel Seoul is located inside the Lotte World Tower – the world's 6th tallest building – in upscale Jamsil. Ultra-chic rooms offer mod cons coupled with stunning views over Seoul, including the nearby Seokchon Lake and Gangnam district. Guests can relax and unwind in the hotel's champagne bar, luxury spa, indoor pool and fine-dining restaurants. Upgraded suites also include whirlpool tubs. A short walk from popular attractions such as Lotte World Adventure and luxury shopping at Lotte World Tower.
Pro Tip: Indulge in fine Korean cuisine at the Michelin-starred Bicena restaurant located inside the Lotte World Tower.
Rating: 5-star | 8.9 Customer Rating
Neighborhood: Gangnam
The Park Hyatt Seoul Hotel in the heart of Seoul's affluent Gangnam neighborhood offers travellers lavish rooms with floor-to-ceiling windows and soaking tubs to refresh and recharge. Guests can also make use of the spa, fitness center, infinity pool, sauna, and steam room. Suites are available with added living and dining spaces. There's a sumptuous range of fine-dining options, including a Korean lounge, Japanese eatery, and specialized grilled meat and seafood restaurants. Head to the nearby COEX Mall for modern Korean culture, brand-name shopping, and delectable dishes.
Pro Tip: Make sure you visit the infinity pool in the Park Club fitness center and spa for incredible city views.
Rating: 5-star | 9.2 Customer Rating
Neighborhood: Myeongdong
The Shilla Seoul is one of the definitive luxury hotels of Seoul and the go-to choice for Korean and international celebrities, politicians, and business travellers. Discover traditional Korean architecture mixed with modern comfort. The contemporary rooms feature wooden floors and views of N Seoul Tower and Namsan Mountain. Stylish suites are come with whirlpool tubs and saunas. There are 4 fine-dining restaurants to choose from, as well as a cozy lounge with fireplace and fresh bakery. This hotel is close to Myeongdong's markets, cathedral, and street food, but has peaceful views of nature, too.
Pro Tip: The Shilla Seoul is the go-to place for Korean celebrity weddings. Keep an eye out for wedding events here.
Rating: 5-star | 9.4 Customer Rating
Neighborhood: Jongno
The Four Seasons Hotel Seoul is ideal for those who want to step outside in the morning and be right in the heart of the most popular tourist area in central Seoul. Located on Gwanghwamun Square, a popular place for street markets and performances, guests are treated to views from floor to ceiling windows of Gyeongbokgung Palace and the former presidential home, the Blue House. Dine in the hotel and enjoy a Japanese sushi-bar, Cantonese restaurant, and the finest Italian food, or explore the traditional restaurants of nearby Bukchon and Insadong. 
Pro Tip: Rent traditional Korean hanbok before exploring the nearby palaces and traditional hanok villages.
Rating: 5-star | 8.9 Customer Rating
Neighborhood: Gangnam
If you plan to take lots of day trips from Seoul, then the JW Marriott Hotel Seoul could be the perfect option for you. The hotel is located above the Express Bus Terminal subway station, giving easy access to other parts of Seoul, as well as the bus terminal itself, which is perfect for traveling to other areas in Korea. Guests at this hotel in Seoul are treated to views of the wide Han River and Gangnam district from this tall, contemporary building. Expect sleek service, high-quality furnishings, exceptional leisure and dining options, and a first-class stay.
Pro Tip: Visit the Banpo Bridge Moonlight Rainbow Fountain, it's a 5 minute walk from the hotel and offers impressive night views.
Rating: 5-star | 8.9 Customer Rating
Neighborhood: Gangnam
Travelers who want to be located in the chic Apgujeong area of Gangnam will love the Andaz Seoul Gangnam concept hotel by Hyatt. Not only is the hotel connected to Apgujeong metro station, it's a stone's throw from the exclusive Hyundai Department Store and dozens of high-end boutique stores, luxury brand stores, galleries, and elegant cafes. This concept hotel is a work of art itself, featuring colorful, stylish rooms packed with sitting areas, coffee machines, flat-screen TVs, and other modern conveniences. Suites also include balconies to take in the tree-lined streets.
Pro Tip: Dine at nearby Samwon Garden for the finest cuts of Korean beef at this marvellous Korean barbecue restaurant
Rating: 5-star | 8.9 Customer Rating
Neighborhood: Yeouido
Escape Seoul's busy streets with a stay at the Conrad Seoul, located on beautiful Yeouido Island, home to Korea's biggest cherry blossom festival and gorgeous river-side parks. Nestled among the nature of Yeouido is a comprehensive selection of malls, fine-dining restaurants, and international brand stores. This is the perfect place to enjoy a river cruise and see night sights of Seoul. The hotel provides a peaceful stay with succulent dining options and a rooftop bar for incredible night views. Suites feature a whirlpool tub and butler service and club level rooms include lounge access and river views.
Pro Tip: Enjoy brunch with sweeping views of Seoul and the Han River from the 50th floor Skyfarm Restaurant. 
Grand InterContinental Seoul Parnas
Rating: 5-star | 9.1 Customer Rating
Neighborhood: Gangnam
The Grand InterContinental Seoul Parnas is a majestic building located atop the impressive COEX Mall in downtown Gangnam, home to Seoul's finest shopping high-end areas and modern K-culture experiences. For business travelers who need to stay in Gangnam, this is ideally situated and includes a subway station outside the hotel. Korean culture lovers will be able to see modern Korean cultural sights, as well as the awe-inspiring Bongeunsa Temple, within a short walk from the hotel. Excellent business, fitness and leisure, and dining facilities ensure a comfortable stay in Seoul.
Pro Tip: Visit Bongeunsa Temple at night to see lantern displays, especially during spring when Buddha's Birthday occurs.
Josun Palace Seoul Gangnam
Rating: 5-star | 9.0 Customer Rating
Neighborhood: Gangnam
One of the newest luxury hotels in Seoul, the Josun Palace Seoul Gangnam was completed in 2021 and has quickly earned a reputation as a must-stay hotel in Seoul. This contemporary hotel features impressively chic interiors and superbly comfortable furnishings to make your visit unforgettable. Located close to Yeoksam Station in central Gangnam, guests can easily travel to the nearby COEX Mall and Bongeunsa Temple, and direct to the further away central Seoul tourist area of Jongno. Soak in the stylish indoor heated pool, dine at your choice of 5 upscale restaurants, and unwind in the hotel spa.
Pro Tip: Try chef Allen Suh's exquisite cooking at Restaurant Allen, featuring seasonal dishes from local ingredients.
Mid-Range Hotels In Seoul
Families, couples, and other travelers that want to experience the best of Seoul without breaking the bank can sleep easy with these mid-range hotel recommendations in some of Seoul's trendy, vibrant districts, including Hongdae, Gangnam, and Myeongdong.
Encounter stylish accommodation in Seoul's Hongdae district, which is full of street culture and artistic scenes from the district's eponymous Hongik University – one of Korea's leading art centers.
Fashion lovers and shoppers will find lots to love in downtown Gangnam, with its wide streets and glassy storefronts bracketing narrow side streets and hidden delicacies.
Myeongdong is famous for its budget and mid-range accommodation options, including several hotels by the famous Lotte chain – one of Korea's best mid-range brands.
Whichever mid-range hotel you choose in Seoul, you can be sure you'll have fantastic city views, convenient subway access, and lots of unique cultural sights, sounds, and tastes to experience.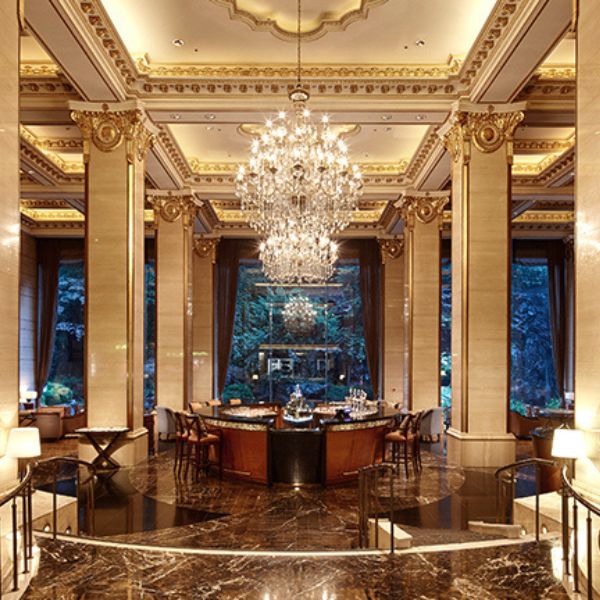 Rating: 5-star | 8.8 Customer Rating
Neighborhood: Myeongdong
A  tourist favorite, the Lotte Hotel Seoul is located in an extremely convenient location just a short walk from the tranquil Cheonggyecheon Stream and historic Deoksugung Palace. With many nearby attractions, both traditional and modern, guests at this hotel can explore the streets of Seoul more easily. Shoppers looking for a range of goods will find all they need at one of several department stores on the same block. Retire to the hotel in the evening and enjoy one of the 5 restaurants or cafe and unwind in the indoor pool and hot tubs. First class service but with a mid-range price. 
Pro Tip: Check out the historic altar, Hwangudan, that's hidden behind the Lotte Hotel Seoul. It's beautiful year round.
RYSE, Autograph Collection
Rating: 4.5-star | 9.2 Customer Rating
Neighborhood: Hongdae
A work of art as much as a hotel, the Ryse, Autograph Collection by Marriott, is a beautiful hotel in Seoul that offers eloquently decorated rooms, each with high quality furnishings. Two bedroom suites offer a kitchen and bar, as well as whirlpool tub. One of the best features of this hotel is undoubtedly its location in the heart of Hongdae. Leave the hotel to find yourself in the bustling, busy streets of Hongdae, surrounded by local culture, art, fashion, and entertainment. Perfect for those who want to shop, eat, explore, and maybe check out a cat cafe or two.
Pro Tip: Sample unique meals at the Michelin-starred Yun close to RYSE for bold, original dishes based on Korean classics.
Courtyard by Marriott Namdaemun
Rating: 4.5-star | 8.8 Customer Rating
Neighborhood: Myeongdong
The Courtyard Seoul Namdaemun by Marriott offers the high level of comfort and service that you'd expect from a Marriott hotel, along with a convenient location in downtown Seoul near Myeongdong and Namdaemun markets. Perfect for those who want to escape the crowds of Myeongdong, but be close enough to visit and witness the vibrant street markets. This area is good for shoppers who want bargains in the markets or brand-name goods for less. The rooms in this hotel are larger than usual and offer iconic views of the N Seoul Tower, which you can also see from the chic bar and lounge.
Pro Tip: Go to the underground markets in Namdaemun Market to find unique and interesting souvenirs and gifts.
Hilton Garden Inn Seoul Gangnam
Rating: 4-star | 9.1 Customer Rating
Neighborhood: Gangnam
The Hilton Garden Inn Seoul Gangnam is a modern, upscale hotel that offers a luxurious stay in Gangnam with convenient subway and bus access to other parts of Seoul. This hotel is located between the business and residential areas of Gangnam and offers great river-side walks and nearby parks, as well as easy access to shops and offices. The hotel features polished rooms with all mod cons, with suites offering separate living rooms. There's also a gym and outdoor pool for all guests to enjoy.
Pro Tip: Visit nearby Fritz Coffee Yangjae for some of the best brews in Seoul. Fritz beans are used in top cafes across Korea.
Four Points by Sheraton Josun
Rating: 4-star | 8.6 Customer Rating
Neighborhood: Myeongdong
The Four Points by Sheraton Josun is a modern high-rise building near Seoul Station and perfectly located for travelers looking for easy access to Incheon Airport and Seoul's main train station. This clean, contemporary hotel is only a few minutes away from the popular tourist area of Jongno, as well as close to sights such as the N Seoul Tower, the National Museum of Korea, and the Korean War Memorial. The bright, airy rooms provide excellent views over Seoul and the hotel has a peaceful ambience.
Pro Tip: Sample excellent Italian cuisine at Egg and Flour restaurant, which mixes handmade pasta with Korean ingredients.
Mercure Ambassador Hongdae
Rating: 4-star | 9.3 Customer Rating
Neighborhood: Hongdae
Located next to the lively Hongdae Street, home to performers, magicians, and singers, the Mercure Ambassador Seoul Hongdae is another popular mid-range hotel in Hongdae that offers a splendid stay in Korea's cultural hotspot. This luxurious, yet modestly priced hotel offers immaculate rooms with stylish furnishings for all, with suites also providing living areas, sleeping lofts, and open-air soaking tubs. Dine at the hotel's restaurant, or sample Hongdae's eclectic mix of Korean and international food.
Pro Tip: Escape the busy streets at the Gyeongui Line Forest Park to discover hipster cafes, bars, and green walkways.
Rating: 4-star | 8.8 Customer Rating
Neighborhood: Gangnam
You'll be pleased by the welcoming staff at the L7 Gangnam by Lotte, another top hotel by Lotte that's ideal for business or leisure travelers alike. This modern high-rise hotel in downtown Gangnam features floor to ceiling windows that show off the glitzy streets outside, where you'll find the brightest and most fashionable shops and restaurants waiting. You'll find the COEX Mall and many other stores just a short walk away. Dine at the 10th floor restaurant and bar to see the city at night from the terrace, showcasing this dazzling and splendidly modern part of Seoul.
Pro Tip: Make time to explore the beautiful green area surrounding the Tomb of Queen Jeonghyeon directly behind the hotel.
Rating: 4-star | 9.0 Customer Rating
Neighborhood: Myeongdong
The Aloft Seoul Myeongdong is a great mid-range hotel in Seoul for families who need connected rooms, as well as regular travelers who want to be close to popular shopping and tourist destinations. This hotel comes with comfortable furnishings and sweeping city views in higher rooms, which can also be seen from the garden terrace. Suites come with living rooms for those who need more space to rest or leave their shopping after exploring the nearby department stores. This Seoul hotel is perfect for those who want to shop, eat, and see the sights with minimal transportation.
Pro Tip: Visitors in December can see Seoul's best Christmas decorations at the nearby Shinsegae Department Store.
Rating: 4-star | 9.1 Customer Rating
Neighborhood: Myeongdong
Inspired by a cinema, the cultural and artistic Hotel 28 Myeongdong is a sight in itself and provides a wonderful stay in Seoul for an affordable price. The modern, stylish rooms, equipped with Nespresso machines, have all you need for a comfortable rest after exploring Seoul. Upgrade for rooms with free-standing tubs, living areas, and butler service. Visit the rooftop bar at night to see lively Seoul swarming the streets below. You might even hear the bells of nearby Myeongdong Cathedral. Check out the hotel's library, complete with movie posters and film memorabilia. 
Pro Tip: Sample Seoul's ever-popular, Michelin-starred Myeongdong Kyoja and try their delicious dumpling and noodle soups.
Affordable Hotels In Seoul
Seoul has a wealth of affordable accommodation options that will help make your money go further. These hotels are all around $100 or less, but offer comfort and convenience that you'd expect to find in a mid-range hotel.
Although these hotels are cheaper, don't lower your expectations. You'll always find great service in Korea. Save on sleeping to spend more on shopping, souvenirs, sights, and all the other fun things there are to do in Seoul.
These budget hotels in Seoul are also in great locations for shopping, enjoying local culture, and seeing the real side of Seoul and Korea. Hongdae offers bargain hunters the chance to get boutique fashion at market prices, Gangnam has plenty of cafes and cheap eats tucked away off the main avenues, and Myeongdong is a budget traveler's paradise full of $1 street food and bargain souvenirs.
You won't be disappointed with a night at any of these hotels. If you want to make your budget go further so you can spend more on some of the incredible day trips Seoul has to offer, definitely book a night at one of these hotels.
ENA Suite Hotel Namdaemun
Rating: 4-star | 8.9 Customer Rating
Neighborhood: Myeongdong
Conveniently located near City Hall Station and Deoksugung Palace, the ENA Suite Hotel Namdaemun provides a very pleasant stay for a reasonable price that's definitely affordable. Rooms at this 3-star hotel can be found for less than $70 per night, but provide comfort, cleanliness, and features that you'd expect from a mid-range hotel. This towering hotel offers views over central Seoul that include the N Seoul Tower and far away Bukhansan National Park. The nearby area is peaceful, but only a few minutes from markets, shops, restaurants, and popular tourist attractions.
Pro Tip: Check out the stone walkway outside Deoksugung Palace, it's one of our favorite K-Drama filming locations in Seoul.
Rating: 4-star | 8.9 Customer Rating
Neighborhood: Myeongdong
The L7 Myeongdong by Lotte is one of Seoul's most popular hotels for budget to mid-range travelers and provides excellent service with high-quality rooms and facilities in an ideal location. Walk outside the hotel and you'll discover Myeongdong's markets, as Myeongdong Cathedral, N Seoul Tower, and lots more. The hotel is located above the subway, making it easy to move around Seoul. Family rooms are available and suites come with sitting rooms for those who want more space. This premium business hotel is perfect for work trips to Seoul that also allow you to enjoy local culture and sights.
Pro Tip: Take the nearby cable car up to the N Seoul Tower at sunset to see incredible night views from the observation tower.
Rating: 3-star | 9.2 Customer Rating
Neighborhood: Myeongdong
Tourists looking to save money on hotels in Seoul should definitely check out the Hotel Midcity Myeongdong. Located a stone's throw from Cheonggyecheon Stream, a peaceful oasis in the center of Seoul, this hotel is clean and affordable, offering good levels of service and facilities. Visit traditional restaurants outside to get your first taste of Korean cuisine before exploring tourist-friendly Myeongdong. For business travelers, there's a meeting room with desks and a rooftop garden to take in the sights of Seoul from up high. After exploring Seoul, relax with a foot massage in your room.
Pro Tip: Visit the Cheonggyecheon Stream at night, especially during summer when the night markets are operating.
Rating: 4-star | 9.0 Customer Rating
Neighborhood: Insadong
Families looking for affordable hotels in Seoul will want to check out Nine Tree Premier Hotel, which offers free stays for children under 12 when staying in their parent's room. This contemporary hotel offers well furnished rooms with flat-screen TVs while suites come with furnished terraces. Enjoy seeing the sights of Namsan Mountain and the N Seoul Tower from the rooftop bar and guest lounge. Nearby, you'll find a wide range of dining choices, from Korean to international dishes.
Pro Tip: This hotel comes with a bookable airport shuttle to make your journey to and from Incheon Airport a breeze.
Rating: 4-star | 9.1 Customer Rating
Neighborhood: Mapo-gu
The Roynet Hotel Seoul Mapo is a modern hotel from the Japanese hotel chain Daiwa, which specialises in affordable business hotels with spacious rooms and comfortable furnishings to make your journey as pleasant as can be. Located in the leafy residential and business area of Mapo, this is ideally situated for people who want to be away from the crowds, but still connected via the nearby subway station. An unmissable activity near this hotel is a walk along the abandoned Gyeongui Line, now a park.
Pro Tip: For an evening tipple, visit Mysterlee Brewing, one of Seoul's finest craft beer pubs close to this hotel.
Rating: 3-star | 8.5 Customer Rating
Neighborhood: Dongdaemun
If you want a simple hotel that offers comfortable rooms at an affordable price, the Acube Hotel offers a great place to stay that's close to the discounted malls of Dongdaemun. The hotel features a 24-hour bar, terrace, and restaurant, but the area outside is perfect for trying out budget Korean and international foods. You'll find plenty to explore outside this hotel, including cheap food, souvenirs, and fashion items. This is a great hotel for those looking to shop till they drop and experience local foods.
Pro Tip: Discover out the futuristic Dongdaemun Design Plaza for exhibitions, quirky art markets, and unique stores.
Rating: 3-star | 8.7 Customer Rating
Neighborhood: Hongdae
Travelers who want a hotel with a homely feel and interesting hosts should definitely look into the DW Stay Hongdae. This cosy, small hotel is run by a world-traveling couple that returned to Seoul to provide comfortable budget accommodation, as well as tales of international travel with their guests. Rooms are basic, but clean and well equipped. Located in a trendy neighborhood in Hongdae, this fun hotel is perfect for those keen to learn about local culture.
Pro Tip: Hongdae is full of quirky cafes that offer unique pics for Instagram, such as the nearby black and white Greem Cafe.
Rating: 3-star | 8.8 Customer Rating
Neighborhood: Insadong
The Sunbee Hotel is a great budget hotel located in Seoul's traditional, artistic Insadong district. This hotel is close to many popular sights, including Gyeongbokgung Palace, Jogyesa Temple, and Bukchon Hanok Village, as well as traditional tea rooms,  restaurants, and gift stores. Guests at this hotel in Seoul will sleep comfortably sleep comfortably as the hotel is located in a quieter backstreet. Rooms sleep up to 4, making this ideal for families visiting Seoul.
Pro Tip: For the most bizarre cafe experience, visit the Ddong Cafe (Poop Cafe) in nearby Insadong for some unusual treats. 
Rating: 4-star | 8.3 Customer Rating
Neighborhood: Mapo-gu
The Stanford Hotel is a sophisticated for business hotel located in the IT and media district of Seoul. This hotel is just right for those working in these sectors who need easy access to nearby head offices. It's also good for travelers who want to be closer to the Han River parks and World Cup Stadium, a beautiful part of Seoul that is away from the busy centre. Clean and contemporary rooms come with modern furnishings. There's also a pool, sauna, and gym.
Pro Tip: Walk to the Haneul (Sky) Park in the evening for wide views of Seoul and splendid sunset scenes.
Long-Term Stay Hotels In Seoul
Plan to visit Seoul for an extended period of time, then these long-term stay hotels in Seoul will suit your needs. These 4 and 5-star hotels offer modern conveniences and facilities, allowing you to work or rest in comfort and provide a home away from home.
These apartment hotels and accommodations offer you the freedom to cook and eat at home, work out in modern gyms, and relax in your own space away from the busy crowds. Guests at these hotels can expect the service of a hotel with the familiarity of home.
Located in popular locations for business and travel, such as Gangnam and Myeongdong, these serviced apartments and hotels are perfect for business travelers, families, friends, or couples visiting Seoul for an extended period of time.
Experience a luxurious short or long-term stay in Seoul at these wonderful locations, enjoy inclusive pools and spa facilities, and make your travels more memorable.
Oakwood Premier Coex Center
Rating: 5-star | 8.9 Customer Rating
Neighborhood: Gangnam
The upscale Oakwood Premier COEX Center provides a truly luxurious location to stay in Seoul, both short and long term. This apartment hotel is just a short way from the nearest subway and directly above the marvellous COEX Mall and Starfield Library. Apartments range from 1 to 4 bedrooms and come with spa-style showers, separate living rooms, and deluxe furnishings. An opulent penthouse is available with marble floors, whirlpool tub, and wine cellar. Guests have use of a gym, sauna, indoor pool, and children's play area.
Pro Tip: For cheap gourmet eats, pop into Tim Ho Wan, a Michelin-starred dim sum restaurant opposite this hotel.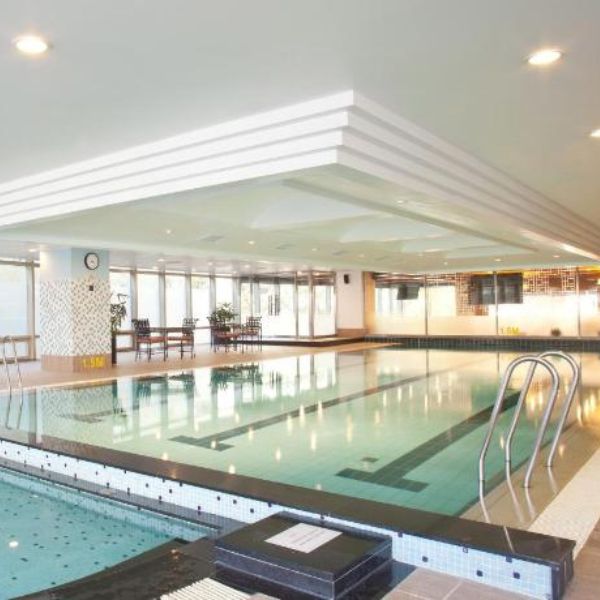 Rating: 4-star | 8.8 Customer Rating
Neighborhood: Insadong
The Orakai Insadong Suites offers large rooms in central Seoul where guests can relax and unwind in this artistic Insadong district. Apartments with up to 4 bedrooms provide all modern conveniences, including washer/dryers, high speed internet, a heated pool, kids pool, sauna, steam room and playroom. Sample breakfast served in the dining area, make your own in the room's kitchenette, or stop by one of the cosy tea houses and cafes in one of Insadong's many backstreets. Friendly staff help make your stay comfortable and care-free.
Pro Tip: For authentic crafts and souvenirs, visit Anyoung Insadong, a fun mall packed with interesting shops and attractions.
Rating: 4-star | 8.4 Customer Rating
Neighborhood: Jongno
Friendly staff will make your stay at the Somerset Palace Seoul unforgettable, as well as the generous rooms and modern facilities. Located between two royal palaces, this accommodation will provide a majestic stay in a regal position in Seoul, just a short walk from the most popular sights and attractions. Guests at this hotel in Seoul can enjoy dining on sushi, fine Italian cuisine, and a tipple or two at the glitzy bar. Make use of the convenience store, gym, outdoor pool with sun loungers, and walk around the picturesque gardens.
Pro Tip: Experience fine-dining with majestic views of Changdeokgung Palace from the excellent Myomi restaurant. 
The Classic 500 Executive Residence Pentaz
Rating: 4-star | 8.7 Customer Rating
Neighborhood: Gwangjin
Located near the trendy Gwangjin area of Seoul, the upscale Classic 500 Executive Residence Pentaz hotel is perfect for travelers who want to stay away from the touristy areas and experience a place more often frequented by locals. Rooms include Wi-Fi, flat screen TVs, sitting areas, kitchenettes, while suites also offer living rooms and full kitchens. Family suites can accommodate up to 5 people and have stylish floor to ceiling windows, allowing you to see this leafy part of residential Seoul. This hotel also includes a gym, spa, outdoor pool, driving range, and karaoke.
Pro Tip: Explore the lanes north of Seoul Forest for ever-popular local eateries and bakeries that locals love.
Fraser Place Central Seoul Residence
Rating: 4-star | 8.5 Customer Rating
Neighborhood: Myeongdong
The Fraser Place Central Seoul Residence is located in the Central Business District of Seoul and is ideal for travelers who need sophisticated accommodation with good transport connections. This hotel is also close to many popular attractions in Seoul. Guests benefit from excellent facilities, amazing internet speed, and room service. Studios have  living/dining rooms, and a kitchenette, while 1-3 bedroom apartments come with a full kitchen. Penthouses come with sweeping city views, which you can also enjoy at the cafe and restaurant. Guests can use the modern health and fitness facilities. 
Pro Tip: This hotel in Seoul comes with free breakfast and airport shuttle from Incheon Airport, making your stay in Seoul easier.
Oriens Hotel & Residences Myeongdong
Rating: 4-star | 8.4 Customer Rating
Neighborhood: Myeongdong
A modern, stylish long-term stay option in Seoul that provides large rooms and wonderful facilities is the Oriens Hotel & Residences Myeongdong. Close to Myeongdong Station, guests can explore Seoul's bustling market streets and whizz away to other parts of Seoul from two nearby subway stations. Roomy studios come with free Wi-Fi, flat screen TVs, premium bedding, and kitchens. Larger 1-2 bedroom apartments have living rooms and extended dining areas. Enjoy Korean and international dishes for breakfast, lunch, and pub fare in the pleasant restaurant.
Pro Tip: Visit Namsangol Hanok Village for a cozy cup of Korean green tea in a traditional wooden hanok tea house.
Our Favorite Korea Travel Tips
From mobile internet to travel passes that save you time and money, here are some of our top tips for when you visit Seoul.
Flights To Korea: Check prices on flight search sites like Skyscanner and Expedia before booking your flights. You can find some amazing discounts and flights to match your schedule from 100s of different airlines.
Getting To Seoul From Incheon Airport: Ride the Airport Express high-speed train to Seoul Station and connect to the subway system and local taxis. However, if you're traveling as a group, book an Incheon Airport Private Transfer direct to your hotel in Seoul.
Mobile Internet: Internet access makes traveling so much easier these days. Check the weather, get around, order food, book tickets, and much more. Best of Korea recommends a Korean Sim Card to get a phone number for Korean apps, or a Portable WiFi Router if you just want Internet access without a phone number.
Transportation: Grab a T-Money Card as soon as you arrive at Incheon Airport. You can use it to ride the subway, buses, and pay for purchases in shops, cafes, convenience stores, and more.