Itaewon is a prime weekend destination for young Koreans to get together and go out to bars or clubs in Seoul. It's also a popular shopping district if you're looking for cool streetwear or unique vintage outfits. It's a must-visit destination for tourists and many foreigners living in Korea proudly call Itaewon their "home", as it's known to be a place that welcomes people of all ethnicities and identities. 
Itaewon has a special place in my heart. I grew up in both Korea and the US, and Itaewon was that unique place in Seoul where my friends and I could dress freely, speak English, and just enjoy being with each other without being judged. My friends and I celebrated Halloween in Itaewon as recently as 2019 since Itaewon is really the only neighborhood in Korea where Halloween is a "thing". It has always been a neighborhood of festivity with a vibrant night life but it never felt unsafe.
While Halloween has not traditionally been a big part of Korean society, more and more people of the younger generation have started to take interest in dressing up as different characters. For over a decade, Halloween in Itaewon has been a popular event for younger Koreans. It makes sense that the biggest Halloween party in Korea would be held in a place heavily influenced by Western culture. In fact, it's rare to see people dressed up in Halloween costumes anywhere else other than Itaewon.
From my experience in 2019, I remember the streets and bars being more crowded than usual. Popular restaurants and clubs had long lines extending out into the streets. But never did I feel suffocated or threatened by the crowds of people. At the time, the indoor areas were more packed than the streets themselves, as the outdoor areas were lined with enough police cars and officers to prevent too many people from gathering in one spot. 
As the facts are now making clear, the Itaewon crowd surge that occurred this past Halloween was a disaster that officials should have anticipated. For one, the small and narrow streets of Itaewon have always been packed on Halloween weekends, with more and more people participating every year. But more importantly, this was the first Halloween since pandemic restrictions had been completely lifted.
Like every other event that had been canceled during the pandemic, it should have been anticipated that big crowds would come out to finally enjoy what they had been deprived of for two years. K-pop concerts, night markets, amusement parks, and movie premieres frequently maxed out in capacity in the months following the end of social-distancing measures. Itaewon's Halloween party would be no exception. 
The sad fact haunting this tragedy is that crowd mitigation tools had been very successfully deployed in Korea in recent years. The mass political protests from 2016-2017 featured tens of thousands of participants but were handled extraordinarily well by local police forces. Police effectively streamlined groups of protesters and organized the surrounding traffic. K-pop concerts with groups like BTS or Blackpink typically draw over 50,000 fans, and city organizers dispatched over a thousand police officers to prevent crowd surges. A government-sponsored global food festival was held in Itaewon in early October, and police officials had thoroughly prepared to block traffic and direct people safely. 
Shockingly, only a dozen police officers were in the immediate area before 8 PM. Most of the policemen were at the site to track down drugs or sexual harassment reports and had not received instructions on how to manage the crowds. Investigation into the tragedy revealed that a mere 137 officers had been assigned to the Itaewon district that night, and unlike with concerts or other large events, there were no discussions of safety measures or surge control protocols beforehand. None of the surrounding bar or restaurant owners were legally required to take precautions, as the crowds were not drawn to a specific event or location but rather to an entire area. 
However, citizens are heavily criticizing government officials for failing to prepare for what everyone knew would be an enormous crowd. None of the policemen assigned to Itaewon considered crowd management to be their priority task. The shockingly high number of people who used the subway to get to Itaewon station that night should have been the first red flag. According to metro data, over 130,000 people used the subway to get to Itaewon that day, compared to an average of 80,000 subway riders on previous Halloween weekends. Officials should have been acutely aware of and prepared for Itaewon's vulnerability to crowd surges, due to the narrowness and steep inclines of both its streets and alleys. Making matters worse was the ongoing construction at the Hamilton Hotel, which further cramped pinched alleyways and helped create crushing bottlenecks at numerous intersections in Itaewon. It is clear that early warning signs were missed, or flagrantly ignored. 
By the morning of October 30, a total of 158 people had been killed and an additional 196 injured, making it one of the largest peacetime tragedies in the country. Where were all the police that night? According to the investigation, over 4,700 policemen had been deployed near the President's office to manage a political protest against the current leadership. It was revealed that the local police station had repeatedly requested more officers days leading up to Halloween, but that the majority of forces were diverted to a more "demanding" political cause.
It was also revealed that most initial emergency calls had been ignored by the local police. Although 119 disaster response centers received dozens of calls from as early as 8 PM, not much attention was given to them. It was not until 10:15 PM that authorities began directing fire trucks and emergency responders to the site, but by then people were already suffocating. Over 90 calls regarding a crowd surge were made that night, but it was only after the political rallies had ended that crowd control officers were diverted to Itaewon. 
Korea is often considered to be a very safe, developed country, with stringent laws on guns (and other weapons) and lower crime rates than countries like the United States. However, Koreans are sometimes criticized for pushing beyond rational boundaries to get to where they want to go. A prime example that many foreigners cite are the overly-packed subway trains during rush hour, where people will violently push in rather than wait for the next train, even if there is no visible space to stand.
A similar issue occurred in the Itaewon incident, where people at the top of the incline were shouting to push the crowd forward out of impatience. Surely, the people at the top were not aware that people were piled up toward the bottom of the crowd and didn't realize that pushing would only cause more people to topple over and fall. But for some, the determination to push through the packed alley exacerbated the situation. If the people in the back had chosen to retreat and take another route, perhaps the surge would not have been as bad.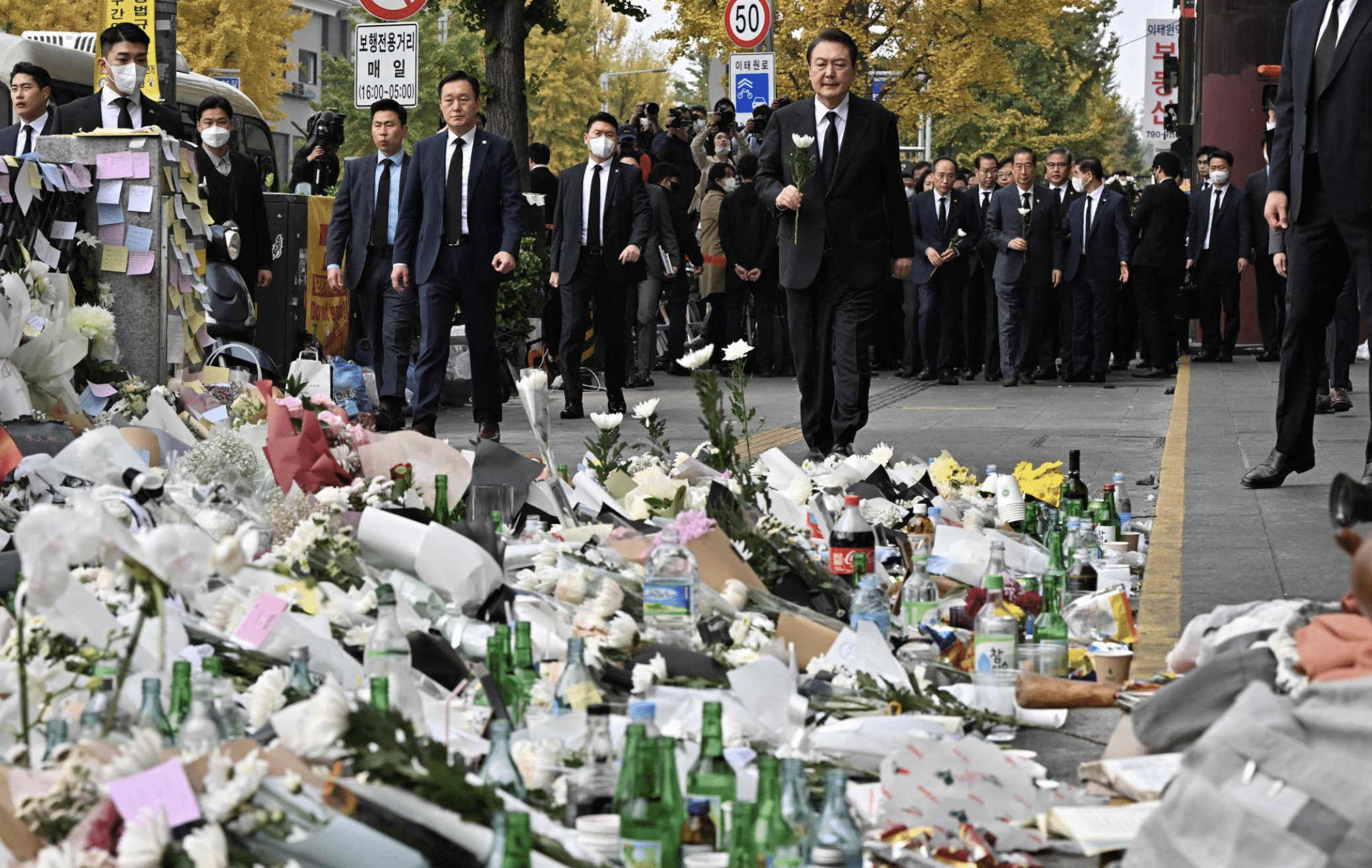 Almost three weeks after the tragedy, grief and anger still run rampant among citizens. The investigation has only proved that the surge could have been prevented, or at the very least, resolved earlier with fewer victims. Numerous government officials have resigned out of guilt or public pressure. The streets of Itaewon have been transformed into memorial sites, with families of victims and ordinary citizens frequently leaving flowers and gifts. Many restaurants and shops in the vicinity have temporarily closed to show respect, and residents describe the neighborhood's atmosphere as eerie and haunted. Most victims were college students in their early 20s who had come out to celebrate after the intense pressure of academic midterms. The tragedy is a terrifying and heartbreaking end to what should have been a jovial Halloween party. But more to the point, the tragedy should never have happened in the first place.