Inside the Changing World of Korean Dating Culture
The Countercultural Dating Phenomenon "Ja-Man-Chu" and Why South Korea's Singles Are Going Beyond the Use of Dating Apps 
by Frances Kang
South Korea is still very much the land of romance, sentimentalism, and K-Drama rom-coms which reflects how traditional ideas of love, even among young people, are incompatible (no pun intended) with popular dating culture. The idea or promise of true love through a smartphone is just not as convincing as the genuine article and there has been no better phenomenon to articulate this notion than ja-man-chu.
Interestingly, the growing influence of dating apps has now spawned a countercultural rhetoric which distinguishes among dating preferences. Ja-Man-Chu or "seeking a date by natural means" is the organic practice of meeting someone through school, work, or ideally, a meet cute.
It's a romantic vision of meeting a love interest while reading at a cafe, grabbing drinks at a bar, or any other circumstances that is coincidental—or with a pinch of fate, if you believe in such things.
The alternative, In-Man-Chu, is the diametric opposite, meaning "seeking a date by artificial means". This is the vernacular language that was created in snide reference to dating apps. However, it also includes more traditional methods of dating such as set-ups and blind dates.
The catch-all expression is A-Man-Chu which includes being open to all manners of dating.
Korean Dating Culture Lexicon:
Meet-ING, Sogaet-ING, and everything in between. Dating traditions alive & well in Korea.
From cute and innocent to wacky and tacky, modern Korean dating apps are different.
Tried & True Korean Dating Methods
Before the advent of dating apps, dating culture in Korea was long established through traditional forms of networking and socialization. The most prevalent methods were so-gaet-ing (going on blind dates through the referral of friends) and meet-ing, group dates usually associated with college students.
My own cousin met his future wife this way – a former flight attendant for Korean Airlines – by attending a blind date arranged by his younger sister. After studying abroad at King's College London which precipitated a break-up with his longtime ballerina girlfriend, he very naturally transitioned into dating through friends.
It's a fairly common story among Generation X and older Millennials even in the States. How many times have we attended weddings or engagement parties only to hear that the couple has met through "mutual friends"?
Meet-ing is even more customary, especially among college campuses where large swaths of young men and women gather at local bars to play drinking games, and match with potential partners who have caught their eye.
Strolling one night through South Korea's Hongdae quarter pre-pandemic, I was transported back to my own college days when I would sit with my girlfriends and excitedly play meet-ing games like "King Game", "3-6-9", and "007 Bang!" with a group of similarly aged guys. Little has changed on this front based on the thriving culture of campus dating with younger Millennials and Gen Z.
Mat-Sun: Traditional Korean Dating Style
The most traditional form of dating is mat-sun. Tried and true since the Joseon dynasty, mat-sun refers to arranged marriages through a matchmaker, parent, or guardian. Professional matchmaking is still a big business in Korea and while many types of mat-sun is often seen in popular K-Dramas, online comic books, and webtoons, it is usually regarded as a last resort dating option for older, marriage-minded singles.
Less popular modes of meeting people are through book-ing and hunt-ing, or socialization through an intermediary (usually a waiter or host). Book-ing is when a guy will pick a girl at a club and invite her to his table (she has veto power, of course). Hunt-ing is more of the same except that the club is replaced by a singles bar and can often include groups of people instead of just individuals. In both cases, waiters stand to gain the most in tips as ad hoc matchmakers.
The viral song "Gangnam Style" could be taken as a reference to book-ing and hunt-ing culture where trendy men and women would gather in Seoul's Gangnam district nightclubs to party or scope out dates.
The State of Dating Apps In Korea
If you want to start dating Korean style, you're going to have to get used to the many different Korean dating apps that are out there on the market.
The eponymous dating app Tinder, celebrates its 10th anniversary in 2022 after nearly a decade of revolutionizing the dating industry as we know it. For a while it seemed that the days were numbered for traditional courtship rituals because now, all it takes is a swipe of the finger or a flick of the hand to scroll through the myriad of possibilities who can maybe, just maybe, turn out to be the one.
Much like how Helen of Troy launched a thousand ships, Tinder (and its like-minded competitors Coffee Meets Bagel, Bumble, and Hinge) has solicited millions of smartphone users to share their personal photos and profiles online. Unlike dating websites (i.e., Match.com, eharmony, OkCupid, etc.) which feature long encumbrances of Myers-Briggs type questionnaires, mobile-friendly dating apps exploded on the scene as fun, easy, and one-stop shops for single (and sometimes not-so-single) men and women. But perhaps most importantly, along with the rise of Millennials and Generation Z, dating apps have become normalized into the mainstream and resisted stereotypes of lemons seeking other lemons.
Since Tinder first debuted in 2012, the dating app currently boasts over 75 million globally active users and counting. It is therefore not surprising that given the success of dating apps in America, young people in South Korea are following suit and signing on to not only Tinder Korea but also Amanda, NoonDate, GLAM, WIPPY, and Someday to name a few. In fact, the domestic dating app market in 2018 was approximately 200 billion won last year (~145 million USD) and is expected to more than double by 2022.
Popularity of the apps come and go like hot Netflix shows. Recently, the Korean dating app scene has changed, moving away from the original dating apps, which focused on Tinder-like services and elitism, to more consumer friendly apps that also provide entertainment and are more open to everyone. Read on to find out what's hot, what's not, and how to find the right Korean dating app for you.
Korean Dating Apps: Tinder, But Not Tender
When Tinder first hit the scene in South Korea in 2015, it started out more as a curiosity which later went on to inspire the development of native dating apps. It was also mostly associated with foreigners, or meeting foreigners, and failed to incorporate into modern Korean dating culture.
It wasn't necessarily the technological aspect of dating apps that stymied young Koreans from joining so much as it was the stigma and impersonal nature of the dating paradigm itself. 
If anything, South Korea was a fertile market for dating apps since it was known as one of the most digitally advanced societies worldwide. Quick to adopt new trends, South Korean society also puts an overwhelming emphasis on dating, marriage, and relationships.
In response, native app developers raced to create new strategies that were more consistent with dating practices in South Korea. SKY People for one, targets graduates from elite South Korean universities and Gold Spoon reads more like a wealth screen. Other niche dating apps have implemented "dateability" scores through meticulous background checks, and verification of official documents. 
Amanda, which is a neologism for "I don't just meet anyone" in Korean, is self-regulated by its user database. Existing users set the bar for incoming members through a scoring system in an effort to preserve the integrity of the dating pool.
Unfortunately, the exclusivity of these dating apps reflect the more superficial underbelly of the Korean dating scene where good looks, wealth, and education come at a premium. More comparable to American dating apps like The League and Raya, the latest batch of Korean dating apps filter by its target demographics.
Do you speak my love language?
A New Wave Of Korean Dating Apps For Everyone
Modern Korean dating apps are far more forgiving than the first wave of apps that focused on promoting wealth, education, and looks as the most important aspects of finding a loved one.
NoonDate utilizes location-based services such as geotagging to match two people everyday at noon based on their location. 1km employs a similar concept by matching people with common interests within striking distance of one another (or more specifically, 1 kilometer away from your mobile device). Innovative still are apps like GLAM and DangYeonSi which tap into the gamification of social media apps by introducing tournament-style dating or leveling up your profile.
Geared more towards a younger audience, the user interface on dating app WIPPY resembles conventional social networking services like Instagram, Snapchat, and Kakao Talk. The messaging here is to create a fun environment that is less likely to reject users, and encourage interactions through the usual trifecta of likes, comments, and direct messages.
Whatever the competition's business model, dating apps are easily monetized through a medley of add-on features, in-app purchases, and paid subscription plans. The onset of COVID which limited in-person meetings only made the industry more lucrative, boosting consumer spending on dating apps to more than 83 billion won ($60,000 USD) in 2020 alone.
With more young people choosing to get married later, or remain single longer, the use of dating apps in the foreseeable future is nothing less than guaranteed.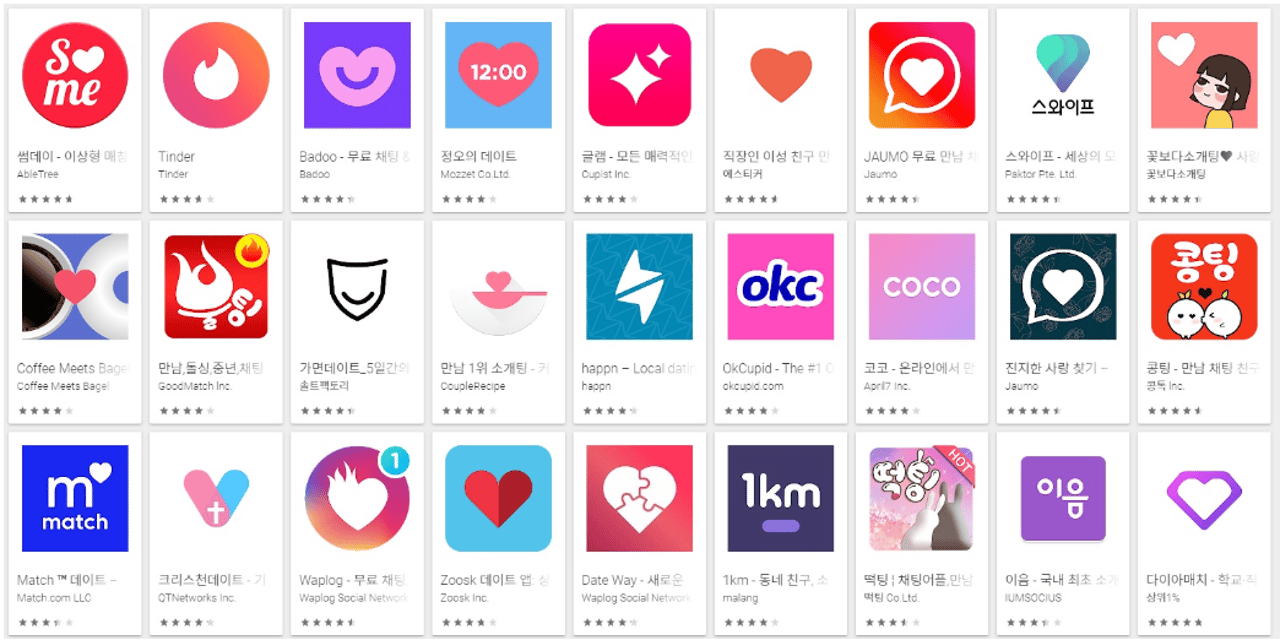 Top Korean Dating Apps 2022
Here are 8 of the best Korean dating apps available in 2022, from fun and friendly apps that allow you to level up your dating skills, to apps that help you flaunt your wealth, education, and good looks in search of that top 1% dream date. These apps are available through the Google Play Store or Apple App Store.
As the app's name suggests, 1KM recommends people that are within 1KM distance of your mobile device. This app is one of the most popular dating apps in Korea for those that want to join cultural clubs and meet people with similar interests. There are many clubs you can join to meet new people- hiking, studying, movie clubs just to name a few.
DangYeonSi gives off a fun vibe like the reality show Bachelor, where users participate in a tournament to pick 16 potential dates. Then the user obtains a ticket to have access to chat with the matches. All their features and functionalities are in Korean. but foreigners who understand the language can use this app to enjoy a fun online dating process.
GLAM is a Korean dating app created by Cupist Inc. This app won "Best Social App" at the 2017 Google Play Awards in Korea. 
GLAM is unique as it matches and suggests users based on their "Tier". When a user first makes an account with GLAM they are given a "Tier" based on various elements and then will try to match individuals in the same "Tier". 
WIPPY is more commonly known as being a "friend-finding" app rather than a dating app. Through this app, users can find friends that have similar interests. 
There are also unique features such as the voice chat function which allows users to talk with their friends in real time without revealing too much personal information. 
SKY People, a dating app with 145,000 users, only accepts men who have graduated from top universities. Women are simply required to post pictures of themselves that male users can swipe through.

Considered sexist and elitist by many, the app courts a rather small pool of singles. 
Gold Spoon, a super tiny app with around 3,200 users, looks even more explicitly at wealth-related traits like income level and ownership of a foreign car.
Maybe some people with the same goals deserve each other?
Amanda, which means "I don't just meet anyone" in Korean, has 4 million users. Its male users are usually younger than other apps that require its male users to go through a meticulous screening of their economic background.
To join, potential users must post photos to have one's looks evaluated by 20 existing users. 
Noondate is a dating app is known for it's complicated account set up process. However, it is also known for having better security due to the rigorous account set up process. As the name suggests, this app will introduce 2 new people everyday at noon based on your location. If you and your partner both like each other, then you will match!
For some, dating apps are considered a preoccupation to while away the loneliness, and boredom. For others, it is a never ending queue of potential boyfriends or marriageable candidates with clockwork precision. But for many, dating apps are simply persona non grata.
"Dating apps don't work here," 
That's what my college friend flatly said to me at a hipster bar in Seoul. A few days before that, a new acquaintance of mine screen captured a profile that was circulating on one of the more popular dating apps.
I saw a photo of a tall, good-looking, and K-Drama swoon-worthy young man in his late twenties dressed up in a tuxedo. His smile was megawatt and his vital statistics were more than impressive. 
But upon closer inspection, my mouth fell open when I started reading his profile section which amounted to a full-fledged confession and apology to all the women he slept with despite the fact that he was married and had two kids. It was obvious that he was caught in the act and his wife probably made him post it.
Now he had become an internet meme and sensation, and perhaps a warning to others who were daredevil enough to openly cheat on their spouses or significant others. This is only one of the tamer instances of dating apps gone wrong. 
As globalization continues to take effect and South Korea becomes more open to dating apps, young adults in South Korea inexplicably remain stalwart in their commitment to traditional dating ideals.
Unlike Millennials and Generation Z in America who have readily embraced hook-up culture and text-for-sex dating paradigms, young adults in South Korea are more conservative in their approach to modern dating.
We've all heard the horrific stories of catfishing, two-timing, ghosting, and scamming. But in South Korea, accusations about using part-time models to score more subscribers, commit financial fraud, leak personal data, or sexually harass users online are rife which have damaged the safety and reputation of dating apps in general.
The rejection of dating apps also largely owe to Korean culture which is heavily based on Confucianism. Approaching strangers whether outright or through a dating app is sometimes considered too forward or even gauche and there is always the risk of public embarrassment or humiliation (i.e., tuxedo man).
Dating apps are taking note of the cultural zeitgeist and rebranding their apps as socialization engines instead of dating or hook-up apps. The focus is now on creating community, or building friend networks rather than finding your online soul mate.
This is all to say that not only do dating apps continue to evolve and address the scarier intentions of rogue users but they are also setting the standard for the rest of Asia. Since Korea is frequently looked to as the trendsetter nation with their unprecedented breakthroughs in music, film, and television, the question is now whether or not South Korea will lead the future in love and dating.
The answers may be yet to come and rest on the shoulders of a budding Gen Z who is just entering the dating space.
But in the meantime, we can all dream of a perfect ja-man-chu meeting that happens oh so naturally and was always meant to be. Or you can always swipe right.
Frances Kang is a contributing writer for Best of Korea who enjoys creative writing, illustrating, and storytelling with a focus on Korean American issues and culture. A true Marylander at heart, she graduated from the University of Chicago and works for a marketing and public relations firm in Washington, DC.